Ezra and Springboard Alumni Report, Fall 2022: Evaluation of Hillel International's Springboard Fellowship
Nicole Samuel, Daniella Levine, and Allyson Birger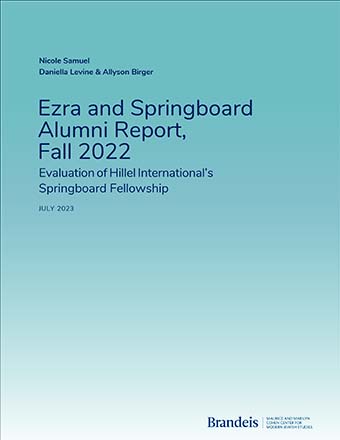 The Springboard Fellowship is Hillel International's flagship program for early career professionals. As the largest early career incubator in the Jewish community, Springboard aims to cultivate and identify emerging professionals who will apply their talents on campus with Hillel for two years and may be inspired to continue on a professional path in Hillel and/or the Jewish nonprofit sector.
This report looks at where Ezra Fellowship and Springboard alumni are as of fall 2022, including their current employment and graduate studies status, career advancement, participation in professional development, continued connections to Hillel and the Fellowships, and involvement in Jewish life and leadership.
The fall 2022 report also includes analyses using data collected in previous Ezra and Springboard alumni surveys. Results from prior years are used in point-in-time comparisons across the Fellowship cohorts. In addition, the report examines the experience of Gimel cohort since their Fellowship concluded in spring 2020. Gimel is Springboard's third cohort and represents Hillel's shift to a larger, scaled Fellowship.