Socially Distant: Challenges Facing Jewish Young Adults During the Covid-19 Pandemic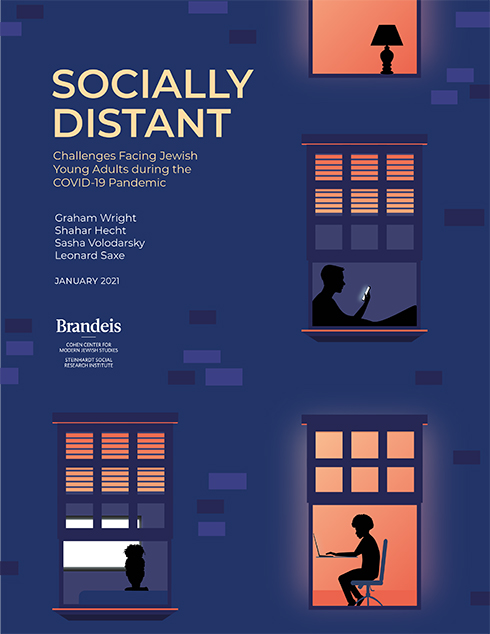 This study attempts to assess the pandemic's health, economic, and social toll on US Jewish young adults. The sample for the study is a group of Jewish young adults (ages 18-32) who applied to participate in summer 2020 Birthright Israel trips but could not go because the trips were suspended in response to the pandemic.
To analyze how experiences changed over the course of the summer, surveys of two independent samples were conducted in June-July (N=1,084, AAPOR RR2=12.8%) and September 2020 (N= 1,134, AAPOR RR2= 15.8%).
Key Findings
In the period between June and September 2020, 13% of respondents reported having ever been infected with COVID-19, with 3% reporting they became seriously ill. However, over 45% of respondents reported that someone close to them was infected, including 14% who reported that someone close to them became seriously ill and 4% who knew someone close to them who died from the disease. 
Respondents appeared more concerned about spreading the virus to others (33% were "very concerned") than about getting infected themselves (14% were "very concerned"). In addition, 41% indicated they had a lot of responsibility to curb the spread, and 44% reported they had some responsibility to do so.
The majority of respondents reported taking the basic precautions of wearing a mask or face covering and avoiding large gatherings most or all of the time. However, support for these measures differed along political lines. Liberals (who represent 61% of all respondents) were more likely than both moderates and conservatives to wear a mask all or most of the time, to avoid large gatherings, and to wear a mask when socializing with people they did not live with. 
Relatively few Birthright applicants reported serious economic consequences related to the pandemic, in part because almost 70% of respondents were still financially dependent on their parents. Of those who were financially independent, over 60% reported that their financial standing was unaffected or even improved during the pandemic, and this remained true even in September.  
Although politically liberal and conservative respondents had different—sometimes even diametrically opposed—concerns about recent events in the United States, both groups were more likely to express concerns about issues related to the recent political turmoil in the United States than anything related to the virus. For liberals (61% of respondents), concerns about police violence and the upcoming election were the most pressing over the summer. Among political conservatives (17% of respondents), destruction of property during recent protests was the top concern in June-July and September. In June-July, moderate respondents (22% of respondents) were most concerned about police violence and the election. But by September these concerns had declined somewhat, and concerns about property destruction and the economic effects of the pandemic had begun to rise. 
More time spent alone due to the necessity of social distancing appears to have taken a toll on the mental health of many applicants. Around one quarter of respondents reported that they felt lonely "often" or "all the time," and there was no significant change in reports of loneliness over the course of the summer. About 20% of respondents at both time points reported that mental health difficulties impeded their day-to-day life "often" or "all the time" in the past week, and only 22%-25% reported that they were "never" affected by such serious mental health difficulties. 
The Jewish community has made demonstrable efforts to reach out to young Jews, although the effect of this outreach has been limited. About half of Birthright applicants were aware of opportunities to engage with Jewish life online, but only one quarter indicated that these opportunities matched their interests or that they had peers who regularly participated in these activities.  
Participation in online Jewish activities over the summer was strongly related to how often respondents participated in Jewish activities before the pandemic. Those who had limited engagement with Jewish life before the pandemic were unlikely to participate in online activities during the pandemic, while those who were already highly engaged with Jewish life were highly likely to make the shift to online Jewish programing and religious services.