Alumni Profiles
CAST Alumni
During their time at Brandeis, and through their varied artistic practices and processes, students graduating with a CAST minor have engaged in work at the nexus of arts, culture, social justice, and peace. The profiles below illustrate some ways in which a sampling of CAST minors have explored and developed their own creative approaches to ethical social change.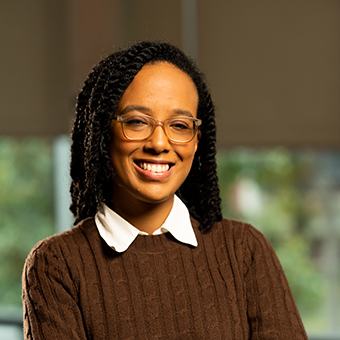 Delaine is an interdisciplinary artist from the Dominican Republic who began her journey at Brandeis as a transfer student in the Spring 2021 semester. Delaine majored in Film, Television and Interactive Media, with a double minor in CAST and in Latin American, Caribbean and Latinx Studies.

Delaine's CAST project was titled "I Belong = Yo Pertenezco: Latin American heritage beyond Latinidad," where she sought to create unity across Latinx/Latin American students in greater Boston PWIs, while empowering students through the arts and enriching their college's Latinx/Latin American clubs and organizations. As social change is intersectional and multidimensional, with this project, she focused on tackling different issues to find a more holistic, comprehensive, and far-reaching contribution to a community that's been excluded, forgotten, and even segregated by inner tensions. This project mattered to her because she's always been eager to immerse herself in the convergence between arts, social justice, and community outreach. Thanks to the CAST program, Delaine was able to explore creative approaches to social change, employing arts as an instrument for community building and engagement. Even after graduating, Delaine's passion and commitment to social justice and change will not stop here; it will keep growing and evolving to continue filling the gaps among youth, inequality, and change.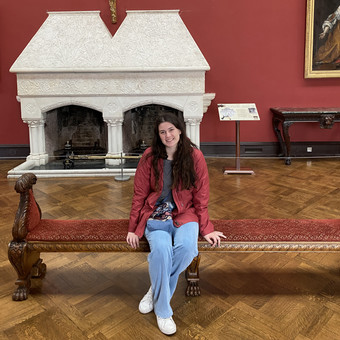 Becky while at Brandeis majored in HSSP and minored in CAST. She also participated in Adagio Dance Company and the Varsity Swim team. Her CAST Capstone project focused on the creative outlet of photography and mental health of athletes. She hopes to bring better awareness to the struggles of athletes and their unique challenges of handing mental health while being an athlete. She is now in physical therapy school where she hopes after completion she will be able to help athletes and other populations recover from physical injuries. She hopes to continue to use creative outlets to bring up social challenges in the world around her. CAST was able to give her a creative outlet to learn about how art can be intertwined with social causes while at Brandeis. She is so thankful to have found the minor and for the amazing professors that are in the CAST department. 
As a biology major and cultural-studies focused music major, I saw Creativity, the Arts, and Social Transformation as bridging the gap between scientific possibility, social justice, and resilience. I explored this relationship while volunteering at the Dana-Farber Cancer Institute, where I performed solo viola compositions for cancer patients undergoing chemotherapy every week. Bringing art into a space that is afflicted by life-threatening disease, loss, fear of loss, and filled with a need for resilience, I saw that creative and artistic approaches can renew feelings of humanity and hope in many ways, even in spaces grounded in scientific knowledge. I'm certain that these experiences and exposures to creative approaches as a CAST minor will follow me in my future, as a medical student and beyond, when I hope eventually to serve as a physician for underserved communities.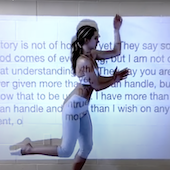 As her capstone project, Ella created a performance piece, "My Story Isn't of Hope … Yet" (Song: Tamarack Pines by George Winston). It is an artistic articulation of the pain and suffering felt by the loved ones of those experiencing schizophrenia, and a call for de-stigmatization of mental illness so that care is given before it is too late.
Schizophrenia is a disease that takes over the minds of beautiful people — they can become violent and yet, what is often forgotten, is that acts of violence are a manifestation of the disease. We often see violence as black and white. However, with regard to mental illness, it is not so cut and dried. It is imperative to reflect on how society neglects these populations, and on the fact that this violence does not have to occur. When it does, we do not need to be okay, we do not need to see the "bright side."
We all deserve the right and space to grieve. We all deserve the right and space to be angry and there is no timeline within which the processing of grief and anger needs to take place. We must hold space to feel the pain, to feel love for those who have suffered and are suffering, and we must remember: We do not need to always be hopeful; we are allowed to stay in the moment.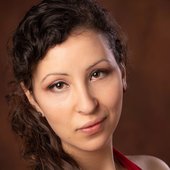 Haia's work with CAST opened up new avenues for her work in theatre and education. The minor weaves seamlessly together art, community, compassion, and social change — a sort of summation of what drew her to Brandeis. Her experience with CAST culminated with a book of poetry and recipes titled "Comfort: Food," and she will be continuing to engage with the values of CAST as she pursues her PhD in theatre at UC San Diego.
Haia worked simultaneously on "Comfort: Food" and her senior thesis about mother-daughter relationships and the role of theatre in the Western family structure. The anthology is focused primarily on stories from her own family, refocused after the COVID-19 shelter in place orders were issued and family structures had to shift because many could not gather as they usually would. The book was part of Haia's effort to pay forward the gifts of home and connection she has found in the performing and culinary arts, as well as her research into alternative sensory stimulation. The research informed her creation of an immersive artistic experience without privileging sight or smell.
"The Tree of Hope" is an art installation that was born out of the CAST program! In Cynthia Cohen's Fall 2021 class Creative Approaches to Conflict Transformation and Sustainable Development, we were divided up into pairs and given a substantial task: Design an art initiative that focuses on transforming our current world's culture of one from unsustainability to sustainability!"
At the end of the Spring 2022 semester, my creative partner Harsha Bhamidipati and I had not only designed "The Tree of Hope," but have realized it as well!! Firstly, the "Tree of Hope" asks anyone who approaches it to consider both the incredible beauty of trees and all of the necessary resources that they provide — as a reminder that every living being is worth protecting! Secondly, the "Tree of Hope" has been beautifully adorned with paper "leaves" that are decorated with the Brandeis community's hopes and dreams for a sustainable future! In this way, our tree is blossoming with the change that we all want to see — and to be — in the world! We hope that this 8.5-foot-tall sculpture has the power to cause people to stop in front of it and begin to think in new ways!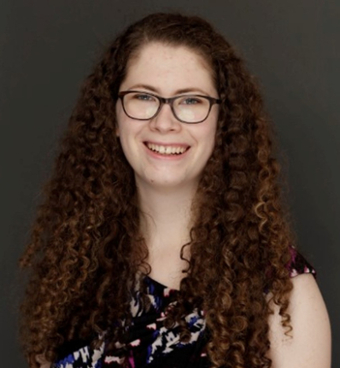 Sophie produced a podcast as her capstone project. "Family Remembrance: Marking Lives Lived with Stumbling Stones" is an edited collection of interviews that Sophie conducted with her grandfather, mother and other relatives related to the family's wish to have stolpersteine (stumbling stones) placed at the last voluntary residence, before the Holocaust, of her grandfather and his family in Belgrade, Serbia. (Stolpersteine are commemorative brass plaques placed in the pavement in front of the last known residence of choice of victims and survivors of the Holocaust.) What does it mean to remember, and to be remembered, Sophie and her family ask.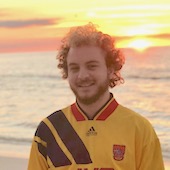 (2018): My name is Marcelo Brociner, and I'm a Cuban-American artist and art activist from Somerville, Massachusetts. The CAST minor has been an important part of my Brandeis career because it has demonstrated the power of the arts in its ability to simultaneously mirror and influence society. BLNC (balance), an art collective which I co-founded, just wrapped up its third annual local art showcase titled ONE, and I also just released my first fully-streaming album titled Price of Paradise. This upcoming summer, I will be helping create a documentary archiving a four-week music education program run by AfroRazones in Havana, Cuba. Ultimately, I plan to be involved in the arts in some capacity throughout my life, whether or not it is directly related to the career I pursue in the future. It's important to remember that art-making and career-pursuing never have to be exclusive.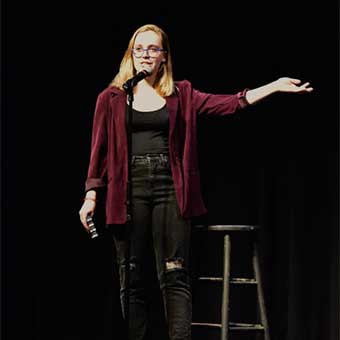 Anna's CAST capstone project was the production of a two-day, multievent program, "Voices of Comedy," which brought standup comics from diverse backgrounds with different comedic styles together for a show at Brandeis, featured a standup workshop by professional comics — free and open to all students — the following day, and included an open mic evening during which workshop participants could test out their craft. This project broadened the Brandeis comedy community by providing training and an opportunity to practice comedy skills, and by prioritizing stories and perspectives that are often not present in the local and national comedy scenes.
Gemma Johnson Curnin double majored in art history and women's, gender, and sexuality studies and double minored in creativity, the arts, social transformation and sculpture and digital media. During their final year they presented their CAST Capstone which utilized visual arts as a lens for how we can learn through visual imagery. Upon graduating, Gemma interned at the Museum of Fine Arts, Boston where they worked in the Studio Art program teaching art to children of all ages. Gemma also traveled to Germany as a Max Kade Travel Grant recipient to do research on German women artists specializing in performance art. Since then, they have been living in Portland, Maine, where they have been working as a coordinator for the Hiring Events Team at the Council on International Educational Exchange, an international educational exchange non-profit. Gemma is hoping to attend graduate school as well.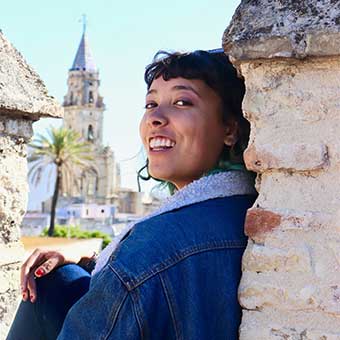 Aviva Davis '21
Pronouns: she/they
For her capstone project, Aviva hosted a monthly Zoom call featuring a different Jewish creator of color each month in hopes that these conversations would educate the group about the micro and macroaggressions Jews of color face in their daily lives, and how this discrimination is amplified when in the public eye. As a Jew of color herself, this is a cause close to her heart, having faced both micro and macroaggressions throughout the course of her life. At the end of the semester, Aviva presented a TED style talk on the progress of these monthly sessions as well as goals for the future.
For her CAST capstone project, Emily created a series of lesson plans to teach first-graders about the concepts of culture and tradition. Through picture books, videos, activities and arts, students explored these complex concepts in a kid-friendly way. They learned about their own culture and that of their classmates. The unit culminated in a quilt-making project that allowed students to see the beauty of diversity.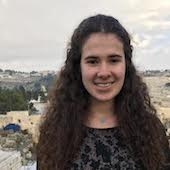 For her CAST capstone, Rachel gathered and presented stories on how people change their thinking about controversial issues, while using frameworks and methods from Theatre of the Oppressed. With these submissions, she created an exhibit to encourage viewers to keep an open mind and not to be closed off to the possibility for change. Upon graduation, Rachel planned on applying to law school to learn more about the best way to advocate for human rights.
Morgan Mierzwa-Winters '17
I graduated Brandeis in 2017 with a CAST minor, psychology major, and Hispanic studies minor. I worked for a while in the MetroWest area as a care manager for adults with disabling mental illness. At this position, I led a casual "training" about LGBT terminology and issues for my entire department, as well as participating in developing and facilitating the Diversity 101 training as part of new hire orientation. On an artistic front, I had the opportunity to lead my department in competing for the annual holiday decorating contest, making our office into a real-life Narnia one year, and creating the story of the movie "Elf" the next year! Many people the company served came through to see the different set-ups every year.
I have since started graduate school in social work at Boston University, moved to Nashua, New Hampshire, and started working as a case manager with the co-occuring substance use and homelessness population in Nashua. After about six months in my case manager position, I collaborated with a colleague to develop a round-table discussion-based LGBT training that we plan to open to the entire six-organization Partnership for Successful Living. Unfortunately, I haven't had a ton of time to flex my artistic muscles, due to working while in graduate school. I do find, however, that I think very artistically about summarizing my work, and I will often share ideas for large-scale pieces or installations with my (very creative and artistic) partner. Even just thinking metaphorically about how I would represent what I am experiencing and thinking about at work is a hugely supportive outlet!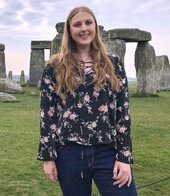 Remony double majored in psychology and theatre and minored in CAST. Throughout their time in the CAST program, Remony focused on ways to use theatre for social change, and their capstone project explored how to use theatre to help Brandeis students discuss social issues prevalent on campus. Remony spent the year after graduation working at Riverside Community Care as a part of their in-home therapy team, and will be starting her first year at the PSYD program at Midwestern University, Glendale, in fall 2020.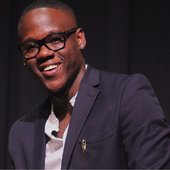 Rasheed was born and raised in Jamaica, and in coming to Brandeis, he was focused on pursing his passion for business. After taking the introductory CAST course in his first semester, however, Rasheed reignited his passion for creativity and the arts. The CAST program, faculty and network was a big help in aiding his telling the stories of BIPOC in the United States and from around the world who were often overlooked and not given the space and consideration they deserved. Rasheed is now gearing up to pursue an MFA in documentary filmmaking in hopes of further amplifying unsung stories.

Rasheed's CAST capstone project, "At the Heart of it All," was a short video (musical piece-highlight reel-slideshow-monologue hybrid) and an open reflection of Rasheed's work as a storyteller and the elements that inspire and form it.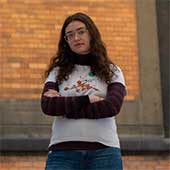 Zoë's capstone project, "Zoë Rose Spills Her Guts," was a one-woman show about exploring identity, which she performed for the Brandeis community. Told in multiple iterations, the play was an immersive, participatory theater experience that gave audience members a chance to hear new stories and to share their own, some of which Zoë then incorporated into the next iterations of the piece.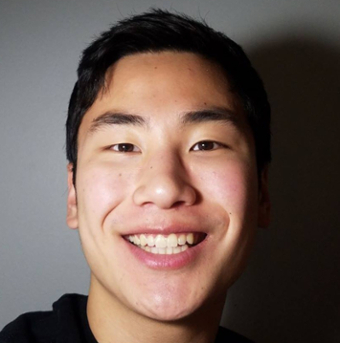 Hangil Ryu graduated in 2020 with a major in philosophy and with minors in business and CAST. He decided to minor in CAST after taking a class with Professor Cohen because he thought the professor was amazing. He is grateful to the CAST community, not only for showing the ways that the arts can be used to give people a voice but for the relationships fostered along the way.
He is currently doing a service year with the Jesuit Volunteer Corps and is at All Saints Parish in Syracuse, New York. His time is spent helping members of the refugee community gain access to resources as well as supporting the faith formation director in re-establishing a youth group for ninth-12th graders. He hopes to take some of the lessons learned from CAST to incorporate into filmmaking.
Hangil's CAST capstone project, "Be Kind, Have Fun," was a short film showcasing stories that demonstrate that kindness still spreads, even in the time of the coronavirus.
During the COVID-19 pandemic, collaborative music-making was more difficult than ever. Leah's capstone project, "Music Collabs," was an artistic initiative that brought together student musicians from different parts of the Brandeis community to create music virtually. The goals of the project were to foster friendship and promote creativity across musical genres, countering people's enforced isolation from one another and adding to Brandeis' soundscape.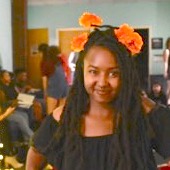 (2018): My name is LaShawn Simmons, and I'm a senior at Brandeis University majoring in African and Afro-American studies with minors in anthropology, art history, and creativity, the arts and social transformation (CAST). I firmly believe the arts have the ability to inspire and provide innovative approaches to solving and investigating social issues. I've been able to see this through my work editing and art programming, as chief editor and founder of Ebony Axis, a 'zine that features and anthologizes the beautiful and varied narratives of Black women on Brandeis campus via poetry, prose, and the visual arts; and through collaborating with the Rose Art Museum and Dr. Cynthia Cohen on three salons featuring artist in residence Jane Sapp, who utilizes artistic expression as a form of social change.
Outside of Brandeis, I was able to support local Boston youth in expressing themselves through film and photography with the Transformative Culture Project as a Eli J. and Phyllis N. Segal Citizen Leadership Fellow this past summer.
I am thrilled to continue similar work as a current Sherman H. Starr Family curatorial intern at the Rose Art Museum. For my CAST capstone project, I plan to produce a photography series and a collection of poems profiling and exploring the social significance of auxiliary dance group Toxic. After graduation, I am excited to explore career opportunities centering the arts and social transformation in the greater Boston area or Atlanta before pursuing a graduate degree.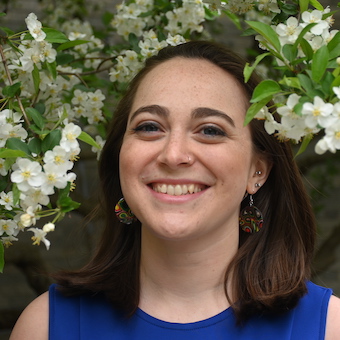 Upon graduation, Sarah was living in Madrid and teaching English to Spanish students at a bilingual primary school. She assisted teachers in first and second grade in classes taught in English — language, social science and natural science. She lived in the city center, met a lot of new people and tried to make time to read and write.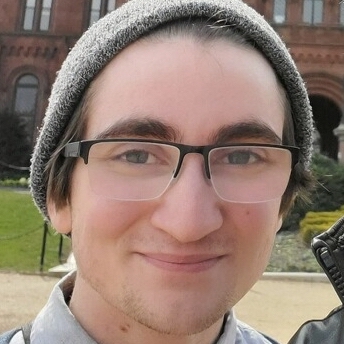 Richard Quinn Weiner '21
Pronouns: they/them/theirs
To fulfill the CAST capstone requirement, Quinn took the course Soc 155b: Social Movements: Protest, Politics, and Change, in which they explored ways that individuals come to participate in, organize within, and create impact out of social movements. This involved combining theory with investigations of major historical and contemporary examples, including pulling from students' personal experiences and those of guest speakers. Quinn focused on research about anti-Trump activism in its many forms. Through interviews and virtual participant observation projects, they composed papers about how we can best understand the combining of multiple social movements into one larger anti-Trump movement in an unprecedented complication of mobilization and coalition-building. The class has inspired Quinn's hope for the future, and their desire to participate in activism on their own, as well as given them tools to understand the work they'll be doing out in the world.
Quinn was selected to receive one of the 10 Schiff Undergraduate Fellowships for the 2020-21 academic year for their project, "Generations of Impactful Scholarship," with their faculty mentor, Tom King.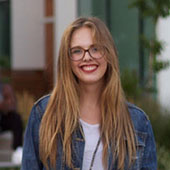 (2018): My name is Maggie Ziegel. I'm from Toronto, Canada, and the CAST program has made me fall in love with art's relationship to activism. In my four years in the minor, I have stretched myself immensely in the name of art and social justice. I performed in different theatrical performances that challenged norms and societal bounds. I began writing poetry that made a statement, then began performing in many slam poetry competitions (sometimes even winning them!). In the last six months I have begun doing sculpture, and learning about how I can influence perceptions with my hands and the objects they come across. The CAST minor has taught me so much about the absolute vitality of art in any social change, and about the power of a creative mind. You don't need to be the best sculptor, actor, rapper, etc. to be successful in making social change with your creativity; you just need to be open to learning and using new lenses with which to look at the world. Without CAST, I doubt I would have begun sculpting, and now, in spring semester 2018, I've had my first full-size installation up on campus. After graduation, I have absolutely no clue what is next for me, but I know for a fact that CAST and its principles and lessons will stay with me forever. Thanks to the CAST minor, I will never stop creating, I will never stop organizing, and I will never stop learning.
Student Experiences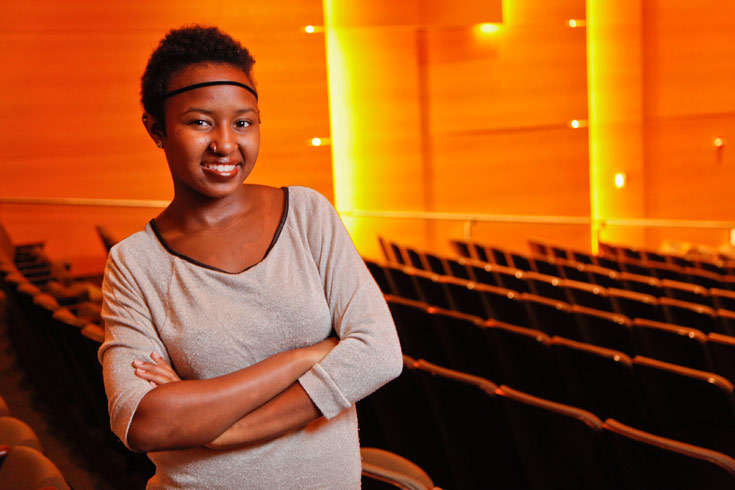 CAST minor and student grant recipient LaShawn Simmons '18 founded Ebony Axis, a poetry zine for black women on campus.