News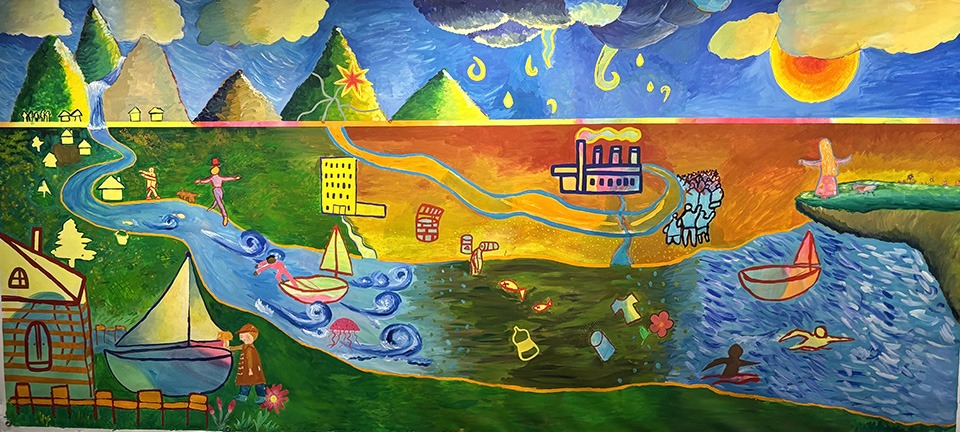 Photo Credit: Toni Shapiro-Phim
Water Cries, too: An Anthology
An exploration of aspects of humanity's relationship with particular bodies of water across the globe, this mural was created by students in the Fall 2023 Introduction to Creativity, the Arts and Social Transformation course, under the guidance of renowned Argentinian artist and human rights activist and scholar Claudia Bernardi. Students interviewed individuals in or from more than ten countries about their relationship with water, and about what's at stake if we don't address threats to water stemming from the climate crisis.
Read notes about interviewees' stories that inspired the creation of images that appear in the mural.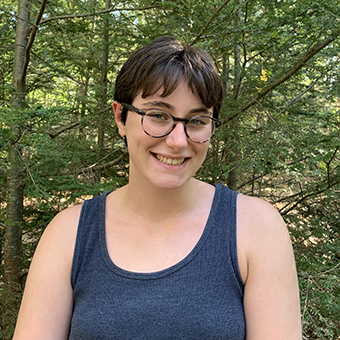 Madison Sirois joining as a CAST UDR
"I am a rising junior at Brandeis majoring in English and Sociology with minors in Social Justice, Social Policy (SJSP) and Creativity, the Arts, and Social Transformation (CAST). CAST is the program that secured my interest in Brandeis, because it allowed me to combine all of my interests (graphic design, poetry, music, society, and social justice) into one course of study. I actually declared my minor in CAST before declaring a major, because I was just that excited to join the community! I am overjoyed to be a CAST UDR, and I can't wait to work with the rest of the CAST team to bring more artists and change-makers into our beloved program."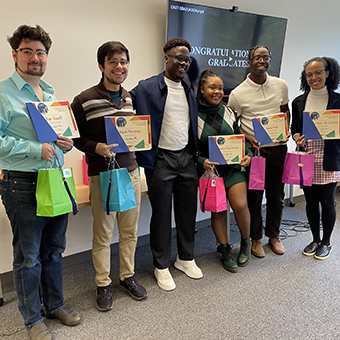 CAST Graduation Ceremony 2023
May 4, 2023
CAST celebrated its 2023 graduates: Nicholas Ong, Delaine Gneco De La Cruz, Erick Amezcua, Jacob Krah, Kobi Russell, Shawna-Gay Duncan, Hannah Taylor, Becky Goodfellow.
CAST Affiliate David Sherman included a poem in his interactive speech to the graduates, and CAST Alum Rasheed Peters' 20 gave a keynote speech.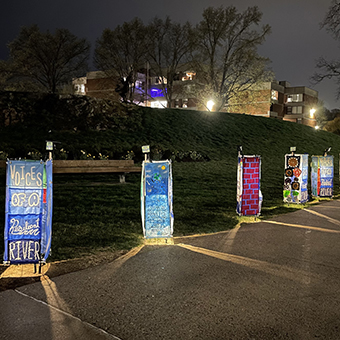 Capstones 2023
In the spring CAST Project Practicum course, six students who had been part of the fall Design Lab: Emmanuel Hernandez Jacob Krah, Nicholas Ong, Fiona Ripp, Liz Sandoval, and Madison Sirois, chose to continue their collaboration with the Charles River Watershed Association and their explorations/interpretations of the oral history interviews they had conducted through a group public art project. (Two additional students joined them.) Guided by local artist Andy Li, and following extensive conversations with Watershed Association staff, the students decided to make individual lanterns, each amplifying messages from their individual oral history interviews – messages about the river and its future -- in a public art exhibition they called "Voices of a Resilient River" that premiered on campus during Brandeis' Festival of Creative Arts. Each lantern, about three feet high, has four cloth panels, decorated (in images – using paint or yarn or found materials – and words). They light up from inside, powered by a solar panel that gathers energy by day. Together they are a statement about the precarity of the Charles River and people's lives along it, given the climate crisis and lack of concrete action to combat it. Several of the interviewees showed up to view the lanterns at night on campus. And the Watershed Association, who will keep and use the lanterns, has already put them to work during an action related to advocating for dam removal in Watertown.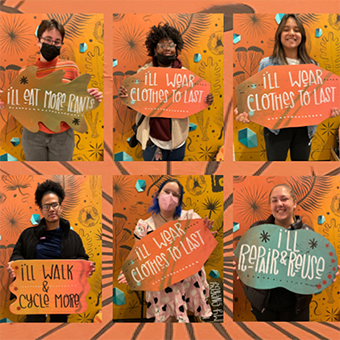 Charles River Watershed Association Virtual Annual Gala
March 30, 2023
CAST Design Lab students received an Award for "those who have demonstrated meaningful environmental improvements at a young age, recognizing their contributions toward a more sustainable future."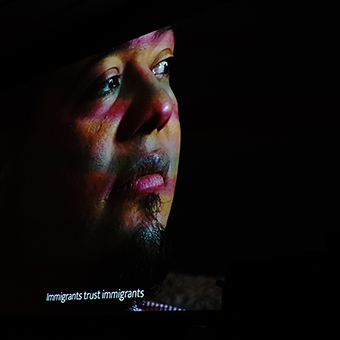 Documenting Immigrant Experiences: Films of Muslim Identity
December 10, 2022
Film festival featuring short films by the students of CAST 170A: Documenting Immigrants Experiences class. The films explored Muslim identity, community, and unity themes to promote further understanding, acceptance, and inclusion.