Now As Then
Students in the CAST minor, in collaboration with the Program in Peacebuilding and the Arts, and the Politics Department present:
Now As Then: We Who Believe in Freedom Cannot Rest
As we anticipated in the "Now as Then: We Who Believe in Freedom Cannot Rest" series in the fall of 2015, US Supreme Court's decision to seriously abridge the protections of the Voting Rights Act has indeed led to the disenfranchisement of voters from communities of color. Learn about what has been happening in Arizona and North Carolina:
Events Focusing Creative Attention on the Struggle for Voting Rights

We explored songs and stories surrounding the passage of the Voting Rights Act in 1963, and considered actions we can take today in the face of the 2013 Supreme Court decision that annulled the key provision of the Voting Rights Act and "put a dagger into the heart" of the law.
Workshop with Jane Wilburn Sapp
Adapting and composing songs and spoken word poetry advocating for voting rights today
Songs and Stories of the Struggle for Voting Rights
Understanding the struggle for voting rights in song and story presented by Jane Wilburn Sapp, with comments from Dan Kryder, Politics Department
Music, history, and analysis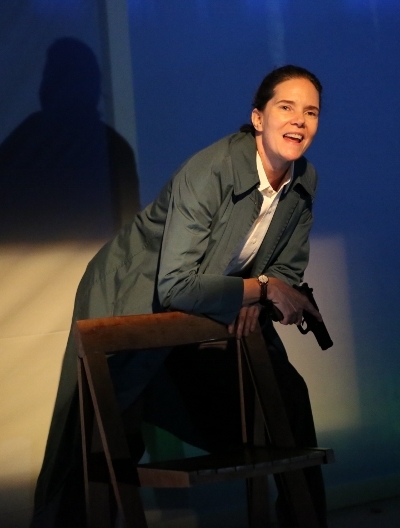 Scene from Selma '65, by Catherine Filloux.
Photo credit: Steven Schreiber
Selma '65
Performance by Marietta Hedges of Catherine Filloux's Selma '65, a one-woman play retelling the complex story of Viola Liuzzo, a white voting rights activist who was killed in Selma in 1965, and the FBI informant who was with the Klan the night she was assassinated. Followed by:
Panel of students discussing their responses to the play and the politics of race and gender as they intersect in Viola Liuzzo's story
Small group discussions over light snacks, moderated by Brandeis students
Catherine Filloux's one-woman play Selma '65 is in remembrance of the 50th anniversary of the Selma Voting March. The play received its world premiere from September 25th to October 12th, 2014 for a 16-performance run at La MaMa, where Filloux is a resident artist. Read more about Selma '65 and Catherine Filloux's recent Planet Activist Award.
Read reflection from Brontë Velez '16 on the event series.
Recognizing that 2016 will be the first presidential election in fifty years when all or part of 16 states will not be required to seek federal approval for changes in voter regulations we are asking:
What can we learn from the songs and the stories of those who participated in struggle for voting rights in Selma in 1965?
What strategies are being used to suppress Americans, particularly African Americans, from voting in 2015 and 2016?
What can we at Brandeis do to reclaim and strengthen voting rights today?