Upcoming Events
Boston Area Japanese Speech Event
Saturday, Nov. 2
- Speech Event (Mandel G3) - 2:00pm to 3:30/4:00pm
- Reception (Mandel Atrium) - 3:30/4:00pm to 5:00pm
 Participating universities include Brandeis, Harvard, MIT, Northeastern University, BU, BC, Tufts, and Wellesley.
2019 Mega Language Lunch
Tuesday, Nov. 19
12:00 p.m. – 1:30 p.m.
Sherman Function Hall
Toggle

event details (click to expand)
You are cordially invited to the 2019 Mega Language Lunch!
The World Languages and Cultures Committee with generous support from the  Division of Humanities, the Provost and the Dean of Arts and Sciences, invite all members of the Brandeis Community (students, faculty, and staff) to experience and celebrate the linguistic diversity of Brandeis during the "I'm Global Week 2019."
The Mega Language Lunch will feature individual language tables for speakers of the following languages - Arabic, Chinese, French, German, Hebrew, Italian, Japanese, Korean, Russian, and Spanish. If you speak one or more of these languages, please join us at this event. You can stay for a few minutes or for the entire hour. If you speak several languages, you can visit multiple tables! No matter your level of proficiency, you are welcome! The only rule is NO ENGLISH! Please speak only the language of a specific table (tables) during your visit (you will take a mini language pledge before entering the room).
There will be a buffet lunch for the first 10 people who register for a particular table. Please note that priority is given to undergraduate students. You are welcome to bring your own lunch or share the small desserts and snacks provided at the language tables. While we do not guarantee that you will be able to get free food at the event, we hope you will come to celebrate and support language diversity at Brandeis.
The sign-up will be open on November 1st.
Japanese Language Table
Come to Shiffman 121 every Wednesday from 5-6pm (except holidays) to practice your Japanese language skills!
Ongoing Opportunities
The Japanese Program provides students with many opportunities to learn Japanese in context through speech presentations, participation in cultural activities, language practice with native speakers, and the use of technology.
The program also aims to broaden student perspectives on Japan by inviting special guests to present on topics ranging from traditional arts to popular culture, through the support of the Department of German, Russian, and Asian Languages and Literature.
There are many activities that students can get involved in each semester. For example, the Boston Area Speech Presentation, which began in 2001, invites students from colleges and universities in the greater Boston area to present in Japanese on topics of their choice. Brandeis students have engaged their audiences with challenging issues, including racial discrimination, immigration, identity, and the differences between men's and women's language in Japan.  Students have also participated in the Annual Consulate General of Japan in Boston Japanese Language Contest (essay and speech) for colleges and universities since its inauguration in 2011.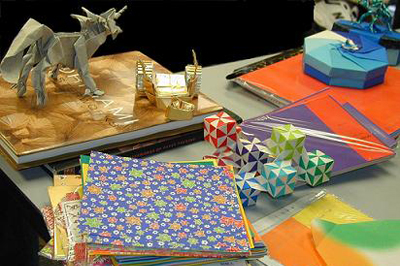 Students also actively participate in the rich heritage of Japan through presentations on calligraphy, origami, food, and films. Celebration of the New Year and traditional displays of culture, such as the Doll Festival (Hinamatsuri) and the Bean-Throwing Festival (Setsubun), are events not to be missed.
To reinforce in-class learning and provide an opportunity for self-expression, the Japanese Program has developed a peer-tutoring system in which students are paired with a Japanese native speaker for one hour each week. In addition, all students learn how to create a simple web page in Japanese to introduce others to their special interests in Japan.
Past Events
Conversation Day with Native Speakers of Japanese (JPAN 20B)
We invited about 30 native speakers of Japanese to JAPN 20B and enjoyed conversations with them. Please see the conversations and the interviews after the conversations.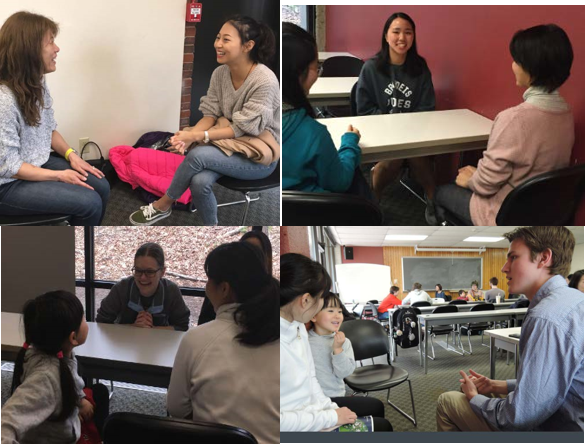 video links for students interviews:
6th Brandeis International First-Year Video Festival "Language Oscars" Japanese Language Program Video
Title: Beautiful 10 days/ きれいな十日
Creators:
Minkyu Kim '19
Carmen Huang '20
Hongyu Li '21
Zifan Wang '20 
Instructor: Hisae Fujiwara
Toggle

2016–2017
International Video Competition
April 25, 2017
Congratulations to the students in JAPN 20B: Continuing Japanese, who won second place in the 5th Annual International Video Competition on Tuesday, April 25!
Title: The Turtle Inside My Dream (watch the video)
Participants: Jingyuan Huang '17, Allison Tien '20, Nancy Tran '20, Charlie Weld '20
Instructor: Hisae Fujiwara
Learn more about the International Video Competition and see past winners on the Foreign Language Oversight Committee (FLOC) website.
Kyōgen Workshop 2017
On March 24, 2017, Katsumi Yanagimoto led a kyōgen workshop for students in the Japanese Language Program. Visit our Kyōgen Workshop page to learn more about kyōgen and to watch a video of Yanagimoto and several students performing "Chidori (Plovers)."