Helmut Hirsch Exhibit
This online exhibit of Helmut Hirsch's life and death was created in conjunction with a physical exhibit of the Helmut Hirsch Collection at the Brandeis University Libraries in the Summer of 2001. The Helmut Hirsch Collection, donated to Brandeis University Libraries by his sister Katie Sugarman, is housed in the Special Collections Department. The collection includes family correspondence, art and poetry of Helmut Hirsch, and other related materials. Many of the German language materials of the collection have been translated into English by Katie Sugarman.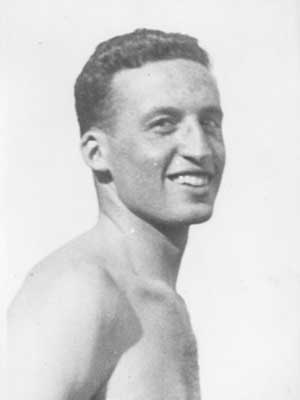 Helmut (Helle) Hirsch was born in Stuttgart on January 27, 1916. His citizenship status was complicated and later played an important role in his death. A simplified version of it goes like this: His paternal grandfather, Salamon Hirsch, had immigrated to the United States, married, and became a citizen in 1877. However, Salamon Hirsch and his wife returned to Bohemia, and Helmut Hirsch's father, Siegfried, was born in Bohemia in 1878. Siegfried Hirsch himself then immigrated to the United States and lived there as a naturalized citizen from 1903-1910. Siegfried Hirsch then returned to Europe in 1910 to take a job in Alsace, planning to return to the United States at a later time. When Helmut Hirsch was born in 1916 he was registered as an American citizen at the American consulate. During World War I Siegfried Hirsch's American passport was confiscated, and after the war his application for a new American passport was turned down. In 1922 the United States State Department refused to recognize Siegfried Hirsch as an American citizen.
The Hirsch family (including Helmut's sister Katie, who was born in 1917) moved from Alsace to Stuttgart in 1919. The Hirschs continued to try to reestablish American citizenship through the years, but due to losing their family papers during the war, there was no success. Since the German government continued to regard them as American citizens, they lived in Stuttgart as stateless citizens with German foreign passports.
This is the situation in which Helmut Hirsch lived his early years.