Affiliated Lab Members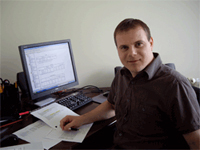 Stefan Agrigoroaei
Assistant Professor, Université catholique de Louvain
PhD, University of Savoie
Stefan Agrigoroaei received his doctorate in 2007 at University of Savoie, Chambéry, France, under the mentorship of Professor Olivier Desrichard. His research program is in the area of health and adult development and aging, from a lifespan perspective. Stefan is primarily interested in the contribution of modifiable psychosocial and behavioral factors to different facets of health - physical, cognitive, and psychological. His projects involve a wide range of cognitive and physical health assessments, including biomedical indicators, in both surveys and laboratory settings. The results have direct implications for developing intervention and prevention programs for applied settings. Stefan is currently an Assistant Professor at Université catholique de Louvain in Belgium.
Selected Publications
Agrigoroaei, S., Robinson, S. A., Hughes, M. L., Rickenbach, E. H., & Lachman, M. E. (in press). Cognition at midlife: Antecedents and consequences. In C. D. Ryff & R. F. Krueger (Eds.), Oxford handbook of integrated health science. Oxford University Press.
Drewelies, J., Agrigoroaei, S., Lachman, M.E., & Gerstorf, D. (2018). Age variations in cohort differences in the United States: Older adults report fewer constraints nowadays than those 18 years ago, but mastery beliefs are diminished among younger adults. Developmental Psychology, 54, 1408-1425. doi: 10.1037/dev0000527
Hughes, M. L., Agrigoroaei, S., Jeon, M., Bruzzese, M., & Lachman, M. E. (2018). Change in cognitive performance from midlife into old age: Findings from the Midlife in the United States (MIDUS) Study. Journal of the International Neuropsychological Society. Advance online publication. doi: 10.1017/S1355617718000425
Agrigoroaei, S., Attardo, A. L., & Lachman, M. E. (2016). Stress and subjective age: Those with greater financial stress look older. Research on Aging. Advance online publication July 14, 2016. doi: 10.1177/0164027516658502
Lachman, M. E., Teshale, S., & Agrigoroaei, S. (2015). Midlife as a pivotal period in the life course: Balancing growth and decline at the crossroads of youth and old age. International Journal of Behavioral Development, 39, 20-31. doi: 10.1177/0165025414533223
Rickenbach, E. H., Agrigoroaei, S., & Lachman, M. E. (2015). Awareness of Memory Ability and Change: In(Accuracy) of Memory Self-Assessments in Relation to Performance. Journal of Population Ageing, 8, 71-99. doi: 10.1007/s12062-014-9108-5
Lachman, M. E., Agrigoroaei, S., Tun, P. A., & Weaver, S. L. (2014). Monitoring cognitive functioning: Psychometric properties of the Brief Test of Adult Cognition by Telephone. Assessment, 21, 404-417. doi: 10.1177/1073191113508807
Rickenbach, E. H., Almeida, D. M., Seeman, T. E., & Lachman, M. E. (2014). Daily stress magnifies the association between cognitive decline and everyday memory problems: An integration of longitudinal and diary methods. Psychology and Aging, 29, 852-862. doi: 10.1037/a0038072
Turiano, N. A., Chapman, B. P., Agrigoroaei, S., Infurna, F. J., & Lachman, M. E. (2014). Perceived control reduces mortality risk at low, not high education levels. Health Psychology, 8, 883-890. doi: 10.1037/hea0000022
Zebrowitz, L. A., Franklin, R. G., Jr., Boshyan, J., Luevano, V., Agrigoroaei, S., Milosavljevic, B., & Lachman, M. E. (2014). Older and younger adults' accuracy in discerning health and competence in older and younger faces. Psychology and Aging, 29, 454-468. doi: 10.1037/a0036255
Agrigoroaei, S., Neupert, S. D., & Lachman, M. E. (2013). Maintaining a sense of control in the context of cognitive challenge: Greater stability in control beliefs benefits working memory. The Journal of Gerontopsychology and Geriatric Psychiatry, 26, 49-59. doi: 10.1024/1662-9647/a000078
Agrigoroaei, S., Polito, M., Lee, A., Kranz-Graham, E., Seeman, T., & Lachman, M. E. (2013). Cortisol response to challenge involving low controllability: The role of control beliefs and age. Biological Psychology, 93, 138-142. doi: 10.1016/j.biopsycho.2013.01.003
Lachman, M.E., & Agrigoroaei, S. (2012). Low Perceived Control as a Risk Factor for Episodic Memory: The Mediational Role of Anxiety and Task Interference. Memory & Cognition, 40, 287-296, doi: 10.3758/s13421-011-0140-x.
Agrigoroaei, S., & Lachman, M.E. (2011). Cognitive Functioning in Midlife and Old Age: Combined Effects of Psychosocial and Behavioral Factors. The Journals of Gerontology, Series B: Psychological Sciences and Social Sciences, 66B(S1), i130–i140, doi: 10.1093/geronb/gbr017.
Lachman, M.E., Neupert, S.D., & Agrigoroaei, S. (2011).The Relevance of Control Beliefs for Health and Aging. In K. W. Schaie & S. L. Willis (Eds.), Handbook of the psychology of aging (7th edition).
Agrigoroaei, S., & Lachman, M. E. (2010). Personal Control and Aging: How Beliefs and Expectations Matter. In J. C. Cavanaugh & C. K. Cavanaugh (Eds.), Aging in America: Psychological aspects (Vol. 1, pp. 177-201). Santa Barbara, CA: Praeger Perspectives.
Lachman, M.E., Agrigoroaei, S., Murphy, C., & Tun, P. (2010). Frequent Cognitive Activity Compensates for Education Differences in Episodic Memory. The American Journal of Geriatric Psychiatry, 18, 4-10, doi: 10.1097/JGP.0b013e3181ab8b62.
Lachman, M.E., & Agrigoroaei, S. (2010). Promoting Functional Health in Midlife and Old Age: Long-term Protective Effects of Control Beliefs, Social Support, and Physical Exercise. PlosOne 5(10): e13297. doi:10.1371/journal.pone.001329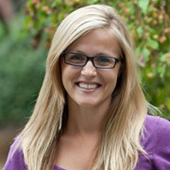 Elizabeth A. Hahn
Postdoctoral Research Fellow
PhD, University of South Florida
Elizabeth Hahn is a postdoctoral research fellow who completed a doctoral degree in the interdisciplinary Aging Studies program in the summer of 2012 in the School of Aging Studies at the University of South Florida (USF). While at USF, she completed a doctoral dissertation titled, "Daily Experiences of Stress, Memory, and Emotion in Older Adults with Mild Cognitive Impairment" under the advisement of clinical psychologist William E. Haley, PhD. She also worked on various longitudinal research projects examining risk factors for cognitive decline and dementia with Swedish population-based data under the advisement of dissertation committee member Ross Andel, PhD.
Elizabeth approaches her research with an applied, interdisciplinary and lifespan perspective. Her general areas of research focus on examining aging processes as they occur in everyday life, specifically relationships between stress, memory, and emotion. Her doctoral dissertation used a daily diary study design to assess daily stressors and daily memory complaints in relation to psychological distress among older adults with Mild Cognitive Impairment and a comparison group of cognitively health controls. Her current and future work includes both the examination of short-term fluctuations and long-term intraindividual change, as well as the study of protective factors (e.g., control beliefs) and adaptive strategies (e.g., elective optimization with compensation) that may buffer normal age-related change, early stages of pathological cognitive decline, and their potentially negative effects in everyday life.