News
The Hoot in Spring 2022, as part of their series of interviews with department and program chairs.
Reading India Now: Contemporary Formations in Literature and Popular Culture
, is forthcoming from Temple University Press.
Sarah Lamb publishes an article in Ethos
 "Being Single inIndia: Gendered Identities, Class Mobilities, and Personhoods in Flux."
New Book by Professor Jonathan Shapiro Anjaria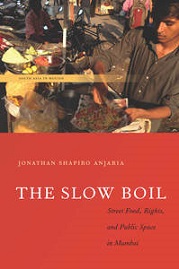 We are excited to announce the publication of a new book by Professor Jonathan Shapiro Anjaria, The Slow Boil: Street Food, Rights, and Public Space in Mumbai. The book will be available in May 2016 from Stanford University Press.
From the publisher's website:
Street food vendors are both a symbol and a scourge of Mumbai: cheap roadside snacks are enjoyed by all, but the people who make them dance on a razor's edge of legality. While neighborhood associations want the vendors off cluttered sidewalks, many Mumbaikers appreciate the convenient bargains they offer. In The Slow Boil, Jonathan Shapiro Anjaria draws on his long-term fieldwork with these vendors to make sense of the paradoxes within the city and, thus, to create a better understanding of urban space in general.
Much urban studies literature paints street vendors either as oppressed and marginalized victims or as inventive premoderns. In contrast, Anjaria acknowledges that diverse political, economic, historic, and symbolic processes create contradictions in the vendors' everday lives, like their illegality and proximity to the state, and their insecurity and permanence. Mumbai's disorderly sidewalks reflect the simmering tensions over livelihood, democracy, and rights that are central to the city but have long been overlooked. In The Slow Boil, these issues are not subsumed into a larger framework, but are explored on their own terms.
Senior Faculty Research Leave Award 2016-17
Congratulations to GRALL/SAS faculty member Harleen Singh, one of the recipients of the 2016-17 Senior Faculty Research Leaves! These competitive awards provide Arts & Sciences faculty with a non-teaching semester and research funds to allow them to focus on a scholarly or creative project.
Professor Singh received the award for her proposed project, Half an Independence: Women, Violence, and Modern Lives in India.
Professor Harleen Singh on BBC Radio
Professor Harleen Singh, chair of the South Asian Studies Program, participated in BBC Radio's podcast "Lakshmibai, Rani of Jhansi: Badass Queen" on Wednesday, June 10. Listen to the podcast on the BBC website.
SAS Faculty Receive Innovations in Research Grants
Congratulations to SAS faculty members Harleen Singh and Nidhiya Menon, two recipients of the inaugural Innovations in Research Grants!
Harleen Singh, Innovations in Research Grant
Half an Independence: Women, Violence, and Modern Lives in India

Nidhiya Menon, Innovations in Research Grant
The Impact of Minimum Wages on Child Labor: Evidence from India
William Lodge '13 Receives Prestigious Doris Brewer Cohen Award in the Humanities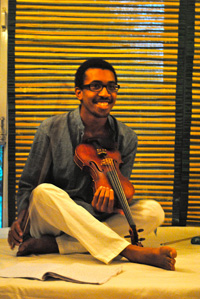 The South Asian Studies Program is delighted to announce that William Lodge, graduating senior in English and South Asian Studies, has won the prestigious Doris Brewer Cohen Award in the Humanities for his senior thesis, "Character and Identity Formation: Representing Dalits in the Indian Novel." The thesis compares the representation of Dalits in Mulk Raj Anand's 1935 novel Untouchable and Manu Joseph's contemporary novel Serious Men.
In Spring 2012, William was among the first cohort of Brandeis-India Fellows. He spent the semester in New Delhi at JNU, studying Hindi and Indian literature, history, and culture. William, a talented musician, also utilized his Brandeis-India fellowship to pursue research in Indian classical violin. His time in India heavily influenced his future academic and career goals; witnessing the disparity in educational achievement in India has prompted him to pursue an MS in International Education Development, with a focus on South Asia. He will be attending the Graduate School of Education at the University of Pennsylvania this fall where he is receiving a Foreign Language and Area Studies Fellowship to support his Hindi studies.
The Doris Brewer Cohen Award is given to the best senior essay or thesis with a humanities focus from an impressive number of programs on campus, including English, Philosophy, Comparative Humanities, Film, Television and Interactive Media, Religious Studies, Women's and Gender Studies, Anthropology, Education, Fine Arts, History, International and Global Studies, among many others. The prize comes with a $2,500 award.