Corey Creekmur
Fall 2010 Lecture
"Experiments with Truth: Confronting Colonial History in Popular Indian Cinema"
Featuring Professor Corey Creekmur, Head of Film Studies at the University of Iowa
Thursday, October 28, 2010
Our Fall 2010 lecture featured Professor Corey Creekmur, head of Film Studies at the University of Iowa, and an expert in international popular cinema. Professor Creekmur lectured in front of a crowd of over 100 in the Mandel Center for the Humanities on the recent portrayal of colonial history in Indian cinema. Prior to the lecture, he mingled with students and faculty at a reception held in the Mandel Atrium. Light refreshments were served in a casual and elegant atmosphere as all prepared to foray into the world of popular Hindi film.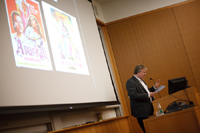 English and IGS students from the courses "Bollywood: Popular Film, Genre, and Society" and "Introduction to International and Global Studies" were present at the lecture that argued what is "the historical" in popular Hindi cinema has undergone a significant transformation in recent years. Where Indian film was once generally devoted to recreating much older historical periods (especially the reigns of the great Mughal emperors), Creekmur explained that more recent films have explored the late colonial period just before and after Independence and the Partition of the subcontinent. 
Professor Creekmur offered examples of famous figures such as the "mutinous" sepoy Mangal Pandey, and the Independence movement "martyr" Bhagat Singh, who both portrayed a distinctive engagement with history through the formal and narrative conventions of popular Hindi cinema. He argued that these "experiments with truth" — to quote Gandhi's famous phrase — raise significant questions about the relation between popular culture, national history, and collective memory in contemporary India.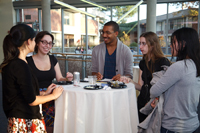 The next day, Professor Creekmur participated in Professor Ulka Anjaria's "Bollywood: Popular Film, Genre, and Society" class.  Introduced as "an expert of music and film," Creekmur helped students to understand the intricacies of Guru Dutt's Pyassa, which he has published articles on and which the class is currently studying. Together, they explored the dense connections of the motion of the camera and the musical track and how this contributes to character development on screen. The class was well-engaged in the discussion and appreciative of Creekmur's fresh perspective.
The lecture and visit were co-sponsored by South Asian Studies, the Mandel Center for the Humanities and the Brandeis-India Initiative.
About the Speaker
Professor Corey Creekmur's teaching and research focus on international popular cinema (especially American and South Asian), cross-cultural film genres, and the way in which such films interact with other media (such as music) as well as discourses of race, gender and sexuality.
For more information, please see Professor Creekmur's faculty page on the University of Iowa website.