Jyoti Puri
Fall 2011 Lecture
"Racialized Communalisms, Criminalized Queers and the Police in Contemporary India"

Featuring Jyoti Puri, Professor of Sociology at Simmons College

Wednesday, November 2, 2011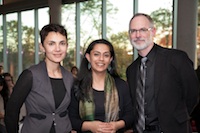 On November 2, 2011, the Mandel Center for the Humanities Atrium was crowded with students and faculty from across disciplines, all gathered together to hear the words of Professor Jyoti Puri from Simmons College. 
 She spent the evening presenting her experiences and research involving policemen in New Delhi, India and the ways they respond to homosexuality in terms of their own racial background, prejudices, and the law. 
The lecture was introduced by Professor Thomas King, the head of the new Sexuality and Queer Studies at Brandeis University. He described Professor Puri's integral relevance to the field of Sexuality Studies, and the uniqueness of the case of India, especially in terms of dealing with ethnic minorities and pejorative queerings.
Professor Puri then began her talk, titled, "Racialized Communalisms, Criminalized Queers and the Police in Contemporary India." Her insights included the exploration of the enforcement of sodomy law, or Section 377 of the Indian Penal Code.
She went on to analyze the discourses through which Delhi Police choose to name some groups as consistently queer and criminal, even while allowing for the decriminalization of homosexuality. Racializations, sexual rights and governance in contemporary are just some of the topics she highlighted in her presentation.
Afterwards, she entertained insightful questions from the audience. Professor Puri expanded upon the process she undertook to conduct her fieldwork and gave further insights into how homosexuality is defined and dealt with in contemporary India.
About the Speaker
Jyoti Puri is Professor of Sociology at Simmons College. She writes and teaches at the crossroads of sociology, sexuality and queer studies, and postcolonial feminist theory. Her most abiding interests are in understanding issues of sexuality, gender, race, nation, and state from a transnational/postcolonial feminist lens. Her new book, Sexual States: Governance and the Struggle against the Antisodomy Law in India's Present, was published by Duke University Press (February 2016). Puri's previous books include, Woman, Body, Desire in Post-colonial India (Routledge 1999) and Encountering Nationalism, (Blackwell Publishers 2004). She has also published articles and book chapters in journals and edited volumes on sexuality and gender. She has co-edited a special issue on gender, sexuality, state, and nation for Gender & Society (April 2005) and another one on sexuality and the state for Rethinking Marxism (October 2012).