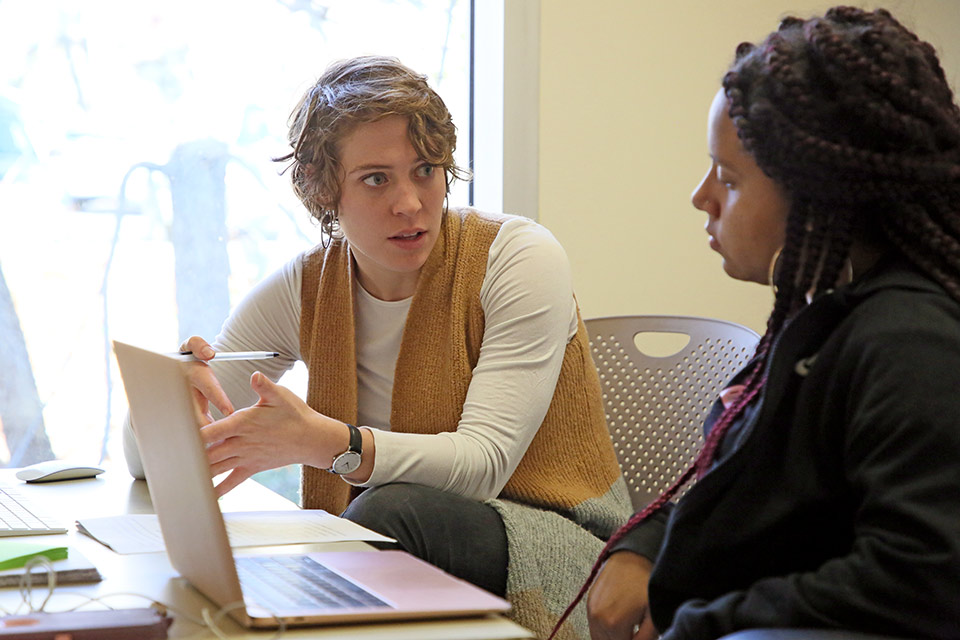 The Writing Center offers feedback from experienced and supportive graduate-student consultants who will address macro-level writing issues (e.g., structure, scope, organization, style), and micro-level concerns (e.g., punctuation, semantics, syntax, vocabulary).
Make an appointment at the Writing Center and let us help you make good writing great!
Writing is an ongoing process of thinking, editing and revising that is never finished. It is often quite personal, and your process might look very different from someone else's. However, writing need not happen in isolation; in fact, collaboration helps writers become more confident.
The University Writing Center is the driving force of writing support on campus; it is the place to talk about your writing and to get an extra pair of eyes on your paper. We offer support for writers of all levels in all subjects, working on anything from your first college essays to lab reports, senior theses, dissertations and job and fellowship materials. Our expert team of consultants is on hand to help you with your writing project at any stage, even when you do not yet have any writing to show:
What We Do
"It was a really fun experience. Not only was it helpful, but it also boosted my confidence in my submission."
Writing Center Student
The Writing Center Commitment
The Writing Center is a teaching space designed to help writers become more confident, which is why we aim to cultivate a safe and respectful environment in which students' and consultants' questions and concerns are heard and addressed. To accomplish this goal, our consultants partner with writers to develop self-correction strategies and actionable steps for revision.
Our primary focus is on expanding a writer's skill set rather than merely polishing a specific piece of writing. We believe that productive consultations are the result of a thoughtful and constructive exchange between consultants and writers, during which writers take the initiative, reflect on the writing process and think beyond an individual assignment.