Past Events
2019-20 Academic Year
I Just Had to Be There: Experiences of Indigenous Students in the #NoDAPL Movement
February 7, 2020
Adrienne J. Keene, Assistant Professor of American Studies at Brown University
Sponsored by the Native American and Indigenous Studies Colloquia Series and the Brandeis Anthropology Research Seminar
Adrienne Keene is a citizen of the Cherokee Nation and an Assistant Professor of American Studies and Ethnic Studies at Brown University. Her research areas include college access, transition, and persistence for American Indian, Alaska Native, and Native Hawaiian Students, including the role of pre-college access programs in student success. Additionally, she examines representations of Native peoples in popular culture, Native cultural appropriation in fashion and design, and the ways that Indigenous peoples are using the internet, social media, and new media to challenge misrepresentations and create new and innovative spaces for art and activism. She is the longtime author of the blog Native Appropriations (nativeappropriations.com), and the co-host of the podcast All My Relations.
Native American Doctor:  or How I Stopped Worrying and Learned to Love the Prior
November 22, 2019
Eli Nelson (Mohawk) is an Assistant Professor of American Studies at Williams College and the Director of Fellowships at the Center for Black, Brown, and Queer Studies. His current book manuscript, Sovereign Knowledge: Indigenous and Settler Sciences in the United States Empire, traces the history of Indigenous scientific knowledge production across different national histories and disciplines in the 19th and 20th centuries. In addition to the history of Native science, Nelson works on critical Indigenous theory, as well as Indigenous science fiction and futurism, and gender and sexuality.
Workshop:  Director Sam Weisman of Family Ties
November 21, 2019
Director Sam Weisman workshopped an episode of Family Ties (NBC, 1982-89), the smash sitcom for which he directed 62 episodes.
To Serve Metaphor: Revisiting a Classic Twilight Zone Episode 10-2
October 23, 2019
"To Serve Man" is one of the most celebrated and discussed episodes of Rod Serling's iconic American television series, and has generally been read as a commentary on both Cold War tensions and human gullibility. While not disagreeing with the substance of such interpretations, this talk will make the case that they nevertheless tend to miss out on certain key issues that are "hiding in plain sight" as it were—specifically issues pertaining to gender and sexuality.  Accordingly, this presentation will work toward finding new ways to parse the episode and thereby add to potential understandings of its multiple meanings.
Adam Knee is Dean of the Faculty of Fine Arts, Media & Creative Industries at Singapore's Lasalle College of the Arts.  Prior to this, he held appointments at University of Nottingham Ningbo China (where he was Head of the School of International Communications and Professor of Film and Media Studies), Nanyang Technological University (Singapore) and Ohio University (USA).  He has research interests in American and Southeast Asian popular cinemas.
How Invasive Advertising Weaponizes the Internet
October 22, 2019
Walter Mossberg
is widely regarded as one of the most influential writers on information technology.  In 2004, in a lengthy profile,
Wired
called him "The Kingmaker," saying "few reviewers have held so much power to shape an industry's successes and failures."  The 
Washington Post
declared Mr. Mossberg "one of the most powerful men in the high-tech world" and "a one-man media empire whose prose can launch a new product."  The 
New York Times
 calls him a "protean critic of the new economy's tools and toys."  He is also a former trustee of Brandeis University.
2018-19 Academic Year
'Carl Laemmle' Viewing and Q&A With Professor Thomas Doherty
May 15, 2019
Watch the Massachusetts premiere of director James L. Freedman's acclaimed documentary "Carl Laemmle," followed by a Q&A with American Studies Professor Thomas Doherty, author of "Hollywood and Hitler: 1933-1939." A pioneering mogul of early cinema, Laemmle, a German émigré, was the founder of Universal Pictures who dedicated his personal fortune to rescuing more than 300 Jewish families from Nazi Germany.
'The Mortal Storm': Viewing and Q&A With Professor Thomas Doherty
May 7, 2019
Watch the New England premiere of the newly restored 1940 drama film "The Mortal Storm," followed by a Q&A with American Studies Professor Thomas Doherty, author of "Hollywood and Hitler: 1933-1939." Directed by Frank Borzage and starring James Stewart and Margaret Sullivan, "The Mortal Storm" was MGM's first anti-Nazi film and one of only two films made in Hollywood during World War II that explicitly identifies Jews as victims of Nazism.
Hollywood and the French Resistance: The Paramount Theater During the Nazi Occupation of Paris
April 16, 2019
Ross Melnick '96, associate professor of film and media studies at UC Santa Barbara, discusses his book "Hollywood and the French Resistance," which examines the history of why and how Hollywood began operating cinemas around the world—from Sao Paulo to Sydney—and how Le Paramount became first a symbol of that cultural and industrial expansion after World War I and then a monument to the work of Hollywood's (ex-)employees during World War II.
When the Land Speaks: Exploring the Dynamic Relationship Between Land, People and Nature Through the Eyes of the Native Americans of New England
April 1, 2019
With Larry Spotted Crow Mann, a member of the Nipmuc Tribe of Massachusetts and an award-winning writer, poet, cultural educator, storyteller, and drummer/dancer. Mann is a frequent public speaker on topics including Native American sovereignty, identity, youth sobriety, and cultural and environmental awareness. He is the author of several books, including "Tales From the Whispering Basket" (CreateSpace, 2011), "The Mourning Road to Thanksgiving" (CreateSpace, 2016) and "Drumming and Dreaming" (CreateSpace, 2017). Part of the Native American and Indigenous Studies Colloquia Series.
The Gulf: The Making of an American Sea
March 19, 2019
Jack Davis, PhD'94, will discuss his 2018 Pulitzer Prize-winning book, "The Gulf: The Making of an American Sea" (Liveright, 2017), an important environmental history of the Gulf of Mexico that brings crucial attention to Earth's 10th-largest body of water.
The Water Is Life Movement: Standing Rock in Social Justice and Spiritual Context
February 6, 2019
Researcher, writer, educator and producer Jennifer Weston will discuss the Great Sioux Nation's efforts to halt construction of the Dakota Access Pipeline under the Standing Rock Indian Reservation in North Dakota and South Dakota. Weston is director of the Wôpanâak Language Reclamation Project, language department director for the Mashpee Wampanoag Tribe and associate lecturer of women's and gender studies at UMass Boston. Her talk is part of the American studies department's Native American and Indigenous Studies Colloquia Series.
Decolonizing Traditions: Native Hawaiian Women and the Question of Feminism
November 9, 2018
With J. Kēhaulani Kauanui, professor of American studies and anthropology at Wesleyan University. Part of the Native American and Indigenous Studies Colloquium Series, sponsored by the departments of anthropology and American studies.
Partnerships and Educational Collaborations
October 24, 2018
Part of the Native American and Indigenous Studies Colloquium Series, sponsored by the departments of anthropology and American studies.
American Jewish Feminism and Israeli Feminism: Launching a Trans-National Archive
October 18, 2018
A panel discussion to celebrate the launch of the Brandeis/Haifa Feminist Collaborative, a joint project of Brandeis Library's Archives & Special Collections Department and the Haifa Feminist Center (Isha L'Isha). Panelists include Joyce Antler, Samuel Lane Professor Emerita of American Jewish History; Marcia Freedman, American-Israeli activist and feminist; Hannah Safran, co-founder, Haifa Feminist Institute; and Surela Seelig, outreach and special projects archivist, Brandeis University. Lisa Fishbayn Joffe, Shulamit Reinharz Director of the Hadassah-Brandeis Institute, will serve as moderator.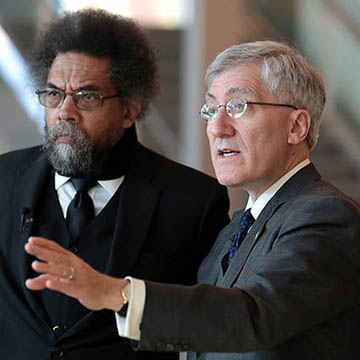 Liberal Learning: Open Minds and Open Debate with Cornel West and Robert George
October 17, 2018
What happened to civil, public discourse in America? That's a question that leading intellectuals Cornel West and Robert George are attempting to answer as they tour the country to debate one another on critical issues. West, a liberal-minded thinker who is now a philosophy professor at Harvard University, and George, a conservative legal scholar and research fellow at the Notre Dame Center for Ethics and Culture, are close friends who have made an art form of agreeing to disagree.
Screening of 'Dawnland'
October 8, 2018
"Dawnland" tells the story of first state and tribal government-sanctioned Truth and Reconciliation Commission in the United States, set up in 2012 in Maine, to gather testimony from Wabanaki people and state child welfare workers. Part of the Native American and Indigenous Studies Colloquium Series, sponsored by the departments of anthropology and American studies.
2017-18 Academic Year
Kiss of the Spider Woman
March 12, 2018
The American studies program hosts a screening of "Kiss of the Spider Woman" in 35mm.  Co-sponsored by the Latin American and Latino studies program and the department of romance studies, and made possible by the generosity of David Weisman, Sam Weisman and the Motion Picture Division of the Library of Congress.
January 24, 2018
American studies graduate Michael Weller '65, recipient of the 2017 Brandeis Creative Arts Award, sits down for a Q&A with Professor Michael Doherty to discuss his remarkable body of work. While a student at Brandeis, Weller studied music composition and began writing plays. In addition to writing, he is passionate about social causes related to playwrights. Weller is one of the founders of the Cherry Lane Theatre's acclaimed Mentor Project, which pairs preeminent playwrights with emerging playwrights for a seasonlong mentorship. He is also active in the Dramatists Guild of America. He is now a faculty member at The New School for Drama in New York.
Podcasts, Digital Media and Careers in History
November 7, 2017
American studies and the history department welcome Liz Covart, an historian of early America, digital projects editor at the Omohundro Institute and host of "Ben Franklin's World: A Podcast About Early American History. She will discuss how she practices scholarly history, public history and digital humanities and communicates it to a large, public audience.
Is This American Cuisine?
October 25, 2017
The American studies and journalism programs host a Meet the Majors/Minors event, featuring Mediterranean food, a presentation by American studies majors Abby Patkin, Anna Stern and Katie Decker-Jacoby and journalism minor Eva Spitzen, and a lively discussion on food and American culture.
Richard Nixon: The Life — A Talk With John Farrell
October 17, 2017
Acclaimed author and journalist John A. Farrell discusses his new book, "Richard Nixon: The Life" (Doubleday) — a finalist for the 2018 Pulitzer Prize in biography — which sheds new light on the 37th president's handling of the Vietnam War. Farrell's lecture is exceptionally relevant in the age of Trump.