The American Studies Program offers an interdisciplinary approach to the study of American identity and the influence the United States has had on the modern world.
Using a variety of texts — ranging from 18th-century sermons and 19th-century novels, to 20th-century films and 21st-century musicals — students explore the origins and evolution of the myths, values and institutions that have shaped our contemporary understanding of what it is to be an American.
As a sponsor of university programs in legal studies, journalism and environmental studies, the American Studies Program welcomes students who seek active engagement with the contemporary world through a firm grounding in the ideas, customs and debates that characterize the traditional liberal arts.
Alumni Spotlight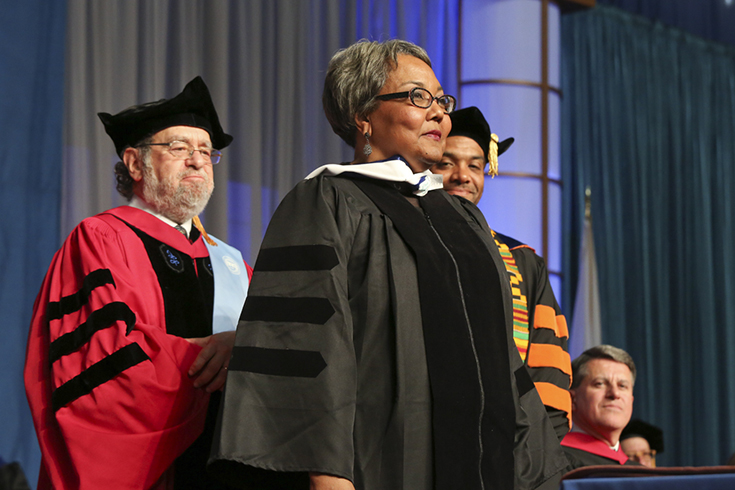 Richardson Makes History — Literally
Julieanna L. Richardson '76, H'16, is founder and executive director of The HistoryMakers, an educational nonprofit dedicated to preserving, developing and showcasing video oral histories of African-Americans. Through her work with the largest archival project of its kind in the world, she is adding seldom-heard voices to the telling of America's story.
What Is Liberal Learning?
Open Minds and Open Debate With Cornel West and Robert George
What happened to civil, public discourse in America? That's a question that leading intellectuals Cornel West and Robert George attempted to answer at a discussion hosted by the American Studies Program in 2018. West, a liberal-minded thinker and philosophy professor at Harvard University, and George, a conservative legal scholar and research fellow at the Notre Dame Center for Ethics and Culture, are close friends who have made an art form of agreeing to disagree.
"My education at Brandeis as an American studies major has proven immensely valuable to me in the real world. It provided me with a keen understanding of a wide array of issues pertaining to Americana — arts, journalism, history, politics, sociology, etc. — and provoked my curiosity to further explore these topics on my own."
Scott Feinberg '08
Awards Columnist, The Hollywood Reporter