Beta Gamma Sigma
Founded in 1913, Beta Gamma Sigma is the international business honor society for AACSB-accredited schools. Inducted as students, BGS members go on to serve in critical leadership roles in corporate, entrepreneurial, government, non-profit, and academic sectors.
BGS Global Leadership Summit 2018, Chicago, IL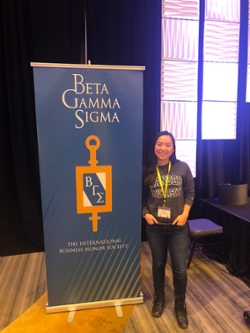 Claire Poicus visits Chicago for the BGS Leadership Summit
Sharing Claire Pocius' photos and sentiments from the BGS Global Leadership Summit she attended Nov 1 weekend in Chicago. Brandeis received a scholarship so her registration and lodging was covered by the organization:
"Last weekend I attended Beta Gamma Sigma's Annual Global Leadership Summit in Chicago, IL. This year's GLS was the largest one yet, with nearly 400 business students in attendance and 197 different colleges and universities represented from around the world. The theme of the summit was "Innovative Leadership," with many of the activities focused on innovation. Throughout the weekend, I heard from inspiring keynote speakers, networked with top industry professionals, and engaged in interactive skill building exercises. A highlight of the event for me was meeting and collaborating with business students from 5 different continents. The event culminated in a challenging case competition in which 40 teams participated. Although my team did not win the competition, I learned a great deal about teamwork and case competitions in general as this was my first case competition ever.   The competition was a case competition where we were split into four different topics for the case. So there were 10 different teams per topic (for a total of 40 teams). My team's topic was about an ethical scandal in a company that was also going through an acquisition. In the first round of the competition each team presented their solutions to a panel of judges. Then one team from each topic was chosen to move onto the final round. Finally, the four team finalists presented to everyone on the last day of the summit and the winning team was chosen."