Past Events
2018-2019 Events
Performance: The Odyssey
November 5, 2018
Speaker/Performer: Joe Goodkin
The Odyssey in Song: a Folk Opera
5-6:30 p.m., Lown 002
Speaker: Hannah Culik-Baird
October 24, 2018
Loss and Recovery of Knowledge at Rome
Archaeology Day
October 14, 2018
The Department of Classical Studies participated in their first Archaeology Day on October 14, as part of Archaeology Month in Massachusetts. The event was coordinated by the department's graduate students who developed activities and informational posters to provide children and families with exposure to archaeology. With additional support from the Digital Humanities Lab and Classical Studies Artifact Research Collection (CLARC) activities included: writing postcards in Ancient Greek, pottery reconstruction, 3D scanning and printing, tours of CLARC and interactive displays of ancient artifacts, virtual drone demonstrations, and questions/answers with student excavators who had their equipment on display, plus a 3D printed artifact to take home. Children practiced their puzzle skills gluing pottery back together and enjoyed scanning real artifacts and seeing the 3D models emerge from their scans. This was a wonderful opportunity to graduate students to engage with the Brandeis and Waltham community, providing an insight into archaeology and classical studies. The event was made possible through the support of the Brandeis Dean's Office in the College of Arts and Sciences and Graduate School of Arts and Sciences.
Archaeology Day participant experimenting with pottery reconstruction.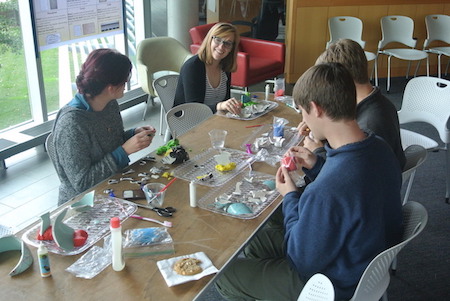 Meet the Majors
October 10, 2018
Field Dirt
October 10, 2018
Students who have worked on summer archaeological digs speak about their experiences and answer questions.