Past Events
2019-2020 Events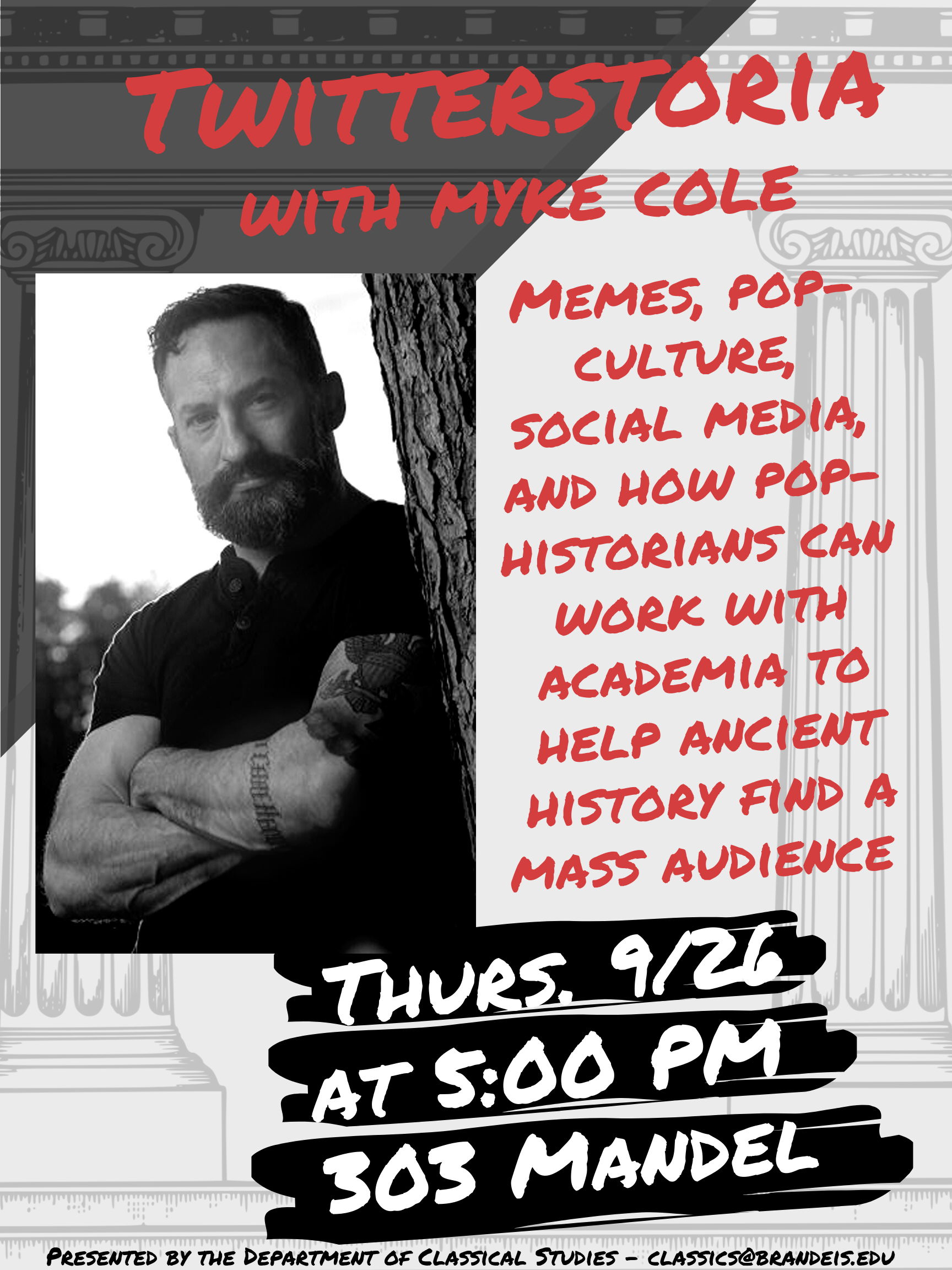 Twitterstoria with Myke Cole
September 26, 2019
Myke Cole
5-6:30 p.m. in 303 Mandel
Twitterstoria: Memes, pop-culture, social media, and how pop-historians can work with academia to help ancient history find a mass audience.
Myke Cole is an amateur historian and the author of Legion Versus Phalanx (Osprey). His historical writing has also appeared in The New Republic, The Daily Beast, and Ancient Warfare. His new book The Bronze Lie: Shattering the Myth of Spartan Warrior Supremacy is coming from Osprey in 2020.
Myke is also the author of nine fantasy novels and a forthcoming military sci-fi novel. He is an investigator on TV, hunting fugitives on CBS' Hunted and UFOs on Discovery's Contact. 
He has a long career in intelligence, the military, and law enforcement. He's built a substantial following on Twitter, where he works to engage fans of his novels and TV work with ancient military history.
2018-2019 Events
Natural Not Yet Understood
April 13, 2019
Natural Not Yet Understood:  The Supernatural from Antiquity to the Medieval Period
Department of Classical Studies Graduate Student Conference.
12-6 p.m.
Keynote Speaker:  Professor Debbie Felton, University of Massachusetts, Amherst
Humans have always been drawn to the idea of creatures and worlds that exist alongside or outside of our own.  These extraordinary ideas can take many forms, from average people with usual abilities to worlds of the dead and fantastic beasts.  But as Elbert Hubbard once said, "The supernatural is the natural not yet understood."  Today, we have realized that many of the past's supernatural events were simply misunderstood natural phenomena.
Possible topics include:  Ancient religion, cultic practices, divination, ghosts and spirits, magic and witchcraft, monsters and the monstrous, mythology, and the preternatural more generally.
We welcome submissions that touch on these and similar topics from graduate students of all levels and from disciplines including:  Anthropology, Art History, Classics, Comparative Literature, History, Jewish Studies, Near Eastern Studies, Philosophy, Religious Studies, Sexuality Studies, and Women's Studies.  
Abstracts of no more than 300 words must be received by January 31, 2019.  Please submit an anonymous abstract in PDF (.pdf) format.  AV support will be provided.
Please send all questions to the conference committee: Derrek Joyce, Matthew Previto, and Katherine Riggs.
From #metoo to the Sicilian Slave Revolts
March 13, 2019
Prof. Dominic Machado, College of the Holycross
5-6:30 p.m.
From #metoo to the Sicilian Slave Revolts: What modern protests can teach us about resistance in the Roman world.
Modern protests, such as the Arab Spring, the college protests of 2014, and the Women's March, in concert with sociological approaches to resistance can offer new insights about the nature of protest in the Roman world. Using the Sicilian Slave Revolts as a case study, this talk will examine how the interconnectedness that defines modern protest is prevalent in ancient forms of resistance as well. This challenges traditional scholarly views of ancient resistance movements as singular and exceptional events.
Performance: The Odyssey
November 5, 2018
Speaker/Performer: Joe Goodkin
The Odyssey in Song: a Folk Opera
5-6:30 p.m., Lown 002
Speaker: Hannah Culik-Baird
October 24, 2018
Loss and Recovery of Knowledge at Rome
Archaeology Day
October 14, 2018
The Department of Classical Studies participated in their first Archaeology Day on October 14, as part of Archaeology Month in Massachusetts. The event was coordinated by the department's graduate students who developed activities and informational posters to provide children and families with exposure to archaeology. With additional support from the Digital Humanities Lab and Classical Studies Artifact Research Collection (CLARC) activities included: writing postcards in Ancient Greek, pottery reconstruction, 3D scanning and printing, tours of CLARC and interactive displays of ancient artifacts, virtual drone demonstrations, and questions/answers with student excavators who had their equipment on display, plus a 3D printed artifact to take home. Children practiced their puzzle skills gluing pottery back together and enjoyed scanning real artifacts and seeing the 3D models emerge from their scans. This was a wonderful opportunity to graduate students to engage with the Brandeis and Waltham community, providing an insight into archaeology and classical studies. The event was made possible through the support of the Brandeis Dean's Office in the College of Arts and Sciences and Graduate School of Arts and Sciences.
Archaeology Day participant experimenting with pottery reconstruction.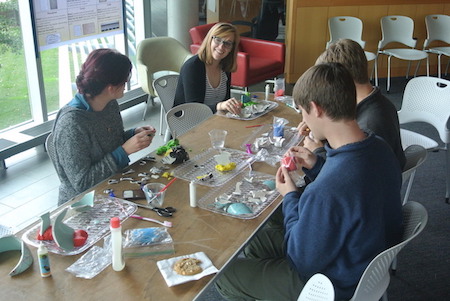 Meet the Majors
October 10, 2018
Field Dirt
October 10, 2018
Students who have worked on summer archaeological digs speak about their experiences and answer questions.