Jewish Futures Project. The Impact of Taglit-Birthright Israel: 2010 Update
Leonard Saxe, Theodore Sasson, Shahar Hecht, Benjamin Phillips, Michelle Shain, Graham Wright and Charles Kadushin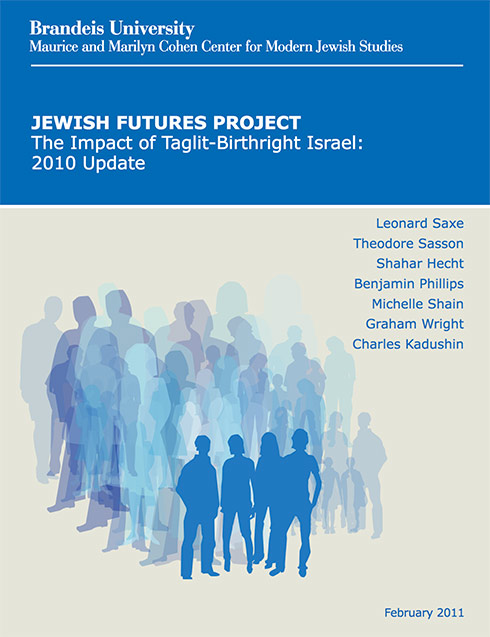 This report examines the impact of Taglit-Birthright Israel on its alumni five to nine years after their visits to Israel. The data are derived from the second year of a longitudinal study of Jewish young adults.
Among the Findings
Participants were 46 percent more likely to feel very much connected to Israel than their counterparts who applied but did not go, and the Taglit effect was greatest among participants from relatively weaker Jewish backgrounds.

Participants were 28 percent more likely to report feeling very confident in their ability to explain Israel's current situation than their counterparts who did not go.

Participants were 51 percent more likely to marry a Jewish person. Taglit's influence on marital choice was related to age (impact was greatest among participants who went on trips at a younger age) but not to Jewish educational background (the effect was consistent across the spectrum of Jewish educational experience).

Taglit's influence extended beyond participants to their spouses: Among respondents whose spouses were not raised by Jews, participants' spouses were more than four times as likely to have converted to Judaism as the spouses of nonparticipants.

Participants were 28 percent more likely to rate marrying a Jew as somewhat or very important.

Participants with no children were 35 percent more likely to view raising their children as Jewish as very important. However, for those with children there was no evidence of behavioral differences with respect to the religion in which children are being raised, Jewish circumcision and naming ceremonies, and choice of Jewish day care or preschool.