Baltimore 2020 Jewish Community Study
Matthew Boxer, Matthew A. Brookner, Eliana Chapman, Harry Aaronson, Daniel Mangoubi, Matthew Feinberg, Janet Krasner Aronson, and Leonard Saxe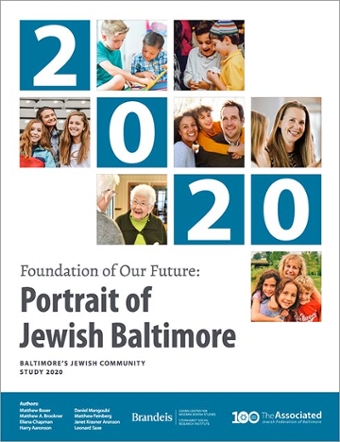 The Baltimore 2020 Jewish Community Study provides a snapshot of the community and the ways in which members of Baltimore's 46,700 Jewish households engage with Jewish life. The study estimates the size and characteristics of the Jewish population of the catchment area under the purview of The Associated and generates findings that could help Jewish organizations in Baltimore plan for the next decade and serve the Jewish community as effectively as possible.
Key Findings
The Baltimore Jewish community consists of approximately 46,700 households that are home to 115,400 individuals, including 95,400 Jews (74,900 adults and 20,500 children) and 20,000 non- Jews (18,000 adults and 2,000 children).

Members of the community have longstanding ties to the area, as nearly half of Jewish adults (45%) were raised in Baltimore.

Twenty-one percent of Jewish adults in Baltimore identify as Orthodox. Similar proportions identify as Conservative (19%) and Reform (18%). Three percent belong to another denomination. Thirty-nine percent identify with no particular denomination.

The community is exceptionally strong in Pikesville, Owings Mills, and the Park Heights and Cheswolde neighborhoods of the City of Baltimore, where many of the central institutions of the Baltimore Jewish community are located.

Jewish young adults (ages 18-34) disproportionately live in the City of Baltimore compared to older adults. Very few Jewish adults ages 80 or older live in Carroll and Harford Counties.

Four percent of the community describe their standard of living as "prosperous" and nearly one third (31%) say they are "living very comfortably." Another 50% say they are "living reasonably comfortably." But 13% of Jewish households say they are "just getting along," a possible indication of economic vulnerability, while 1% say they are "nearly poor," and 2% say they are "poor."

In 14% of households, a health issue, special need, or disability causes a limitation in the ability to work, attend school, or do housework.

Among the 22,500 children who live in Baltimore Jewish households, 20,500 (91%) are raised Jewish in some way, either by religion, secularly or culturally, or as Jewish and another religion.

One third of households include someone who belongs to a synagogue or another Jewish worship community of some type, such as Chabad or an independent minyan.

Approximately 65% of Jewish adults attended services at least once in the past year, including 43% of those who are not members of a congregation.

Forty percent of Jewish adults attended at least one Jewish-sponsored program, activity, or class in Baltimore in the past year, and 13% participated at least once per month.

More than half (59%) of Baltimore Jewish adults have been to Israel at least once.
Index of Jewish Engagement