2020 Metropolitan Chicago Jewish Population Study
Janet Krasner Aronson, Matthew A. Brookner, and Leonard Saxe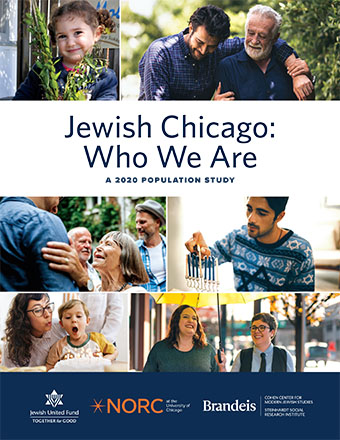 This comprehensive study of the Jewish population of Metropolitan Chicago, sponsored by the Jewish United Fund/Jewish Federation of Metropolitan Chicago (JUF), was conducted with NORC at the University of Chicago.

The Jewish population of Chicago has grown modestly since 2010: 319,600 Jewish adults and children live in 175,800 Jewish households. By providing detailed data about the diversity of Jewish life and the well-being of community members, the comprehensive study will serve as the springboard for Chicago organizations and agencies to develop programs and policies to better meet community needs and interests.
Specifically, the study:
Estimates the number of Jewish adults and children in the community and the number of non-Jewish adults and children who are part of those households
Describes the community in terms of age and gender, geographic distribution, and other
sociodemographic characteristics
Describes health and economic conditions and vulnerabilities
Measures participation in community programs, Jewish institutions, along with reasons for
participation and barriers to increased participation
Understands the multifaceted cultural, communal, and religious expressions of Judaism that
constitute Jewish engagement
Assesses attitudes toward Jewish life and Israel
Among the key findings:
The 2020 estimate of the Chicago Jewish population is 319,600 Jewish adults and children who live in 175,800 Jewish households. An additional 100,700 non-Jewish individuals live in these households, for a total of 420,300 people in Jewish households. About one-in-18 households in Metropolitan Chicago has at least one Jewish adult and about one-in-25 Chicagoans is Jewish.
Following national trends, a large percentage of Jewish adults (44%) do not affiliate with a denomination. But many in this group engage in Jewish ritual, communal, and cultural Jewish life.
One-in-five households are struggling to make ends meet, reporting that they are "not making ends meet" or "just managing to make ends meet." Of Jewish households that are struggling, 59% reported their financial situation had gotten worse since the pandemic.
The greatest single service need is for mental health services— 24% of Jewish households with a health issue needed these services in the past six months. The need for mental health services is significantly higher among young adults ages 22–39.
Eighteen percent of Jewish households include at least one person whose work, school, or general activities are limited by a chronic health condition.