2021-22 Long Beach Area Jewish Community Study
Matthew A. Brookner, Janet Krasner Aronson, Matthew Boxer, Leonard Saxe,
Zachary H. Seeskin, and David Dutwin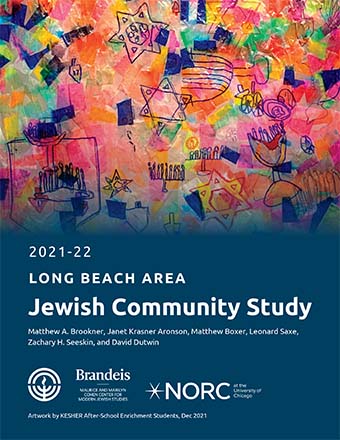 The 2021-2022 Long Beach Area Jewish Community Study provides a snapshot of the community and the ways in which members of Long Beach's 17,700 Jewish households engage with Jewish life. The study describes the size and characteristics of the Jewish population and provides data that will effectively guide Jewish organizations as they plan for the next decade serving their community.
 Among the findings:
There are 38,900 individuals living in 17,700 Jewish households in the Long Beach Area, of whom 28,300 are Jewish in some way. These households include 24,600 Jewish adults and 3,600 Jewish children.
Jews in the Long Beach Area are older than the US Jewish community as a whole; nationally, half of Jewish adults are younger than age 50, compared to 28% of Jews in the Long Beach Area.
Seven percent of Jewish adults identify as LGBTQ, and 11% of Jewish households include an LGBTQ individual, who may be an adult or child, Jewish or not Jewish.
While 16% of Jewish individuals in the Long Beach Area identify as Hispanic or as any racial group other than white, 6% identify as a person of color. Although 4% of Jewish adults identify as a person of color, a larger share (19%) of Jewish children are identified as people of color by their parents.
Twenty percent of Jewish households belong to a Jewish congregation, but just 13% belong to a congregation in the Long Beach Area; the remainder belong to congregations in other areas, in most cases the neighboring communities of Los Angeles and Orange County.
Two thirds of Jewish adults are somewhat or very satisfied with their level of participation with the Long Beach Area Jewish community. Eighty percent of Jewish adults ages 18-49 are somewhat (67%) or very satisfied (13%), compared to about 60% of older adults.
Satisfaction with the level of one's participation in the Jewish community is related to finances. People who are financially struggling are least likely to be very satisfied (13%) with their level of participation in Jewish life, compared with those who are well-off (38%).
Jewish preschool has less reach than other forms of Jewish education which suggests the potential for expansion.
Among the quarter of Jewish households that include someone who has a health issue, 29% did not receive all services needed to manage the health issue within the previous three months.