2020-21 Central Florida Jewish Community Study
Matthew Boxer
,
Eleora Pasternack
, Daniel Mangoubi,
Daniel Nussbaum
,
Matthew A. Brookner
,
Raquel Magidin de Kramer
, Harry Aaronson, Matthew Feinberg,
Janet Krasner Aronson
, and
Leonard Saxe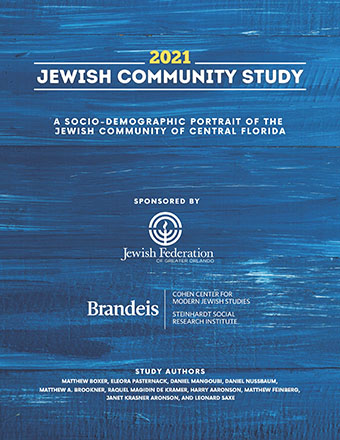 The 2020-21 Central Florida Jewish Community Study is the first in-depth examination of the size and characteristics of the Jewish community in Orlando and the surrounding area since 1993.  The study provides a comprehensive portrait of the region's 51,400 Jews, their families, and their Jewish behaviors, affiliations, attitudes, and connections to the organized Jewish community.  Its findings should help the Jewish community of Central Florida make critical decisions about the trajectory of Jewish life in the region in the coming decade.
The Central Florida Jewish community numbers approximately 68,700 adults and children, including 51,400 Jews, living in 25,500 Jewish households. These households include:

41,700 Jewish adults

9,700 Jewish children

13,400 non-Jewish adults

3,900 non-Jewish children
Download the comparison charts