2018 Greater Palm Beaches Jewish Community Study
Janet Krasner Aronson, Matthew Brookner, Matthew Boxer, Eliana Chapman, and Leonard Saxe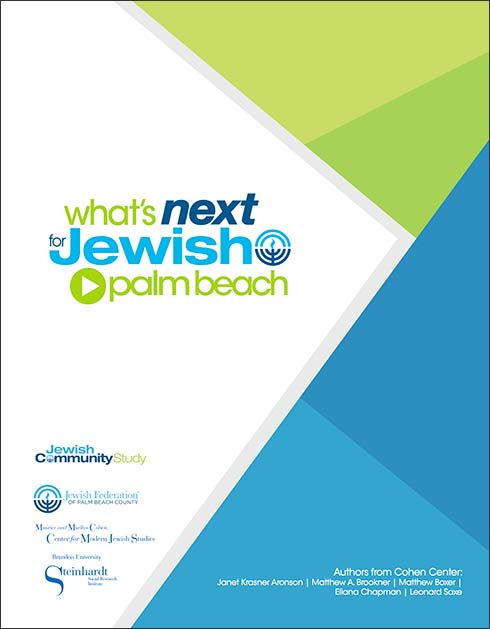 Conducted on behalf of the Jewish Federation of Palm Beach County, the 2018 Greater Palm Beaches Jewish Community Study estimates the size of the Jewish community, describes its demographic characteristics and examines its attitudes toward community institutions, programs and services. The report also creates a portrait of the multifaceted cultural, communal and religious expressions of Judaism that constitute Jewish engagement.
Download comparison charts (Excel)
DOWNLOAD PUBLIC DATASET (.zip)
Among the Findings
The Greater Palm Beaches' Jewish community numbers approximately 166,700 people living in 78,000 Jewish household (including 118,500 Jewish adults and 16,700 Jewish children, and 26,000 non-Jewish adults and 5,500 non-Jewish children).

From 2005 to 2018, the number of individuals living in Jewish households increased by about 21%, and the number of households increased by 13%.

Thirty percent of Greater Palm Beaches Jewish adults are younger than age 50, and 49% are age 65 or older. The median age of all Greater Palm Beaches Jewish adults and children is 60, a decrease of 10 years since 2005.

The Jewish community is widely dispersed across Palm Beach and Martin Counties. The South region, which includes the Boynton Beach vicinity and Lake Worth Road Corridor, continues to be the largest and most densely populated, including almost half (46%) of Jewish households.

Seasonal residents constitute 21% of the Jewish households and 24% of the adult Jewish population.

The share of Jewish adults who are Orthodox is 3%, less than the national average (10%). The share who are Conservative is 30%, far exceeding the national average of 18%. Thirty-six percent of Jewish adults are Reform, similar to the national average. Twenty-nine percent of Jewish adults have no specific denomination.

The intermarriage rate of 27%, approximately half the national intermarriage rate of 56%, has increased from 9% in 2005 to 27% in 2018. Among young Jewish adults under age 35 who are already married, 77% are intermarried.

Over four-in-five (82%) Jewish adults consider Judaism to be part of their daily lives, and one third consider it to be very much part of their daily lives.

Only a small share of children in Jewish households are being raised by two Jewish parents (15%), while over half of children (56%) are being raised by intermarried parents and the remainder by single parents. Although all inmarried parents are raising their children Jewish, only 51% of children of intermarried parents are being raised Jewish.

The majority of Greater Palm Beaches Jewish adults have been to Israel at least once, and emotional connections to Israel are strong among community members.

Although 41% of the Jewish community considers itself to be prosperous or living very comfortably, 20% of the community describe themselves as just getting along, nearly poor, or poor.

Nearly one third of Jewish households include someone whose activities are limited by a chronic health issue, disability, or special need.
Members of the Greater Palm Beaches Jewish community can be thought of as having one of five patterns of Jewish engagement. These groupings provide a deeper way to understand Jewish engagement aside from denominational affiliation and ritual behavior.
Index of Jewish Engagement