2019-20 Pioneer Valley Jewish Community Study
Matthew Boxer, Eliana Chapman, Matthew A. Brookner, Daniel Mangoubi, Harry Aaronson, Matthew Feinberg, Janet Krasner Aronson, and Leonard Saxe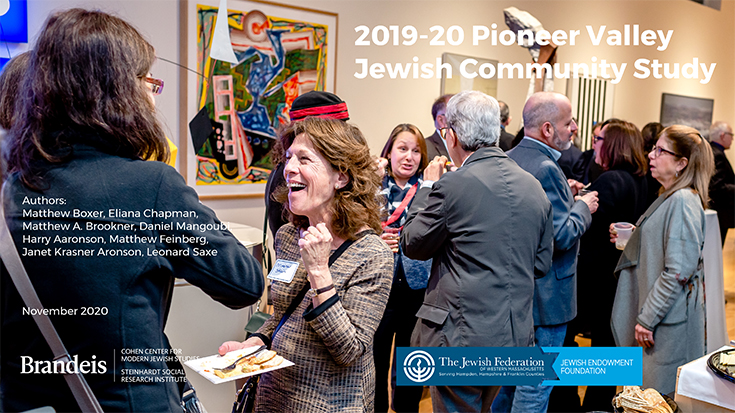 The 2019-20 Pioneer Valley Jewish Community Study provides data about the the 12,200 Jewish households in the Pioneer Valley that can be used by communal organizations and their leadership to design programs and policies that support and enhance Jewish life. The study describes community members' participation in Jewish communal life, their Jewish activities, and their attitudes about Judaism and Israel.
Among the Findings: 
There are approximately 30,100 people currently living in approximately 12,200 Jewish households in the Pioneer Valley, including 19,200 Jewish adults and 3,700 Jewish children as well as 7,000 non-Jewish adults and 200 non-Jewish children.
27% of Jewish households in Pioneer Valley include someone who belongs to any Jewish congregation. Twenty percent of Jewish households belong to a congregation in the Pioneer Valley, including 16% who pay dues to a brick-and-mortar synagogue.
25% of Jewish adults participated in at least one program at the Jewish Community Center in Springfield in the past year.
60% of Jewish adults have been to Israel at least once.