2017 Greater Pittsburgh Jewish Community Study
Matthew Boxer, Matthew Brookner, Janet Krasner Aronson and Leonard Saxe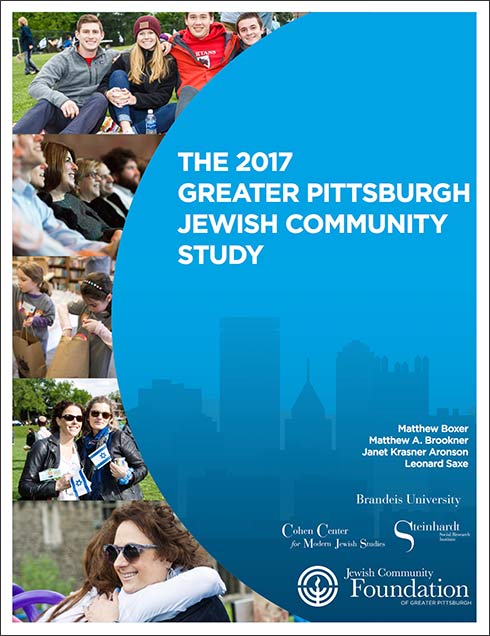 The 2017 Greater Pittsburgh Jewish Community Study provides a detailed socio-demographic portrait of the Pittsburgh-area Jewish community and describes community members' participation in Jewish communal life, their private Jewish activities, and their attitudes about Judaism and Israel.
Download public use dataset (.zip)
Among the Findings
Greater Pittsburgh's Jewish community numbers nearly 50,000 Jewish adults and children in nearly 27,000 households. The Jewish community has grown 17% since its last community study in 2002.

The composition of the Jewish community has changed since 2002. The largest shares of the population are adults ages 18-29 and 60-69.

The community is spreading out geographically. Younger adults and families are more prevalent in the city, and older adults reside in greater numbers in the suburbs and outlying areas.

The Pittsburgh Jewish community is highly educated. Pittsburgh-area Jewish adults have even higher levels of educational attainment than the US Jewish community as a whole, with 84% of local Jewish adults having at least a college degree compared with 58% of all US Jewish adults.

The Pittsburgh Jewish community is mostly middle class. One-third (33%) of Pittsburgh-area Jews describe themselves as prosperous (7%) or living very comfortably (26%), and another 45% say they are living reasonably comfortably. Fifteen percent say they are just getting along, and 8% say they are nearly poor or poor.
Members of the Greater Pittsburgh Jewish community can be thought of as having one of five patterns of Jewish engagement. These groupings provide a deeper way to understand Jewish engagement aside from denominational affiliation and ritual behavior.
Index of Jewish Engagement