2014 Greater Seattle Jewish Community Study
Matthew Boxer, Janet Krasner Aronson, Matthew A. Brown, Leonard Saxe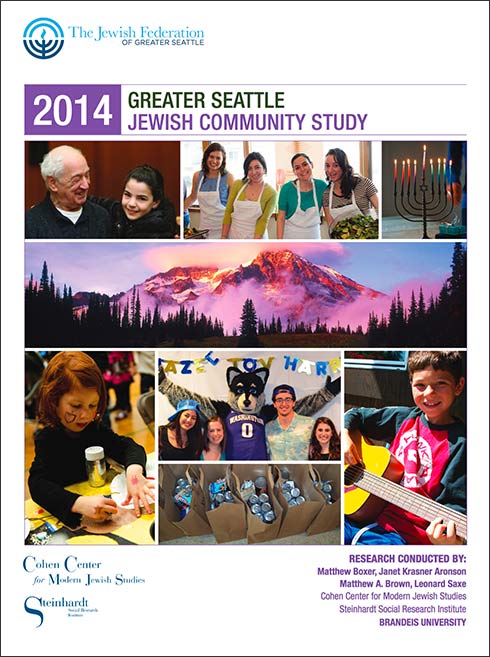 The 2014 Greater Seattle Jewish Community Study, conducted by the Cohen Center and Steinhardt Institute in collaboration with the Jewish Federation of Greater Seattle, provides an up-to-date description of the size and character of Seattle-area Jewry.
Included in the study are demographic findings, information on the religious background and geographic profile of Greater Seattle's Jewish population as well as descriptions of participation in Jewish life and volunteer activities.
The narrative is supplemented with community members' own words on topics related to Jewish identity, diversity and community resources.
The report also includes special sections devoted to issues confronting families with children, young adults, senior adults, inmarried and intermarried couples and synagogue members.
Download public use dataset (.zip)
Among the Findings
The Greater Seattle Jewish community is composed of 63,400 Jewish individuals who live in 33,700 households. Thirty percent of households include children. Sixteen percent of households include only those aged 65 and older.

The 2014 population is 70% larger than the 2000-2001 estimate of 37,180 Jewish individuals. Much of the growth has come from newcomers to the community.

Two-thirds (68%) of Greater Seattle Jewish adults identify as Jewish by religion (JBR) with the remaining 32% identifying as Jewish by means other than religion (JNR), such as a cultural or ethnic identity. This is a higher proportion of JNRs than the national average.

The Jews of Greater Seattle range from those who are highly engaged to those who are completely unengaged from the Jewish community or Judaism in general. The highly affiliated, constituting slightly more than 15% of households, are connected to all parts of the organized community. Those who are partly affiliated are involved with some organizations and programs but do not participate fully in all aspects of the community. The unaffiliated, nearly 40% of households in the community, do not connect with local Jewish institutions or participate in local Jewish programming.

The Greater Seattle Jewish community is distinctive in the emphasis across many segments of the Jewish population on social justice.