Ezra and Springboard Alumni Report, Fall 2020: Evaluation of Hillel International's Springboard Fellowship
Nicole Samuel with Micha Rieser and Rebecca Rose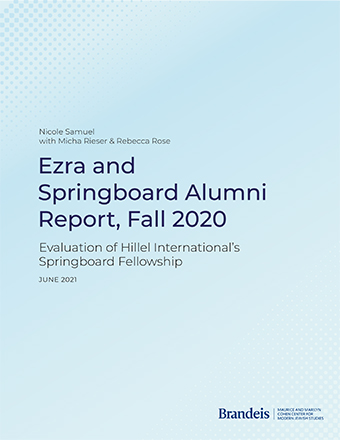 The Springboard Fellowship is Hillel International's flagship program for early career professionals. Springboard was preceded by the Ezra Fellowship for early career Jewish educators, and the two programs merged in 2018. This report presents a portrait of Ezra and Springboard alumni, who represent different lengths of time post fellowship, ranging from four months to eight years. The surveys conducted in fall 2020 asked alumni about employment and graduate studies, work history and career advancement, post-fellowship connections and activities, and current leadership positions. The analysis centers on the following questions: What is the rate of return to employment in Hillel or the Jewish community after Ezra or Springboard? How are alumni engaging in the Jewish life outside of professional opportunities, if at all? To what extent does Springboard influence work and life decisions? Does participation in an incubator program like Springboard make a significant difference and, if so, where and how?
Key Findings
Nearly two thirds (64%) of the alumni employed in fall 2020 worked in the Jewish non-profit sector, including Hillel.   
Fewer Gimel alumni were employed full time or in multiple jobs four months post fellowship (58%), compared to Aleph (76%) or Bet (71%) alumni.   
Springboard Gimel alumni who were unemployed and looking for work in fall 2020 expressed skepticism about being hired in the pandemic economy, and none were highly confident that they would find work in the coming months.   
Of the 30 Springboard and Ezra alumni enrolled in graduate school in fall 2020, 73% were pursuing degrees in fields related to Jewish life.   
Most Ezra and Springboard alumni were employed in positions that included programming and education, areas that require skills emphasized during the fellowship.   
Views of work and career influenced alumni interest in pursuing new professional opportunities. Of alumni who considered their current work to be "just a job to get by," 100% said it was very likely that they would pursue a new job in the next two years.   
Between October 2019 and October 2020, Ezra, Aleph, and Bet alumni were most likely to be involved with Hillel as donors (59%) and least likely to be involved with Hillel as lay leaders (9%).    
Since October 2019, 42% of alumni were very active in Jewish life, participating in programs or events once a month or more. Less than one quarter of alumni (23%) participated infrequently in Jewish life (once or twice a year) or not at all.    
Ezra and Springboard alumni were twice as likely to hold lay leadership roles in the Jewish community (41%), compared to lay leadership roles in the general community (23%).   
Ezra and Springboard alumni were more likely to see themselves as Jewish leaders (83%) than as Jewish educators (68%). This pattern was true for alumni from all cohorts.