Undergraduate Student Address by Joel Burt-Miller '16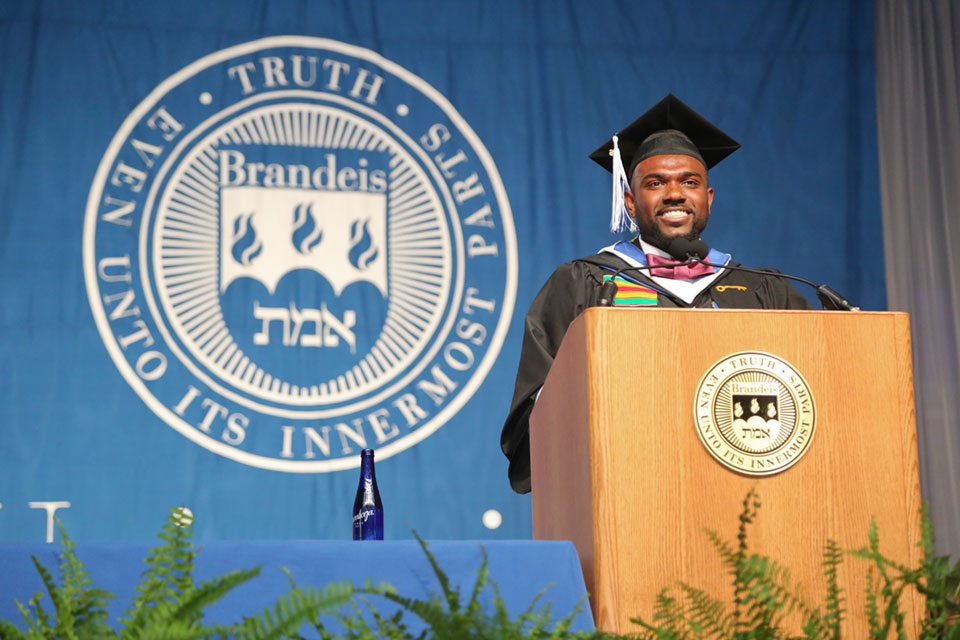 (applause) Thank you, thank you. (laughter) (breathes deeply) I'm running. I see the finish line in the distance. My mind is focused on completing the race. My body is exasperated, but I keep telling myself I cannot give up. I stumble, but my eyes, my eyes, they focus on your hands, reaching out in the distance. I reach forth and I hold on, and here I am, standing before you today, ready to cross with my class of 2016. (cheers)
Good morning, Interim President Lynch, Interim Provost Epstein, members of the Board of Trustees, our honorary degree recipients, beloved faculty, staff, alumni, Posse Scholars -- special shout-out to Science Posse 5 -- (applause) parents, family, friends, Fort Hall 2015, and of course, the graduating class of 2016. Make some noise. (applause) There you go.
From the very onset, I would like to take this time to thank God for this opportunity to speak today. I am deeply honored to be able to stand before you. As I look through the crowd, I am reminded of my eighth-grade commencement practices. I vividly remember us eighth-graders sitting in this tightly packed gymnasium in the Bronx, and I remember a voice of one of our assistant teachers saying, "You all better get it together or this may be one of the last graduations you will ever participate in." (laughter) As I stand here reflecting on those words, I can say I am truly proud of myself, for the journey getting here was not easy. However, I am even more proud of each and every one of you sitting here today who has overcome those negative voices in this lifetime. (applause) Indeed, they do exist. Amidst such voices, however, the great poet Langston Hughes reminds us to "hold fast to our dreams, for if dreams die, life is a broken-winged bird that cannot fly." He tells us to "hold fast to our dreams, for if dreams go, life is a barren field, frozen with snow." And in all honesty, my dreams are scary. When I was growing up, my mother would always push me and my brothers to dream bigger, and shout-out to my mom. Hi, Mom. Hey, family. I love you guys. She would often say, in her Jamaican patois, "All right, Joel, you can do it. You have to dream big, you know," which translates into something like, "If your dreams don't scare you, they aren't big enough." That's how I took it.
I grew up in a community where graduation rates were decreasing while incarceration rates were increasing. I grew up in a community where everyone settled with just the bare minimum. As I started to realize the realities of my environment, I began to dream bigger. At Brandeis, I saw an avenue where I would be able to gain skills that I could use to bring change not only to my local community but to many communities throughout the world. By giving me opportunities like mentoring teens in the Prospect Hill community of Waltham through the Waltham Group, (applause) assisting in the running of a medical clinic in El Jicarito, Honduras, through the Global Medical Brigades, Brandeis has provided me the chance to push past boundaries within myself as I push past geographic borders.
Yes, there are times when I do not know what my next steps will be, and yes, I do get afraid. But if there is one thing I've learned, it is that true courage does not mean that fear does not exist, but in fact, true courage means recognizing that existing fear and then overcoming it.
In one conversation with a fellow member of the Class of 2016, we spoke about this ongoing storybook we are all authoring called life. From the moment we were introduced to this world, our pens and pencils had been moving fervently against the page -- taking our first steps, having our last baby teeth fall out, moving as a child from an apartment to a house, learning to ride a bike, graduating from our middle schools, having my tonsils removed, playing backyard basketball, visiting relatives in Jamaica -- big up to my Jamaicans and Caribbean people (cheers) -- attending our high school proms, debuting in my first performance, and the list continues. As we spoke, we also reminisced on this current chapter, Brandeis. Move-in day 2012, orientation, North and Massell Quad, "This Is Our House," our first days on campus, our first days of class, our first birthdays on campus, "Break the Fast," library parties, living in Rosie, the Village, athletic events, free food [laughter, cheers], free T-shirts (cheers), Spring Fest (cheers), Fall Fest (cheers), Mod Fest. (laughter) Mod Cat. Study abroad. The campus center team. Culture X, Mela, Night for Africa, the [B So Ball?], the last day of classes, Senior Week -- the good times, the bad times, the unforgettable memories.
As we reflected on this closing chapter of this novel of life, we were greeted with the idea that there are so many blank pages left to be filled. As I look to the future, I have no doubt that we can overcome our fears and achieve the dreams we have set for ourselves. My dream is to one day become a practicing physician working in underserved communities throughout the world. And I will be continuing with this dream as a Fulbright Scholar, leaving for India next month. (applause) Thank you.
I believe each and every one of us sitting here today has a purpose in life, and it is through our dreams that this purpose can be realized. And you are never too old to dream. While studying in South Africa last year, I had the opportunity to learn about the South African philosophy ubuntu. And ubuntu simply means "I am because you are." Repeat after me: "I am --" I can't hear you. "I am because you are." You see, all of us here today, we are connected. We share a common bond. We are connected by humanity. By coming together as a collective, we can achieve more than by standing alone. Always remember we need each other. Always remember to love each other. Always remember to love yourselves, for it is with love that we can bring light to the darkness in this world. And just this year, through the dedication, hard work, and resiliency of many of you to succeed beyond any odds, we truly saw what loving this community and loving ourselves looks like, and I want to take this time to shout out our past president, Nyah Macklin, our student union president, for all the hard work and dedication she put in. (applause) We loved, as we challenged oppressive systems and remained critical of our own progression as a university; we loved, as we fought to adhere to our own mantra, which is "Truth even unto its innermost parts"; we loved, as we centered black lives and starred black womanhood, and it was so fitting that we walked in the processional to Beyoncé's "Freedom." Freedom, freedom, I can't [move?]. Freedom, freedom, where are you? We need you. And through the Fort Hall 2015 movement, I'd like to give a special thanks, because if there's one thing I've learned this year, it is that it is our duty to fight for freedom. It is our duty to win. We must love and support one another. And you know what else? I see y'all back there, special shout-out -- we have nothing to lose but our chains.
And one of the things that we do in orientation is an event called "This is Our House." And this year, we envisioned this house to not only be our house but our home. A home not only for us today but for also future generations to come, and the generations of our children and grandchildren are counting on us. I have a mentee back home in the Bronx who couldn't make it here today. I started mentoring him in middle school and I just want to give a special shout-out to LeVon. I know he's watching, and he called me this morning saying "Joel, I'm so proud of you, you're going to give a great speech." And so LeVon, this speech is for you. (applause) It's for generations like LeVon that we're here today. And we cannot escape the responsibility of tomorrow by evading it today.
(breathing deeply) I'm running. I see the finish line in the distance. My mind is focused on completing the race. My body is exasperated, but I keep telling myself, "I cannot give up." I stumble, but my eyes, my eyes focuses on what seems to be your hands, reaching out in the distance. And I reach forth and I told on. And finally, Class of 2016, we have arrived at the finish line. Congratulations, Class of 2016, we have arrived. (applause)