Graduate Student Address by Naveed Noormal, Heller MA'16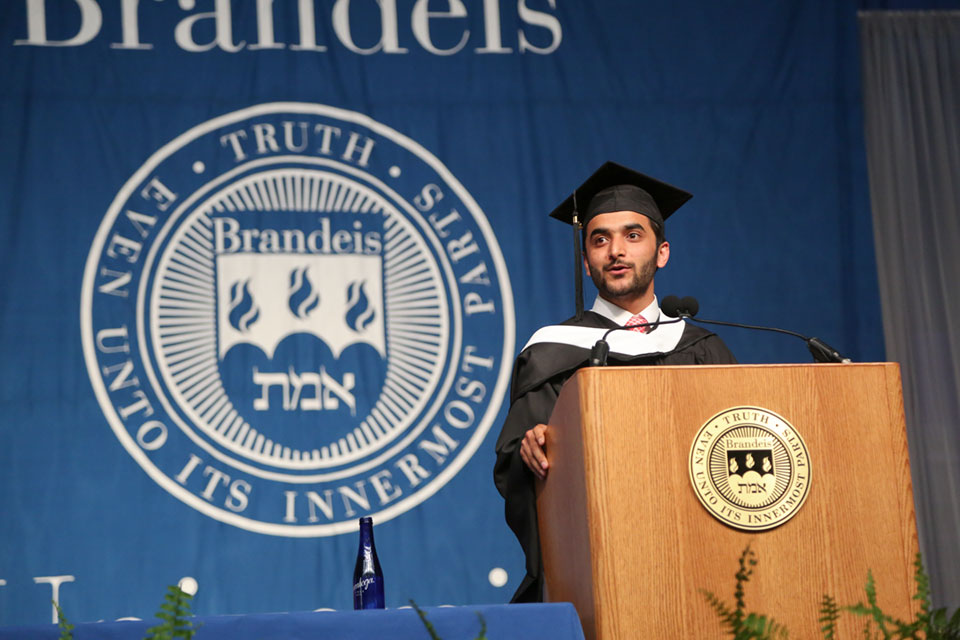 I really didn't know that I would be talking to this large number of amazing people. So -- but, well, I have to. (laughter) So I would say that we finally did it, and we can fly. Right? (laughter) (applause)
President Lynch, members of the Board of Trustees, respected faculty, lovely staff, dear alumni, sweet families and friends, and my fantastic fellow graduates, good morning. (applause)
At the outset, let me welcome you all to this important graduation ceremony and thank all the parents, spouses, families and friends for their participation. I'm very delighted and honored to share a few thoughts with you today.
Dear graduates, maybe you expect me to say something incredible and inspiring, but believe me, all of you are what I find incredible and inspiring. Brandeis made it possible and provided us with the opportunity to flourish and to make the best out of ourselves. You made it. We all made it. We accomplished one of the biggest milestones of our lives. We worked hard to get to this day, and our work did not go to waste.
Dreams. I would like to share a small part of mine before coming to Brandeis University. I am an Afghan student. My country has experienced more than 30 years of war. But yet, the young generation of the country has never given up the dream to learn and pursue an education. Today, as I stand here and talk to you, more than 10 million boys and girls are going to school in Afghanistan, and hundreds of thousands have access to higher education. (applause) This wouldn't have been possible without a big dream, a set goal, and hard work. I quote a part of my personal statement when applying to Heller School for Social Policy and Management. Quote, "Afghanistan is a country divided by more than 30 languages, disparate cultures, and it's a country where all of the social, cultural, economic, and tribal divides are as varied as the famed carpets we create. However, this is my country and my home, and I want to help it." End quote. This was the spirit, motivation, and the dream that made me decide to study more and fulfill my goals.
I remember the war in 2001, when the US aircraft were bombing the insurgent groups in Kabul. The target was only two or three miles away from my house, and I used to watch the bombings, the bullets, the fires from the balcony of my house. But even at that time, I never gave up learning, because my dream was to be educated and to educate others. Today, I feel proud of holding a Master's degree from one of the most prestigious American universities through the most prestigious scholarship of Fulbright. It seemed like an impossible dream to come and study here, but it only looked impossible until I set my goal to study at Brandeis and worked for it.
Now that the Heller School for Social Policy and Management has equipped me with their required knowledge of social justice and peace-building, I'll return to Afghanistan with a renewed spirit. As the Dalai Lama said, quote, "Peace does not mean an absence of conflicts. Differences will always be there. Peace means solving these differences through peaceful means -- through dialogue, education, knowledge, and through human ways." End quote. (applause)
Friends, the degrees we are celebrating today are wonderful assets in this world. They open many opportunities for all of us, but graduation is not the end goal. It is the beginning of a new hope. Now that we have completed a degree, we are responsible for bringing about positive changes in this unequal world. We are held accountable to ourselves and to everyone around us. Life continues, and we grow. Today, we realize that we are capable of accomplishing our goals, even if it's very difficult. Remember, the road that lies ahead of us won't be easy. There will be obstacles and missed exits, potholes and roadblocks. There will be times when each of us will feel like we could not possibly go on. We are not alone. We are lucky that we are all together, and this journey, we are going to face it all together. We will keep pushing, because we know we can achieve our dreams.
Ladies and gentlemen, as I think back at the two years I spent at Brandeis University, my mind is full of memories. I'm taking the best memories of my life home with me. Brandeis has become a second home. I will miss everything about Brandeis, Heller School, Co-Existence Program, professors, friends, and the great nation of the United States. (applause)
I'll be leaving this country in couple of days with a very heavy heart. But before I leave, I would like to share one of my favorite quotes with you from journalist Tom Brokaw. I quote, "You are educated. Your certification is in your degree. You may think of it as a ticket to the good life. Let me ask you to think of an alternative: think of it as your ticket to change the world." End quote. Yes, friends, let's take it as a ticket to change the world. (applause)
The world is yours. We embrace its diversity. Go and make it a peaceful place for everybody to live, irrespective of race, religion, sex, color, or gender differences. Congratulations, and best of luck, Class of 2016. Proud of you all. (applause)