Remarks by Interim President Lynch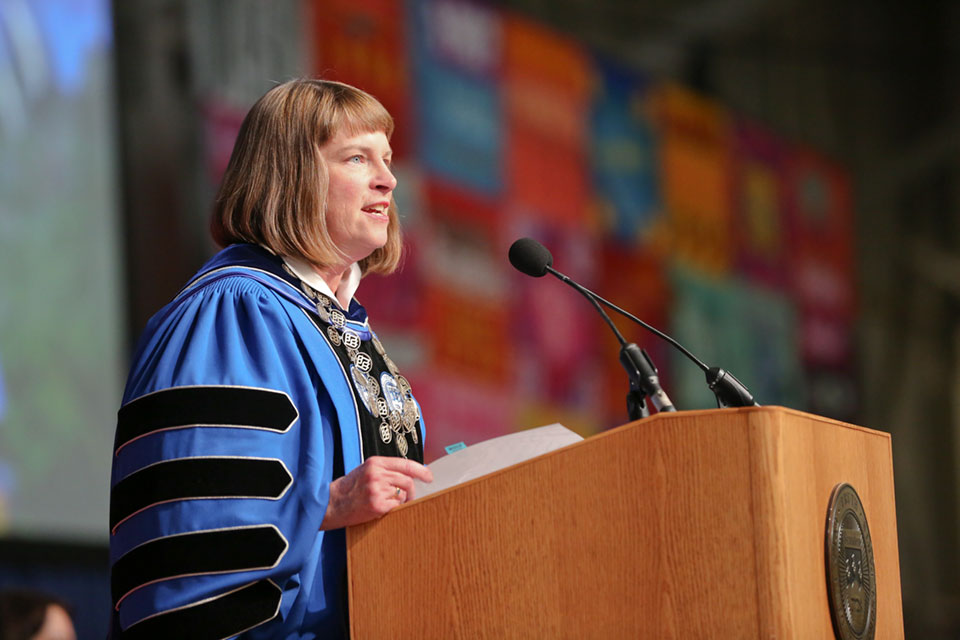 I just have to say, Nyah, you just knocked it out of the park. (applause) Chairman Traquina, Members of the Board of Trustees, honorary degree recipients, faculty, staff, alumni, alumnae, honored guests, supporters, families and friends of the graduates, and most especially the Class of 2016 -- (applause) Welcome to the 65 Commencement Ceremony at Brandeis. Now, I've got to get something out of the way right away. These selfies are really important, OK? Ready? On three, OK? There we go. OK. We got that done. A little silliness is important.
Now, getting through university is an enormous challenge, and it's difficult to succeed without the emotional, physical, and, dare I say, financial help of families and loved ones. So I asked the Class of 2016 to rise, to turn to your friends and families and acknowledge that support with a big round of applause. (applause)
Now, it's worth noting that today is called "commencement day" rather than "completion day." Over the past few weeks, I know you've all been focused on the completion part of your Brandeis experience -- your papers, exams, theses, creative works, and presentations. But today is about commencing the next chapter of your lives. As you begin this chapter, you will find no shortage of people with words of wisdom. Some will tell you that you need to stay positive, confident, and true to yourself. Some will point out the big challenges that are facing you, as if you didn't know that already. Some will share their success stories. This advice is not meant to overwhelm you, but rather inspire you. And finally, a few will share their failures. Trust me, this is not meant to terrify you, but rather give you hope that good can come out of even the darkest moments of your lives.
As I thought about what few pearls of wisdom I could share with you today, I decided to turn to our namesake, Justice Louis D. Brandeis, whose appointment to the Supreme Court 100 years ago you've spent your final semester here commemorating. Brandeis was a champion for the dignity of all individuals, and advocated active citizenship. He believed that all citizens in a democracy should have access and the ability to learn and freely debate ideas. So let me highlight four of his many famous quotes and link them to the experiences of our honorary degree recipients. I hope these examples will inspire you as you commence the next stage of your lives.
Justice Brandeis once said, quote, "In differentiation, not uniformity, lies the path of progress." Each of our honorary degree recipients exemplifies this truth, but let me cite just two examples. In the 1970s, honorary degree recipient Jack Whitten began a course of experiments with paint that expanded, quite literally, the scale of painting on canvas. His paintings, or as he calls them, his "makings," deal with extreme, elusive, and complex structures, and therefore he found traditional painting methods inadequate in the face of such complexity. At the same time, Whitten's civil rights activism imbued his artwork most uniquely. In the 1970s, Mildred Dresselhaus, a full professor of electrical engineering at MIT, entered the nano world and began the materials research that would later result in her being called the "queen of carbon science." Dresselhaus has been recognized for her leadership and contributions across many fields of science and engineering, and has broken through literally just about every glass ceiling there is in science. Both Mildred Dresselhaus and Jack Whitten differentiated themselves by upending conventional thinking and thus advancing their respective fields.
So how does this apply to you? No two of you have had the same Brandeis experience. You came from different places, you have different personal histories, you differ in your opinions, and you have different identities. During your time at Brandeis you have differentiated yourselves further by exploring your own path, all the while surrounded by the support of your faculty, staff, family, and friends. This university celebrates and supports diversity and differentiation, since it's through that diversity of thought, expression, and experience that we create new ideas and knowledge. Hang on to that commitment to diversity, and don't let conventional wisdom always determine the path that you take. Find inspiration in the examples of your classmates, faculty, and our honorary degree recipients.
As you pursue your distinct identities, be aware of those with different histories. Learn from them, and be mindful of your own conscious and unconscious biases against people who are not like you. If you find yourself in a situation making critical decisions and everyone around you is uniformly the same, consider the missing voices. What might they say? How might they change your point of view? Commit to an ongoing effort to address your own biases so that you can better engage with the differences among people and ideas that surround you.
One of the defining characteristics of Brandeis students that I've seen over my years here is how so many of you think of others before yourself. So I know you can do this.
Let me turn to another quote by Justice Brandeis: "Neutrality is at times a graver sin than belligerence." In an interview that honorary degree recipient Agnieszka Holland gave about her experience of being arrested and imprisoned in Prague when she was a young film student there in 1968, she talked about the fragility of human freedom and courage. Her masterpiece film, Burning Bush, about the public reaction to the death of student Jan Palach in 1969 as he protested the Soviet invasion of Czechoslovakia, explores this idea. In the film, she depicts the ease with which courage and integrity can give way to indifference and neutrality and the subsequent devastating impact that this can have on a society. But she also shows that positive change can come when those who believe that freedom is more important than their well-being consequently rise up and risk much in the pursuit of that freedom.
So what does this mean for you? Am I asking you to be belligerent for the rest of your lives? No. But don't be neutral. There will be moments when you will need to fight for what you believe in, to step in and not step back. At Brandeis we often talk about the benefits of engaging in respectful dialogue and responsible language that's sensitive to the opinions of others, free of rancor and attack. I believe that this is the right course of action, but often it's easier said than done. It's not so easy to be respectful when you feel your basic beliefs or identities are under attack. I am sure that many of you have experienced moments when, as much as you would like to engage in respectful dialogue with those you disagree with, it didn't always work out that way. But please do not give up when it's easier to be neutral rather than to step into a difficult and contentious dialogue. Don't spend all your time with those who agree with you. If you do, you'll never understand difference and never change the world. At the same time, if you only follow the path of belligerence, if you do not recognize the reason of others, and if you do not seek common ground where it can be found, you will experience failure and discouragement. Choose and conduct your battles wisely so that the final victory is one that advances society, not sets it back. As Justice Brandeis said, "In the frank expression of conflicting opinions lies the greatest promise of wisdom."
The final Brandeis quote that I want to reflect on is, "Most of the things worth doing in the world have been declared impossible before they were done." When alumna Julieanna Richardson began her project The HistoryMakers some 16 years ago, people told her it was impossibly ambitious. But she was determined to give voice to the experience and contributions of African Americans across our country, in all walks of life. In fact, it was her experience as a sophomore at Brandeis, recording oral histories of African Americans,that sparked the idea of The HistoryMakers years later. As a result, today we have a more complete history of our country and its people.
It's particularly gratifying to call out the direct link between Justice Brandeis's thinking and his own grandson's record of achievement. In his role as executive director of New York City Landmarks' preservation commission, honorary degree recipient Frank Brandeis Gilbert took on a ten-year battle to preserve the iconic Beaux-Arts building, Grand Central Station. At the outset, he was told his goal was impossible. That progress demanded the beauties -- the beautiful building's destruction. He was told nothing could be done. But he used his legal skills, and with the support of a coalition of community-based groups and high-profile figures like Jackie Kennedy Onassis, the building was saved. As a result, preservation policy across the country changed.
Now, don't be intimidated by these accomplishments. Be inspired. Your Brandeis education has prepared you well to take on the impossible, to not be a bystander, and thus help repair the world.
Over your time at Brandeis you've grown intellectually as well as personally. You've created a community bond whose power you've only just begun to appreciate. Let me assure you that this bond of friendship, love, and kindness will carry you through all the ups and downs of your lives. Nurture this bond and it will nurture you.
So as you commence this next phase of your life, I urge you to do so with great optimism and hope. We're all so proud of you and can't wait to see what you will accomplish next. So class of 2016, seize the day and repair the world. Thank you. (applause)
Lisa Lynch on honorary degrees:
The Chairman of the Board of Trustees will present the candidates for honorary degrees to the provost and the president of the university.
Chairman Perry Traquina '78:
President Lynch and Provost Epstein, by the enactment of Chapter 123 of the Acts of 1951, the Commonwealth of Massachusetts authorized Brandeis University to confer honorary degrees. I have the privilege to instruct you to confer the following honorary degrees on these persons for their singular achievements.
Mildred Dresselhaus, accompanied by Bulbul Chakraborty.
Lisa Lynch:
This is Mildred Dresselhaus. (applause) You followed your heart and it led you to science. Encouraged by Rosalyn Yalow, a Hunter College professor who would later receive the Nobel Prize in Medicine, you earned a doctorate in physics, a field then actively discouraging young women from joining its ranks, and began smashing glass ceilings. Powered by your brilliance and your confidence, you went on to revolutionize research across physics and engineering. Today you're widely acknowledge as the queen of carbon science, the chief authority on the fundamental properties of a building block of life. Your pioneering studies in the area of carbon-based materials and nano-science are now fueling next-generation advances in energy storage, electronics, space exploration, and even bionic implants. The impressive list of honors and awards you have won include the National Medal of Science, the Kavli Prize, and the US Presidential Medal of Freedom. In addition to your exceptional gifts in the classroom and the lab, you have mentors generations of promising scientists, particularly women, whose successes you inspire and champion. Your dedication as a chamber musician is entirely in tune with your virtuosity as a scientist. Both endeavors demand great tenacity, sensitivity, and acuity. For your leadership, your innovation, and your incalculable contributions to science and technology, we're proud to present you with Brandeis University's highest honor. Mildred Dresselhaus, by the authority vested in me by the Board of Trustees of Brandeis University, it is my privilege to confer upon you the degree of Doctor of Science, honoris causa, with all the rights, privileges, honors, and dignities pertaining thereto. (applause)
Chairman:
Frank Brandeis Gilbert, accompanied by Daniel Terris. (applause)
Lisa Lynch:
When you were young, your grandfather, Louis Dembitz Brandeis, taught you the importance of doing things right. "Any time you're not sure how to do something," he told you, "look it up." That lesson on taking personal responsibility for achieving a meaningful result has served as a lasting foundation for you. An accomplished attorney, you used your legal acumen to preserve and protect important buildings and entire historic districts. By helping to defend landmark preservation legislation in the courts, and by tirelessly showing others how to become effective activists, you've had a hand in safeguarding edifices and monuments across America, including New York City's elegant icon, Grand Central Station. Your work is the anecdote [sic] to a throwaway society. With energy and resolve, you've become the guardian of the historically significant, the singularly beautiful. You've helped ensure our cities and towns are filled with living memories, with federal Gothic revival and Beaux-Arts facades, columns, and balustrades that evoke distant eras. For your long dedication to preserving irreplaceable national treasures, we're proud to award you Brandeis University's highest honor. More than that, we're so privileged to be able to claim you as a much-loved member of our family. Frank Brandeis Gilbert, by the authority vested in me by the Board of Trustees of Brandeis University, it is my privilege to confer upon you the degree of Doctor of Humane Letters, honoris causa, with all the rights, privileges, honors, and dignities pertaining thereto. (applause)
Chairman:
Agnieszka Holland, accompanied by Professor Alice Kelikian. (applause)
Lisa Lynch:
Lights go down and images begin to flicker against a screen. Good films take us out of our everyday lives for a while; great films transform us. You are an extraordinary director and screenwriter who makes great films, works of art that lead us to contemplate the mysteries, some barbarious, [sic] others heroic, that define human existence. We watch enthralled as your characters, often based on real people, negotiate difficult ethical, societal, and emotional choices. A teenager pretends to be Aryan in order to stay alive in Nazi Germany. A group of Polish Jews hide in their town sewers while the Holocaust rages above them. A nineteenth-century New York City woman yearns to escape her manipulative high-society father. Having fled Poland while it was still under Soviet control, you're particularly interested in characters who struggle against the machinery of repression, who recognize the moral imperative of trying to make a difference. Your feature films are master classes in storytelling, leading to three Academy Award nominations, a Golden Globe, and your election as the first female chair of the European Film Academy. Likewise, your work in television elevates that medium to new levels of artistic achievement, for using your consummate filmmaking skills to examine and uplift the human condition, we recognize you with Brandeis University's highest honor. Agnieszka Holland, by the authority vested in me by the Board of Trustees of Brandeis University, it is my distinct privilege to confer upon you the degree of Doctor of Creative Arts, honoris causa, with all the rights, privileges, honors, and dignities pertaining thereto. (applause)
Chairman:
Julieanna Richardson, Class of 1976, accompanied by Professor Chad Williams. (applause)
Lisa Lynch:
History, we've been told, belongs to the powerful. You, however, are rewriting this dictum. Your groundbreaking oral history archive, The HistoryMakers, shows us how the inclusion of seldom-heard voices transforms the historical record. You were a Brandeis sophomore conducting interviews for independent research on the Harlem Renaissance when you first experienced the undeniable power of people telling their stories. In the 17 years since you founded The HistoryMakers, it has become the largest archival effort of its kind in the world, capturing interviews with more than 2,700 famous and unsung African Americans, and videotaping more than 9,000 hours of oral history. Men and women from all walks of life, talking about battling the odds, remaining unbroken in the face of adversity, and realizing long-held dreams. You not only collect these compelling narratives, you ensure that they're shared far and wide via an interactive website and digital and traditional media. Your alma mater is proud of this work. Indeed, it's embarked on technological and subscription partnerships with The HistoryMakers that promise to extend its reach. By presenting you our highest honor, Brandeis University celebrates your creation of a unique collection of first-person accounts, unfiltered history, presented with immediacy and candor, that helps us understand the past, see the present anew, and build a brighter future. Julieanna Richardson, by the authority vested in me by the Brandeis Board of Trustees, it is my privilege to confer upon you the doctor -- the degree of Doctor of Humane Letters, honoris causa, with all the rights, privileges, honors, and dignities pertaining thereto. (applause)
Chairman:
Jack Whitten, accompanied by Professor Gannit Ankori. (applause)
Lisa Lynch:
A passionate, inventive artist and an engaged citizen of the world, you have long believed in abstract painting's power to address political issues with fullness and vigor. Growing up in the segregated South, you were inspired by the civil rights movement to stand up to pervasive discrimination. This activist sensibility continues to infuse your art today. Indeed, your work over the last -- the past five decades proves how profoundly abstraction in your hands can touch hearts and minds. Your monumental memorial, 9/11/01, contains crushed bone, blood, glass, and ash as a textural reminder of the lives lost that day. You have dragged paint across the surface of your canvases with rakes and Afro combs. You have explored how paint functions as a metaphor for skin. You've made tiles from paint and assembled them mosaic-style, constructing visual images that are both prismatic and intensely precise. Your paintings, widely celebrated, appear in collections all over the globe, including those of the Museum of Modern Art, the Metropolitan Museum of Art, Tate Modern, and our own Rose Art Museum. In awarding you our highest honor, Brandeis University acknowledges the depth of your devotion to artistic discovery and to the creation of dynamic works of art that tear down walls and remind us of our common humanity. Jack Whitten, by the authority vested in me by the Brandeis Board of Trustees, it is my privilege to confer upon you the degree of Doctor of Fine Arts, honoris causa, with all the rights, privileges, honors, and dignities pertaining thereto. (applause)