Keynote Address by Julieanna L. Richardson '76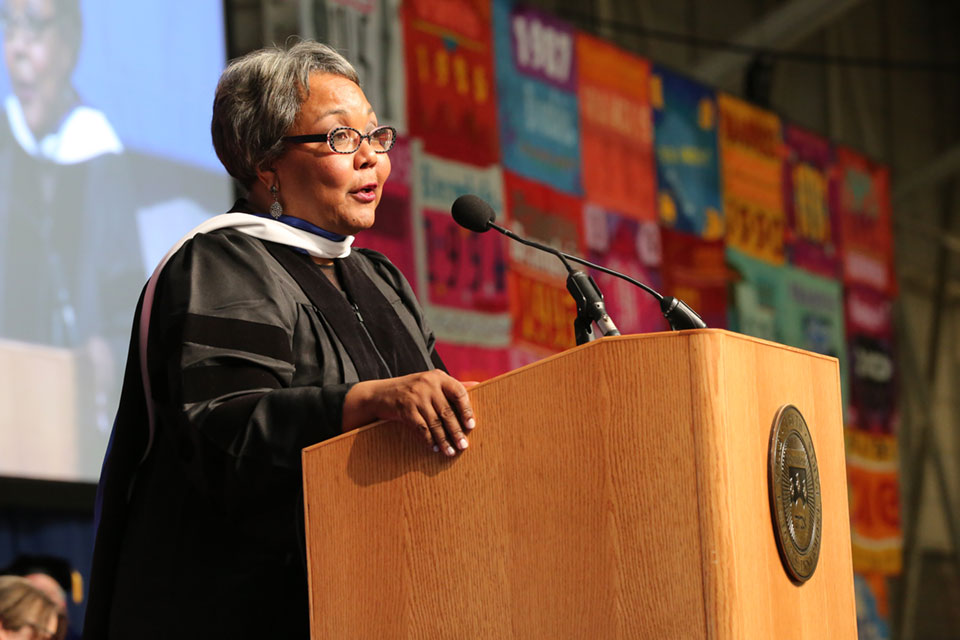 (applause) Just imagine if you were me, coming back after 40 years, how that would feel. To the Brandeis board of trustees and their chairman, Perry Traquina, to the faculty and administration, to Interim President Lisa Lynch, to my fellow honorees, who I'm honored to share this stage with, to my former professor, Steve Whitfield, classmates, history-makers, colleagues, and supporters, to my mother, Margaret Richardson, who's right here, who, at 86 years old -- (applause) I want to tell you, she climbs our stairs and opens our office every day. There's no love like that, of a mother for a child, even if she's 62 years old. Now, she's there praying and hoping that I will not embarrass her. In the black community, that's called representing the race. And when you represent it, you have to do it well. Nyah Macklin represented our race well today. (cheers, applause)
Now, there are also two men who are a critical part of my story. Unfortunately, neither could be here today. But they are somewhere shouting, praying, hugging, embracing, and telling everyone, "Shh! She's there. That's our Julieanna. Do you see her today there? We didn't think she would get there but she is." One represents -- survivors of Holocaust. And the others, the descendants of the formerly enslaved. One was born in the boroughs of New York, the other in a small Pennsylvania coal mining town. Both had great intellects. Both dreamt of a better world and saw the best in others. One was my father, Julius Laconia Richardson, and the other my mentor and founder and sharer of the American Studies Department here at Brandeis, Lawrence Fuchs. Today, today is an honor of both of them. (applause)
To the graduating Class of 2016, please stand again. (cheers, applause) Now, I want you to say after me, just as a rehearsal, "I can fly."
Audience:
I can fly.
Julieanna Richardson '76:
OK. Now when I call upon you again to say that, I really want to hear you. So sit down. (laughter) I want to congratulate you, even if you are not consciously aware of the significance of this moment, as I may not have been 40 years ago. This is the beginning of the rest of your lives. This is, indeed, a special moment for me to be here, to have this honor, to give this commencement address on Brandeis's sixty-fifth anniversary as an institution and my fortieth anniversary as its graduate. One of my mentors, in preparation for today, told me to be warm, to be personal, be funny, and be seated. (laughter) Like you, I was profoundly shaped by my time here. My exposure to the Jewish tradition taught me so much about how to value history, heritage, and legacy. In fact, it is here, as a black person, that I found my identity, as well as my life's passion, as President Lynch told you. It is here that I was exposed to diversity of race, creed, and color. And that significantly influenced and broadened my horizon and I came away with a deep commitment to service and wanting to impact the world and others.
Forty years ago, our commencement speaker was the great orator and congressman Barbara Jordan, who, in her big booming voice said, "I have not come here to wish you well. I have come instead to hear your voices. I have heard neither in the last four years. Why have you become so silent?" Now Barbara Jordan, she was scolding, childing us, in a prescient kind of way. It turns out that her warning would be wholly warranted. And you hold that thought.
Four years earlier, I arrived, in September of 1972, at Roberts Station here in Waltham, as the first in my family to go to college. I was lugging my trunk, heavy trunk. This was before there were any luggage wheels, that we now take for granted. There had been no college tours, no campus visits. I arrived here sight unseen, so full of joy, anticipation, and promise. I literally could have flown up Brandeis hill. I was the realization of my parents' hopes and dreams, you see.
I was born in 1954, the same year as the landmark Brown vs. Board of Education decision, that desegregated the nation's schools. I don't think my parents really understood, at that time, the import of that decision. But they always emphasized the importance of education. My father was particularly intrigued by Brandeis and how a young institution had established such a stellar reputation in such a short period of time. He was also intrigued... In fact, he stayed up all night to read the course catalog. And he was particularly intrigued by the three chapels and the prominent display of religious and ethnic diversity. Plus Brandeis was where civic activist Angela Davis had gone to school. My father had always wanted me to be a lawyer. So he'd started talking to me about pursuing a law degree, long before that ever thought entered my thespian mind. As you see, theater was my love. And Spingold Theater became my home away from home. And the legendary Ted Kazanoff, theatrical director, was my first -- and my first production, of Arthur Miller's The Crucible, my first semester here. With continued prodding, though, from my father, I decided to double-major, in theater arts and American Studies. Now, one could ask -- thank you -- was that chance or was it fate? It would be in American Studies where I came under the tutelage and mentorship of Lawrence Fuchs. And that mentorship would last until his death, in 2013.
As President Lynch said, my sophomore year found me doing an independent research project on the Harlem Renaissance, and New York's Schomburg's library. I want to take you back to that time. Because it was a fall day, with leaves, beautiful gold, brown, and orangish-red. And I can't describe how discovering for the first time that the song that I associated with President Harry Truman, "I'm Just Wild about Harry," was actually written by a black songwriting team of Noble Sissle and Eubie Blake, in the 1921 production of Shuffle Along, on Broadway... As I speak, it gives me great pride to say that a Broadway revival of Shuffle Along, starring Audra McDonald, has just been nominated for this year's Tony Award. (applause)
Now, let me take you back, for a quick moment, so you can understand the significance of what had happened to me that fall day at the Schomburg library. See, when I was nine years old and the only black kid in my class, in a small town called Newark, Ohio, where the only thing that we studied about black people was slavery and George Washington Carver and his peanuts, my nine-year-old brain was actually enslaved. It could not reconcile that he could have done all those things with peanuts, when all we had been were slaves. Then one day my teacher ask us, as a class, to talk about our family background. Everybody's hands raise up. "I'm part German!" "I'm part French!" "I'm part Italian!" What was I? I said -- I do‑‑ Negro, African, Cherokee. Because all black people think they got Indian in them. (inaudible) And I added in French, because I didn't want to be left out. (laughter) And my teacher looked at me in disbelief. I knew I had lied. That feeling of not knowing stayed with me, until my bingo, "I'm Just Wild about Harry" moment, all those years later, at Brandeis. I had learned, at that moment, that black people had contributed in significant ways to the American lexicon.
And I took my little tape recorder around the streets of Harlem, interviewing anyone who would talk to me, Gone with the Wind's Butterfly McQueen, tap dancer Honi Coles, historian John Henrik Clarke, the oldest living black actor at the time, Leigh Whipper, each story informing the other. Joyfully, joyfully free is how I felt. And that freedom gave me a sense of self. And it took me to Harvard Law School, my work as a corporate lawyer, in government, as a TV home shopping founder. Yes, I did found a TV home shopping channel. (applause) I have to explain that, now.
As a production company owner, to a time when I was in my mid‑forties, single with no children. And I started to think about my legacy. What was I going to leave behind? What was going to be my give-back to society? What was my life going to stand for? Although I could not really articulate it at the time, I did not want any child, and I mean any child, to feel the way I felt that day, when I did not know, when everyone else did, about my heritage and my history. And the novel Invisible Man, Ralph Ellison's protagonis‑‑ profoundly says, "When I discover who I am, I will be free." Think about that. "When I discover who I am, I will be free," as if the notion of freedom can be as much mental as it is physical. The sad thing is, as I speak, in Chicago and other urban centers around the United States, our schools today are indeed separate and unequal. I've spent time in those classrooms, literally wanting to cry, as I see what is happening. The only thing that teachers in those schools are required to teach about the black experience is slavery. And in college campuses, study is often limited to slavery and civil rights, as if those subjects define the black experience.
Seventeen years ago, I set out to change that. Seventeen years ago, I sat at my dining room table, in front of an empty computer screen, and today, as President Lynch said, we have grown to be the nation's largest African American video oral history archive, testimony recorded in over 180 cities and towns and in places like Mexico, the Caribbean, and Norway -- our oldest history-maker 114, Louisiana Hines, the World War II Rosie the Riveter. And the youngest, at the time, was Ayisha McMillan, a prima ballerina, who burst on the world stage before Misty Copeland. Our collection includes the stories of child advocate Marian Wright Edelman, poet Nicki Giovanni, President Barack Obama, when he was a Illinois state senator, as well as the stories of 211 of the nation's top scientists and the oldest living cowboy and younger history-makers, like Charles Blow, New York Times columnist.
And 2014 represented a watershed year. Because the Library of Congress heralded our collection, as a permanent part of the nation's patrimony. Our digital archive has users in 51 countries around the world, as well as in top-tier institutions like Harvard, Yale, Princeton, Boston University, and Brandeis. Now, thanks to a Mellon grant and the work of university librarian John Unsworth, we are coming home to Brandeis. (applause) You don't know how that feels. And we're going to work under the tutelage of university professor Anita Hill and African American's chair Chad Williams and other Brandeis faculty. And can you imagine? Everything literally has come full circle, in a way that seems predestined, preordained.
Remember when I told you how, in 1976, Barbara Jordan challenged our complacency? Unfortunately, we didn't follow her challenge. And I'm here, as a representative of that class, to apologize to you today. We assumed that the past was the past and a rosy present and future were guaranteed, just like, eight years ago, when President Obama was elected, we assumed that we were in a post-racial society. And others assumed that the United States would always lead the world's economy. But as I speak, there's terrorism abroad and home. There's violence as everyday occurrences in places like Chicago, where I live, broken governments and fractured political parties, and fear and race-baiting, income disparities that threaten even the concept of the American middle class and the very notion of a just society, and, let's not forget, as if we could, a presidential election that has even the best of us shaking our head, as if we had all been trumped. (laughter; applause)
And then I look at you. And while I worry that we have saddled you with too much debt and too much pampering, I see our future in your eyes and in your countenance. I see that you can multitask like no other generation. We marvel at that. From Ford Hall 2015, which was amazing to watch (applause) from afar, to the hashtags that have broken the internet and inspired a new generation of activists, hashtag #BlackLivesMatter, hashtag #ICantBreathe, I see you bringing new approaches to age-old problems. But I also ask, please, that you learn from the past, from history, from those who have lived experiences, like myself and those on this stage.
I also ask that, on this day of your graduation, that you consider the following guiding principles. Number one, success equals passion, purpose, and a plan. That the most important thing that you can do in life is to find your passions. I can't emphasize that enough. Now, they can be plural. They can be passions. But they cannot be bought at Starbucks or on Amazon or Netflix. It can't be handed down from one generation to another or manufactured. But it may have been standing there staring you in the face the whole time, waiting for the right time. Think about this. I majored in theater arts and American Studies. What is The HistoryMakers? American Studies and storytelling -- theater. It took me over 25 years to put that all together for myself. But I got there. And while you are finding your passions, I want to tell you that you have to also, on a parallel track, work on leading a purpose-filled life. That's extremely important. Those people who sort of wander through life, they're never going to get to the final goal. And while you're working on your passions and your purpose-filled life, then I want you to add a plan. Now, it can be on the back of a napkin. But it has to be, in the simplest form, a well thought out plan -- but not a perfect plan. Because perfection can often lead to inaction. And I've known people who, just because things were perfect, never did anything with their lives. (applause)
Number two. Even at your darkest moment, I want you to hold on. Now I didn't say any of number one was easy. In fact, most of it is hard. And sometimes, the darkest moment will lead to the greatest discovery in your life's passion, as it did with me. At the time that I started The HistoryMakers, I was out of a job, with no prospects on the horizon. My mother was constantly reminding me that I was a Harvard-trained lawyer, for what that was about. But I did not understand my value. I was distrustful of who I was. And I went deep down inside myself and I remembered those stories. And out came this wonderful project and my life's work. And that can happen to you.
Now the thing about this -- (applause) thank you -- that I want to emphasize is that what I've given you, those two first guiding principles, will help you achieve personal freedom. But the third one and what is important is that there also be societal freedom. Each one teach one. Each one touch one. This is a motto of a mentor and mentee relationship. It is also the motto of a civil society. I was well mentored, as I told you. And in being mentored, I have a responsibility, as you will have, to give back and to mentor others. This third step, like I said, takes us closer to the societal freedoms that undergird our country's value system‑‑ that are so very important and, in some respects, I feel are being challenged today. As I said, personal freedom works best when it supports the concept of a free society, which is exemplified best in my last instruction to you. And that is, I want you to go forth, graduates, and I want you to do good. One of you may find the cure of Alzheimer's. God knows it is so badly needed. Another one may herald in profound changes in our mental health system and how we educate our young and, most importantly, how we may make the cost of a great college education affordable again. (applause)
You know, when I look out at you, I do not worry about you. I was watching you as you were coming in marching. I loved your hats, by the way, I want to say. They're beautiful hats that you have decorated. You know, you may end up actually being the best generation yet. I say that because you came of age as the nation was electing its first African American president. You have seen the country at its worst and at its best. You have been witness to the breakthrough in the LBGTQ movement. And you have, as I said, seen hashtags bring down countries and make change. Remember, fear of failure will lead you nowhere. It is not an option. Because failure is often the teacher of life lessons, and from which you will achieve your greatest glory. Ralph Waldo Emerson said that what lies behind us and what lies before us are tiny -- compared to what lies inside of us.
Remember that nine-year-old child that I told you about, who's ashamed that her descendants [sic] were slaves? You remember her? Well, now she is as proud as the dickens. Because she knows that very few people could have gone through what they did and have people like me come out the other end. (applause)
So, Class of 2016, I want you to be free and do good. And as you go forth, remember the lyrics of the song "I Can Fly." Remember those lyrics? Now, I'm going to start you off. "If you can see it, then you can do it." If you can "believe it, there's nothing to it." I know you can fly. I believe that you can touch the sky. I want you to think about it every day. Spread your wings and fly away! I believe you can soar! I see you running through that open door. Now stand up, gr‑‑ Stand up! Stand up and say with me, say with me, and all the power that you can give it, "I believe I can fly." Come on, guys! "I can fly! I believe I can fly!"
Audience:
I believe I can fly!
Julieanna Richardson:
"I believe I can fly!" Fly on! Thank you, Class of 2016. (applause) Thank you. You are free now! You can fly!