Graduate Programs in Economics
Graduate programs in economics are available through the Brandeis International Business School, a pioneering professional school dedicated to teaching and research in global finance, management and economic policy.
Five-Year BA/MA Program
The BA/MA Program at Brandeis International Business School is an innovative five-year degree program that allows Brandeis undergraduates to earn their bachelor of arts or bachelor of science degree in economics plus a master of arts in international economics and finance. Starting in your senior year, you will be engaged and challenged by graduate-level faculty who are thought leaders in their field. You will be encouraged to pursue one of five tracks: applied economic analysis, data analytics, financial economics, marketing and real estate finance.
Why pursue a combined BA/MA in economics?
The Brandeis BA/MA positions you for success in any career path that involves sophisticated analysis in finance, business or economic policy — whether you want to work in a financial institution, a consulting firm or the planning department of a company, government, or international organization.


PhD in Economics
If you are driven to advance the fields of economics research and policy, the PhD in International Economics and Finance at the Brandeis International Business School is for you.
The highly ranked economics program provides training — both theoretical and practical — through a rigorous combination of courses, workshops, teaching, policy making and, of course, research leading to a dissertation. Distinguished by its international economics and finance orientation, the Brandeis doctoral program in economics also focuses on real-world applications in policy and business, and includes opportunities for work in a government or company.
As a PhD student, you will have the opportunity to conduct research abroad as well as participate in seminars and research projects at institutions in the nearby Boston area.
Why Earn a PhD in Economics?
Whether you pursue a career in the academy or in the public or private sector, a PhD in economics from Brandeis prepares you for research, teaching, consulting and policy making at the highest level, anywhere in the world.
Student Experiences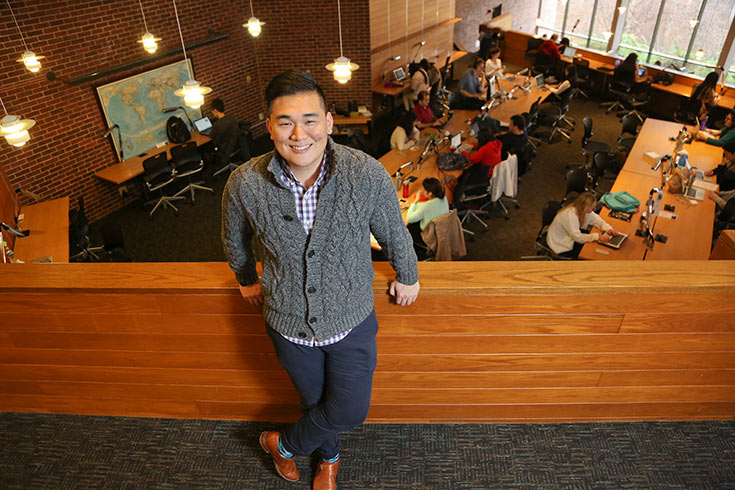 While Felix Liu Ku '15, MA'16 initially leaned toward pre-med, he shifted to economics after taking professor Mike Coiner's introductory course. In true Brandeisian form, he added a second major in business to round out his skills. In following what he naturally enjoyed in the classroom, he figured out what he wanted to do for a living.