2010-2014
2014
Screening: "Fill the Void"
December 4, 2014
With Yiftach Klein, lead actor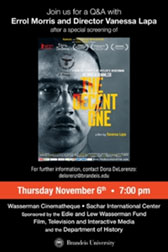 Screening: "The Decent One"
November 6, 2014
With Vanessa Lapa, director
Screening: "Exit Zero"
March 31, 2014
With Christine Walley, director
Interweaving home movies, found footage, and first-person narrative, this work-in-progress documentary traces the stories of multiple generations of producer Christine Walley's family in the once-thriving steel mill community of Southeast Chicago. Visit the Exit Zero Project website.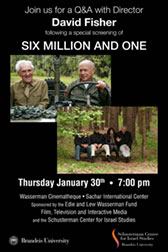 Screening: "Six Million and One"
January 30, 2014
With David Fisher, filmmaker
2013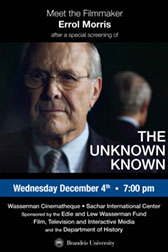 Screening: "The Unknown Known"
December 4, 2013
With Erroll Morris, filmmaker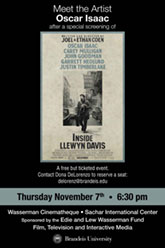 Screening: "Inside Llewyn Davis"
November 7, 2013
With Oscar Isaac, actor
Written and directed by Joel and Ethan Coen, "Inside Llewyn Davis" follows a week in the life of a young folk singer as he navigates the Greenwich Village folk scene of 1961.
Screening: "The Act of Killing"
October 6, 2013
With Joshua Oppenheimer, filmmaker
The "Act of Killing" follows the story of Anwar Congo from small-time gangster to founding father of Indonesia's most powerful right-wing paramilitary organization. This film is about killers who have won and the sort of society they have built. Unlike ageing Nazis or Rwandan génocidaires, Anwar and his friends have not been forced to admit they participated in crimes against humanity. Visit the film's website.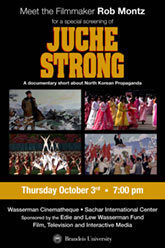 Screening: "Juche Strong"
October 3, 2013
With Rob Montz, filmmaker
"Juche Strong" explores the most pernicious misconceptions of North Korea and argues that the propaganda-fueled national ideology has played an integral role in keeping the country together. Visit the film's website.
Screening: "Letters to Jackie"
April 29, 2013
With Bill Couterie, director, and Ellen Fitzpatrick, historian
"Letters to Jackie: Remembering President Kennedy," directed by Oscar-winning documentary filmmaker Bill Couterie, revisits the months following Kennedy's assassination.
Screening: "The Kings of Summer"
April 25, 2013
Screening: "The American Jewish Story Through Cinema"
April 18, 2013
With Eric Goldman
A multimedia discussion followed by a book signing with Eric Goldman, Yeshiva University and The Jewish Theological Seminary
Screening: "Anita: Speaking Truth to Power"
April 17, 2013
With Frieda Mock, filmmaker, and Professor Anita Hill.  Directed by Academy Award winner Frieda Mock.
Screening: "The Convenient Job"
April 10, 2013
With Looch Gelfand, Rob Robbins and Ethan Stein '15, filmmakers
The Convenient Job is about three wannabe film students who plan on making a movie about students robbing a convenience store. When they can't raise adequate funds for their movie, they decide to actually rob a convenience store themselves and catch it all on tape. Let's just say that chaos ensues!
Screening: "In the Birch Grove"
March 20, 2013
Filmmaker Dr. Alan Marcus (King's College, University of Aberdeen) participated in a Q&A following this special screening.
Screening: "Hamilton's Pharmacopeia"
February 14, 2013
With Hamilton Morris, filmmaker
2012
Screening: "Portrait of Wally"
December 5, 2012
Journalist, critic and producer David D'Arcy spoke about the myths that have arisen around many still-unsolved Nazi art crimes. D'Arcy also discussed the documentary that he produced, "Portrait of Wally," which is an investigation into a 1912 painting by Egon Schiele. Schiele's portrait of his model and mistress, which a Nazi seized from a Jewish art dealer in 1939, turned up on loan at the Museum of Modern Art in New York.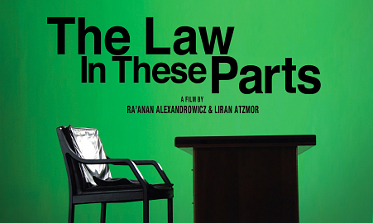 Screening: "The Law in These Parts"
November 12, 2012
With Ra'anan Alexandrowicz, director
"The Law In These Parts" follows the military lawyers and judges charged with developing and administering a legal system created ad hoc and from scratch in the West Bank and Gaza Strip following Israel's victory in the 1967 war. Named best documentary at the 2011 Jerusalem Film Festival and awarded the World Cinema Jury Prize in the documentary category at the 2012 Sundance Film Festival, writer-director Ra'anan Alexandrowicz's film raises provocative and timely questions about the fate of democracy and the rule of law under the conditions of long-term military occupation and rule.
Screening: "Ai Weiwei: Never Sorry"
November 1, 2012
With Alison Klayman, director
"Ai Weiwei: Never Sorry" is the inside story of a dissident for the digital age who inspires global audiences and blurs the boundaries of art and politics. First-time director Alison Klayman gained unprecedented access to Ai while working as a journalist in China. Her detailed portrait provides a nuanced exploration of contemporary China and one of its most compelling public figures.
Screening: "Cloud Atlas"
October 23, 2012
From acclaimed filmmakers Lana Wachowski, Tom Tykwer, and Andy Wachowski comes the powerful and inspiring epic "Cloud Atlas," based on the best-selling novel by David Mitchell. Drama, mystery, action and enduring love thread through a single story that unfolds in multiple timelines over the span of 500 years. Characters meet and reunite from one life to the next, born and reborn. As the consequences of their actions and choices impact one another through the past, the present and the distant future, one soul is shaped from a killer into a hero, and a single act of kindness ripples across centuries to inspire a revolution. Everything is connected.
Screening: "Soul of Justice: Thelton Henderson's American Journey"
October 17, 2012
With Abby Ginzberg, director
Learn about a federal judge who is changing prisons throughout California and began his career as the first Black attorney in the Civil Rights Division of the U.S. Department of Justice.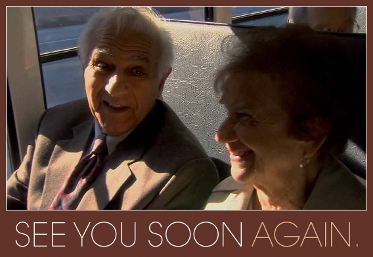 Screening: "See You Soon Again"
October 4, 2012
With Bernadette Wegenstein, director
"See You Soon Again" is not a Holocaust film. It is a documentary film about how hard it is to tell a story of unspeakable suffering and how impossible it is not to. At a prickly ninety years old, Leo Bretholz has a choice. He can continue to tell his story in the Baltimore schools, as he has over twenty-five hundred times since escaping a train bound for Auschwitz, or he can give in to his Holocaust fatigue.
Screening: "Orchestra of Exiles"
September 20, 2012
With Josh Aronson, director
"Orchestra of Exiles" tells the story of Bronislaw Huberman, a Polish Jewish violinist, who fled Nazi Europe and brought together some of the most talented musicians from that war-torn continent to form an unlikely orchestra in the middle of the desert of Palestine—an orchestra that would ultimately become the Israel Philharmonic Orchestra.
2011
Screening: "The Reconstruction of Asa Carter"
November 13, 2011
With Douglas Newman '94 and Laura Browder, PhD'94, filmmakers
Newman and Browder returned to Brandeis for a screening of their documentary and a Q&A with attendees. The hour-long documentary explores the life and legacy of the best-selling author of "The Outlaw Josey Wales" and "The Education of Little Tree."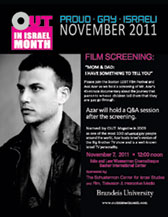 Screening: "Mom & Dad: I Have Something to Tell You"
November 7, 2011
Azar discussed his film, which was screened as part of the Boston LGBT Film Festival. The movie tells of the journey that parents go through after their children tell them that they are gay.
Screening: "Hairspray"
October 23, 2011
With Nikki Blonsky, actress
Blonsky, who grew up in Great Neck, NY, spoke about her role as Tracy Turnblad in "Hairspray," the celebrated play that has been made into a movie. Among the questions she answered: "What was it like to kiss Zac Efron?"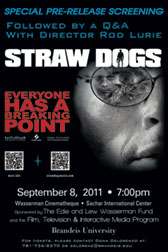 Screening: "Straw Dogs"
September 8, 2011
With Rod Lurie, director
Lurie visited campus for a pre-release screening of the remake of the Sam Peckinpah classic. Along with directing, Lurie produced and wrote "Straw Dogs," which is based on the Gordon Williams novel "The Siege of Trencher's Farm." The movie stars James Marsden, Kate Bosworth, Alexander Skarsgard, James Woods, Dominic Purcell, Willa Holland, Walton Goggins, Rhys Coiro and Laz Alsonso.
May 2, 2011
With Debra Granik '85, Oscar-nominated director
The movie, which Granik directed and co-wrote, was nominated for an Academy Award for Best Motion Picture of 2010. "Winter's Bone" tells the story of a teenage girl (Jennifer Lawrence, who was nominated for an Oscar in the lead actress category) struggling to survive in the drug-infested Ozark Mountains while searching for her missing father.