Undergraduate Department Representatives
Undergraduate departmental representatives serve as student representatives of the Film, Television and Interactive Media Program, organize events for FTIM students and provide feedback to the program chair.
They are also available to provide information to current FTIM students as well as prospective undergraduate students.
Meet the Representative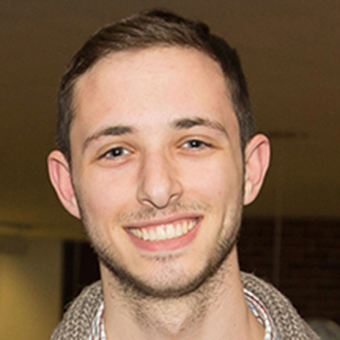 Mendel Weintraub
Undergraduate Departmental Representative
Majors: Film, Television and Interactive Media; Creative Writing
Minor: English
Graduating: December 2020
Mendel has been involved with FTIM at Brandeis since his first semester on campus in 2017, and he has been serving as a UDR for the program since Spring 2019. While his concentration is in screenwriting, Mendel is passionate about film analysis and production, as well. Since declaring his major, Mendel has interned at Searchlight Pictures (formerly Fox) in publicity, and was most recently selected as a member of the upcoming Telluride Film Festival Student Symposium. His favorite movies include Chicken Run, Inside Llewn Davis, and North by Northwest; his favorite television programs are John Ridley's American Crime and Phoebe Waller-Bridge's Fleabag.