Undergraduate Department Representatives
Undergraduate departmental representatives serve as student representatives of the Film, Television and Interactive Media Program, organize events for FTIM students and provide feedback to the program chair.
They are also available to provide information to current FTIM students as well as prospective undergraduate students.
Meet the Representatives
Hi, everyone! My name is Erick Amezcua, and I am from Ciudad Juárez, Mexico. I am a junior double majoring in FTIM and economics (weird combo, but I love both, haha) and minoring in CAST. I am passionate about film. I believe that it truly makes an impact on people's lives, and one day I want to be that person who makes a positive impact through filmmaking. I currently work at SIMS, and I am a teaching assistant for Intro to CAST 150B. I am really excited to be a UDR for this department and hope to make a positive, long-lasting impact!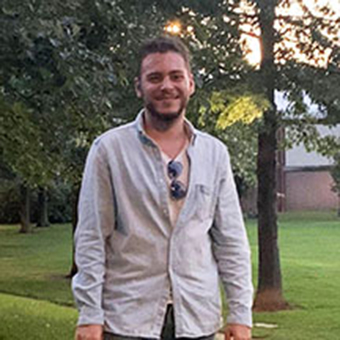 Hi! I am Rafi Levi from Istanbul, Turkey. I am a sophomore double majoring in film, television and interactive media studies and psychology. Cinema has always been my biggest passion; I started making my own movies at the age of 12. I am also a huge soccer fan, and I never miss a game of my hometown team, Fenerbahçe. On campus, I am a member of the Crowd Control Improv troupe and a writer for the Brandeis Hoot. I also work as a support specialist at Sound and Image Media Studios.