Food Resources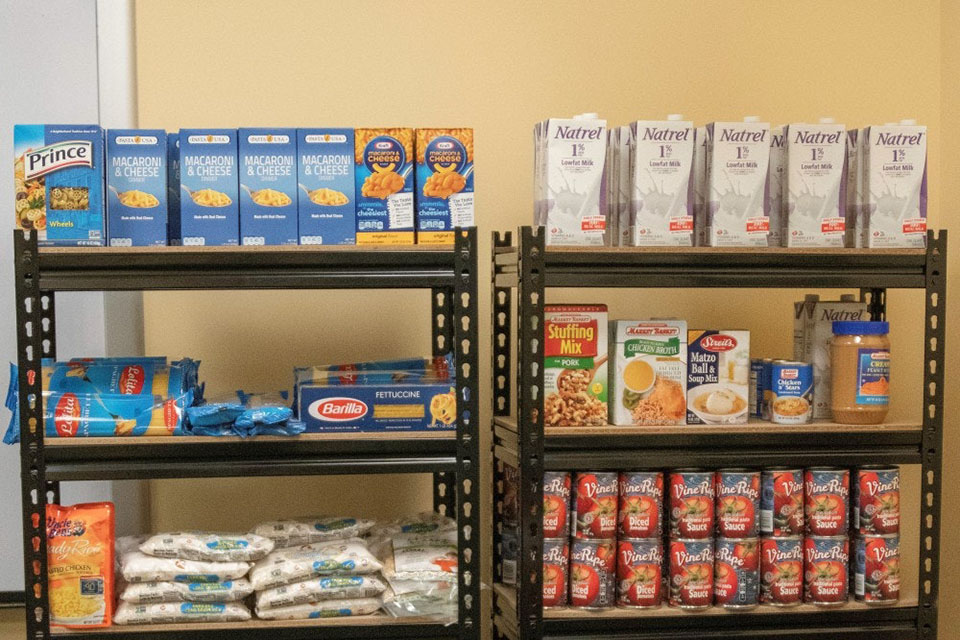 Our goal is to provide access to healthy food options for students and raise awareness about resources that are available both at Brandeis and within the Greater Waltham community.
Food Pantry
An on-campus free food pantry has been stocked with a variety of nonperishable items. Please feel free to stop by and take a few items as you need them. If you are accessing the food pantry for the first time, please complete the online registration form. The form can be completed in advance of visiting the food pantry or at the food pantry, where a tablet will be available for use.
Location: Graduate Student Center conference room, Kutz 102
Hours: Weekdays, 10:00 a.m. - 9:00 p.m  (8:00pm Fridays)
Contact: foodpantry@brandeis.edu
The Brandeis Food Pantry is currently not accepting individual donations of any kind from our community members, while we determine the best way to ensure the safety of our community as it related to COVID-19. 
Warner Farms Community Supported Agriculture (CSA) 
This summer and early fall from June 13 to October 24, Warner Farms is again generously making fresh produce that is not picked up by its regular CSA members available to Brandeis undergraduate and graduate students.  Come inside the Spingold Theater entry at 7:00pm on Thursdays (please do not come before this time) for cabbage, kale, chard, beets, turnips, and whatever delicious surprise is still available.  
Free Food Notifications
Community Resources
The following links provide useful information about local resources available to Waltham community members.
Watch City Market
Waltham Public Schools, Healthy Waltham and The Greater Boston Food Bank have partnered up to offer Waltham families at NO COST Food Market once a month at the McDevitt Middle School. Watch City Market is open to ALL Waltham Residents. Each person/family can shop for up to 50 lbs of food including produce, meats, dairy, and staple grocery items.
First Thursday of the month, 4-6 pm, McDevitt Middle School, 75 Church Street
(Call 781-314-5400 to confirm dates)
The market is free to any Waltham resident and there are no income requirements. Registering just one time for all markets via phone or email is required. To register, please call 781-314-5400 or send your name and address to wpsmarket@walthampublicschools.org.The registration information is very important as it helps us gauge how much food to have available."