Food Resources
Our goal is to provide access to healthy food options for students and raise awareness about resources that are available at Brandeis and within the Greater Waltham community.
Brandeis Food Pantry (F.R.E.S.H.) 
The Brandeis Food Pantry is currently operating on a monthly delivery based system and working closely with Healthy Waltham to provide resources while we determine the best way to ensure the safety of our community during the COVID-19 pandemic. We hope to return to operations via our on campus pantry soon. 
We are offering a new service this year, "F.R.E.S.H. Express," in which we will deliver a box of non-perishable foods directly to the doorstep of our Waltham residents once per month. Please complete the Registration Form to sign up for our September delivery!
Healthy Waltham Food Distributions
On the 2nd, 4th, 5th Thursday of every month, in partnership with F.R.E.S.H., Healthy Waltham hosts a community food distribution for the local Waltham community.  This resource is open to all local community members.  More information about the community food distribution can be found on the Healthy Waltham website.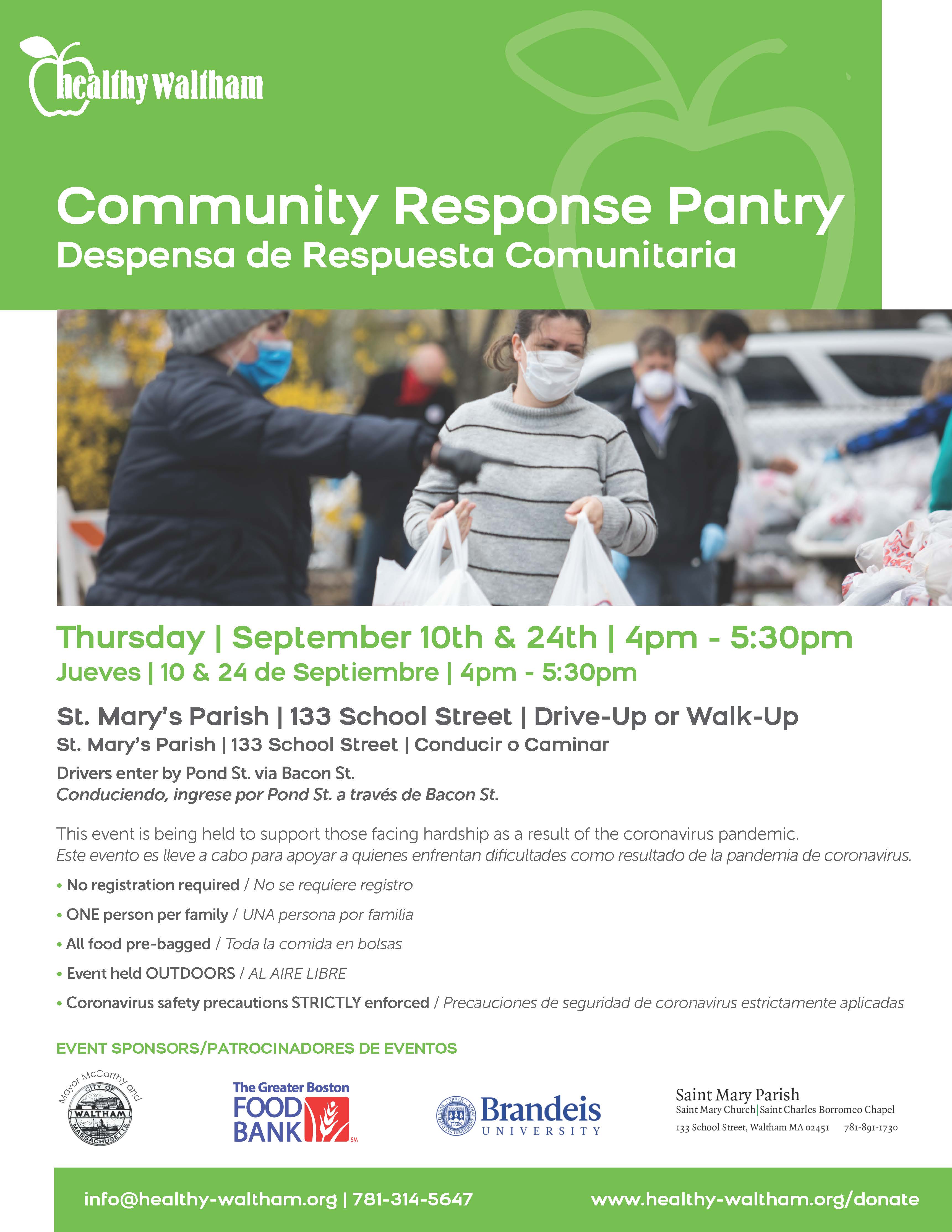 'Off the Beaten Path' Food Pantry Fundraiser
The Brandeis food pantry is teaming up with Three Squares New England to participate in the organization's eighth annual Ride for Food event, "Off the Beaten Path." The fundraiser will run through Oct. 18 to support the fight against food insecurity in New England. Our goal is to engage our community members in a fun, active event and raise money for the efforts at Brandeis University to provide more access to healthier food options, personal hygiene items and other additional resources such as donated clothing.
Warner Farms Community Supported Agriculture
From June 13 to Oct. 24, Warner Farms is again generously making fresh produce that is not picked up by its regular members available to Brandeis undergraduate and graduate students. Come inside the Spingold Theater entry at 7 p.m. on Thursdays (please do not come before this time) for cabbage, kale, chard, beets, turnips and whatever delicious surprise is still available.
Important notice: The Community Supported Agriculture program is not currently offered while we determine the best way to ensure the safety of our community during the COVID-19 pandemic.
Free Food Notifications
Community Resources
The following links provide useful information about local resources available to Waltham community members.
Watch City Market
Waltham Public Schools, Healthy Waltham and The Greater Boston Food Bank have partnered to offer Waltham families a no-cost food market once a month at McDevitt Middle School. Watch City Market is open to all Waltham residents. Each person/family can shop for up to 50 pounds of food, including produce, meats, dairy and staple grocery items.
The market will be held the first Thursday of the month from 4-6 p.m. at McDevitt Middle School, 75 Church St., Waltham. Call 781-314-5400 to confirm dates.
The market is free to any Waltham resident, and there are no income requirements. Registering just one time for all markets via phone or email is required. To register, call 781-314-5400 or send your name and address to wpsmarket@walthampublicschools.org. The registration information is very important as it helps us gauge how much food to have available.