Undergraduate Departmental Representatives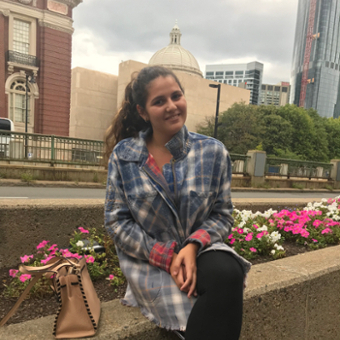 Emma Ghalili '22
BS Candidate
Hello, everyone! My name is Emma Ghalili and I am a junior at Brandeis. I am pursuing a BS in HSSP and a BA in Biology. I am currently on the pre-health path. I am super excited to be joining the HSSP UDR team because I feel that the HSSP curriculum has so much to offer and I am so excited to be working with my co-UDRs!
When I am not studying or attending class, I am in the admissions office giving tours to prospective families. I am also the president of Partners in Health engage Brandeis. In addition to that, I am a part of the Gutchess Lab on campus, which studies aging, culture and cognition. I decided to be an HSSP major because of the endless opportunities that major allows us to explore your own paths and ideas.
I cannot wait to get to work on planning some amazing events for you all and helping you on your HSSP journey. Please feel free to reach out with any questions about scheduling, internships, pre-health, and research. Also, feel free to reach out just to say hey! You can contact me through my email and I would be more than happy to meet with you for coffee, talk on the phone or answer questions through email!
Kristi Ho '22
BA Candidate
Hi, everyone! My name is Kristi, and I am currently a junior pursuing a BA in HSSP. I'm also double majoring with Psychology as well, with a minor in Social Justice and Social Policy. Outside of my UDR role, you'll find me rowing with the crew team at 5 a.m., volunteering for various Waltham Group clubs, heading into Waltham or Boston with friends, and making too many c-store runs.
I love the field of public health and want to help decrease health disparities, and I'm also interested in reforming the American health care system in the future. Because the HSSP major is so interdisciplinary, I know I'll be prepared for any career I want to pursue. In the meantime, I also plan to study abroad next spring in Copenhagen! The program allows me to travel and explore the various health care systems of Denmark, Finland and Estonia.
I'm excited to meet you all and talk about the major, classes and schedules, potential careers, study abroad opportunities, Brandeis life and more. I am more than happy to chat through email, set up a phone call or meet in person.
Asanya Wawlagala '23
BS Candidate
Hi Everyone! 
  My name is Asanya and I am a junior on the pre-health track pursuing a B.S in HSSP and Biology, and a minor in English! I am very excited to join the HSSP UDR team, working alongside the wonderful HSSP faculty.                                                                                                                                                   The wide variety of interdisciplinary classes ranging from hard science classes to social science classes and policy classes convinced me to pursue an HSSP Major.  My goal of working toward reducing racial and gender disparities in medicine & higher education led me to apply to an awesome internship opportunity last summer:  working on an anti-racism initiative to reform education disparities due to race and gender in public schools.  I got it - and was interviewed by NPR for my work with other alumni of my high school. The HSSP major has allowed me to take so many classes that line up with my career goal and to learn more about these issues. 
 I would be more than happy to help you with any questions that you may have about the HSSP major, classes, faculty, internships, or even what it is like to be a pre-health student at Brandeis and about Brandeis life overall.  We can chat through email, meet via zoom, or set up an in person on campus!
 Outside of the HSSP UDR role, I am the Co-Events Coordinator for the South Asian Students Association, a Peer Counselor at Brandeis STAR, volunteering through various Waltham Groups organizations & working as an Orientation Leader. You will also find me taking day trips to Boston and Waltham with friends and, of course, late night C-Store runs.