Major and Minor Requirements
Students may choose to earn a degree in HSSP as a bachelor of arts (BA), a bachelor of science (BS), or a minor.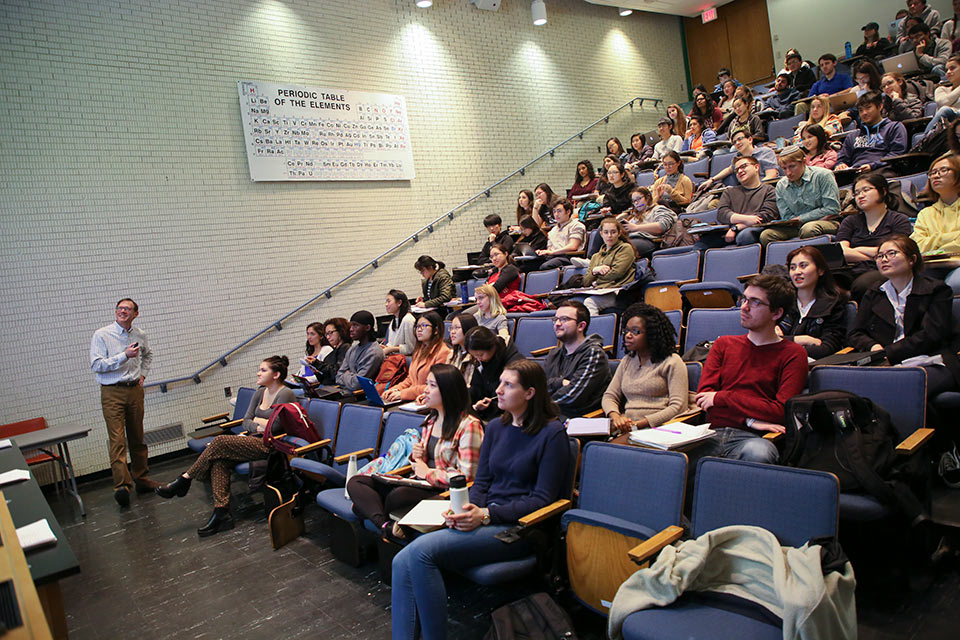 By undertaking this broad, interdisciplinary study of health, students prepare themselves for a variety of educational and professional opportunities. Graduates of HSSP go on to careers in the fields of medicine, dentistry, public health, clinical therapy, social work, genetic counseling, biomedical research, law, social policy, and public service, among many others.
All HSSP Majors and Minors must complete four core courses. HSSP majors must complete two additional core courses. The elective requirements vary depending on whether you elect to pursue a BA, BS, or a minor in HSSP
The Four Core HSSP Courses for all Majors/Minors
Science:  For BA & minors: BIOL 14a - Genetics & Genomics, BIOL 15b - Cells & Organisms, BIOL 16a - Evolution & Biodiversity, or BIOL 42a - Physiology.
BS students must complete the introductory biology sequence (Biol 14a, 15b, 16a) with accompanying labs (Biol 18a, 18b), as well as BIOL 42a - Physiology. The prerequisites for BIOL 42a are BIOL 14a and BIOL 15b.
Society: SOC 84a - Health, Community & Society or SOC 83a - Sociology of the Body & Health.
Policy: HS 104b - American Health Care or LGLS 114a - American Health Care: Law & Policy or LGLS 114aj - American Health Care: Reform as part of the Summer health-related JBS Health, Law & Justice.
HS 104b and LGLS 114a are usually offered in the Fall each year.
Epidemiology & Biostatistics: HSSP 100b - Introduction to Epidemiology, Biostatistics & Population Health, open to HSSP Juniors & Seniors, usually offered in two sections (section 1 for BS students and section 2 for BA students) during both fall and spring semesters. 

In rare cases, students may petition to substitute an epidemiology course taken through Study Abroad.  Please see the Study Abroad liaison for details.
Additional Core Courses for HSSP Majors
HSSP Capstone: HSSP 110a - Integrative Seminar on Health.
Two sections offered in both fall and spring semesters, 110a is open to HSSP seniors.
Hands-on Experience: Your "HOE" must be health-related.
Foundational Literacies: 
As a part of completing the HSSP major, students must:
Fulfill the oral communication (OC) requirement by successfully completing HSSP 110a (Core Senior Capstone), BIO 18a (BIO 14a's Lab), HIS/HSSP 142a (Focal Area B), HSSP 118b (Focal Area C).
Fulfill the digital literacy (DL) requirement and by successfully completing HSSP 100a.
Fulfill the writing intensive (WI) requirement by successfully completing one of the following: BIO 18b (BIO 15b's Lab), BISC 5b (Focal Area A for BAs), ANTH 81a (Free Elective for BAs), ENG 58a (Focal Area B), PHIL 123b (Focal Area B), SOC 179a (Focal Area B), HSSP 106a (Focal Area C), HSSP 112b (Focal Area C), JOUR 130b (Focal Area C) 
**Only students admitted Fall 2019 and after are required to complete these requirements. Students who entered Brandeis University prior to Fall 2019 should refer to the University Bulletin of their entrance year for the proper requirements.**
Electives by Degree
BA
In addition to the six Core Courses for majors: four HSSP electives (one from each Focal Area + a fourth from any Focal Area)
BS
To complete a Bachelor of Science (BS), you must complete 70 credits, including the introductory biology sequence and accompanying labs (BIOL 14a + BIOL 18a; BIOL 15b + BIOL 18b; and also BIO 16a), 3 HSSP electives + 16 credits worth of Additional Basic Science* courses)
Minor
In addition to the four Core Courses: two HSSP electives: (one elective from one of the three focal areas + one elective from another of the three focal areas)
Student Experience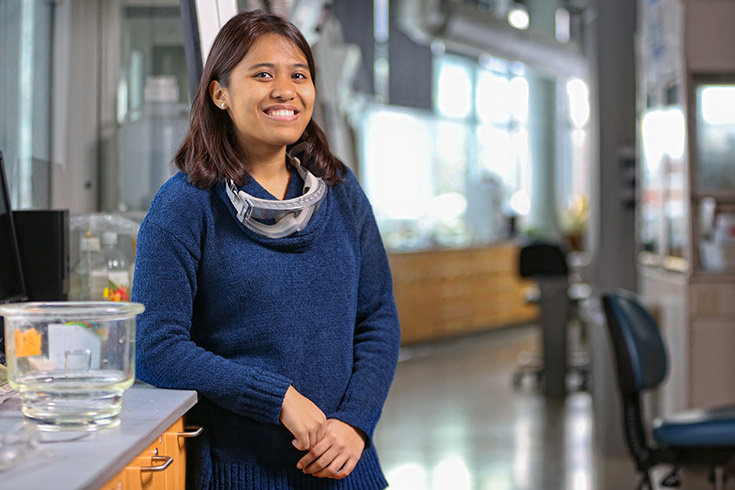 "Being at the university has given me the opportunity to pursue my intellectual curiosity. I am currently double majoring in International and Global Studies and Health: Science, Society and Policy and double minoring in Legal Studies and English. The classes within these majors and minors have taught me about such unique and interesting topics."