Major and Minor Requirements
Students may choose to earn a degree in HSSP as a bachelor of arts (BA), a bachelor of science (BS), or a minor.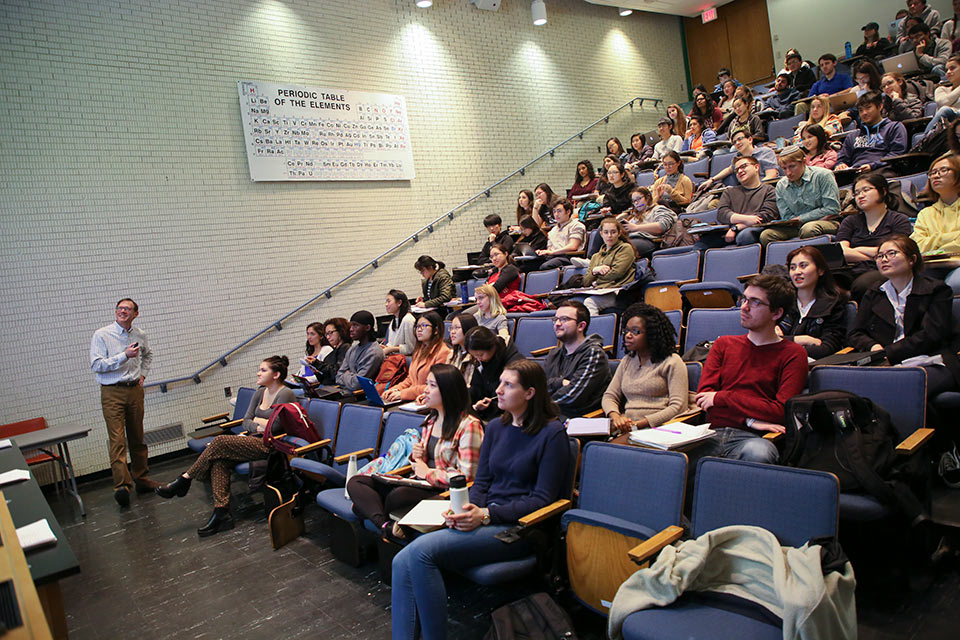 By undertaking this broad, interdisciplinary study of health, students prepare themselves for a variety of educational and professional opportunities. Graduates of HSSP go on to careers in the fields of medicine, dentistry, public health, clinical therapy, social work, genetic counseling, biomedical research, law, social policy, and public service, among many others.
All HSSP Majors and Minors must complete four core courses. HSSP majors must complete two additional core courses. The elective requirements vary depending on whether you elect to pursue a BA, BS, or a minor in HSSP.
The Four Core HSSP Courses for all Majors/Minors
Science: For BA & minors: BIOL 14a - Genetics & Genomics, BIOL 15b - Cells & Organisms, BIOL 16a - Evolution & Biodiversity, or BIOL 42a - Physiology.
BS students must complete BIOL 42a - Physiology. The prerequisites for BIOL 42a are BIOL 14a and BIOL 15b.
Society: SOC 191a - Health, Community & Society or SOC 189a - Sociology of the Body & Health.
HSSP students may now use either course to fulfill this requirement.
Policy: HS 104b - American Health Care or LGLS 114a - American Health Care: Law & Policy or LGLS 114aj - American Health Care: Reform as part of the Summer health-related JBS Health, Law & Justice.
HS 104b and LGLS 114a are usually offered in the Fall each year.
Epidemiology & Biostatistics: HSSP 100b - Introduction to Epidemiology, Biostatistics & Population Health, open to HSSP Juniors & Seniors, usually offered in fall and spring semesters, generally taken in Junior year or one of the DIS Study Abroad epidemiology courses - Epidemiology: Danish Case Studies or Epidemiology: Swedish Case Studies.
Additional Core Courses for HSSP Majors
HSSP Capstone: HSSP 110a - Integrative Seminar on Health.
Offered in both fall and spring semesters, 110a is open to all HSSP students in their final year. 
Hands-on Experience: Your "HOE" must be health-related.
Electives by Degree
BA
In addition to the six Core Courses for majors: four HSSP electives (one from each Focal Area + a fourth from any Focal Area)
BS
To complete a Bachelor of Science (BS), you must complete 70 credits, including the introductory biology sequence (BIOL 14a + BIOL 18a; BIOL 15b + BIOL 18b; and also BIO 16a), 3 HSSP electives + 16 credits worth of Additional Basic Science* courses)
Minor
In addition to the four Core Courses: two HSSP electives: (one elective from one of the three focal areas + one elective from another of the three focal areas)