Hiatt Career Closet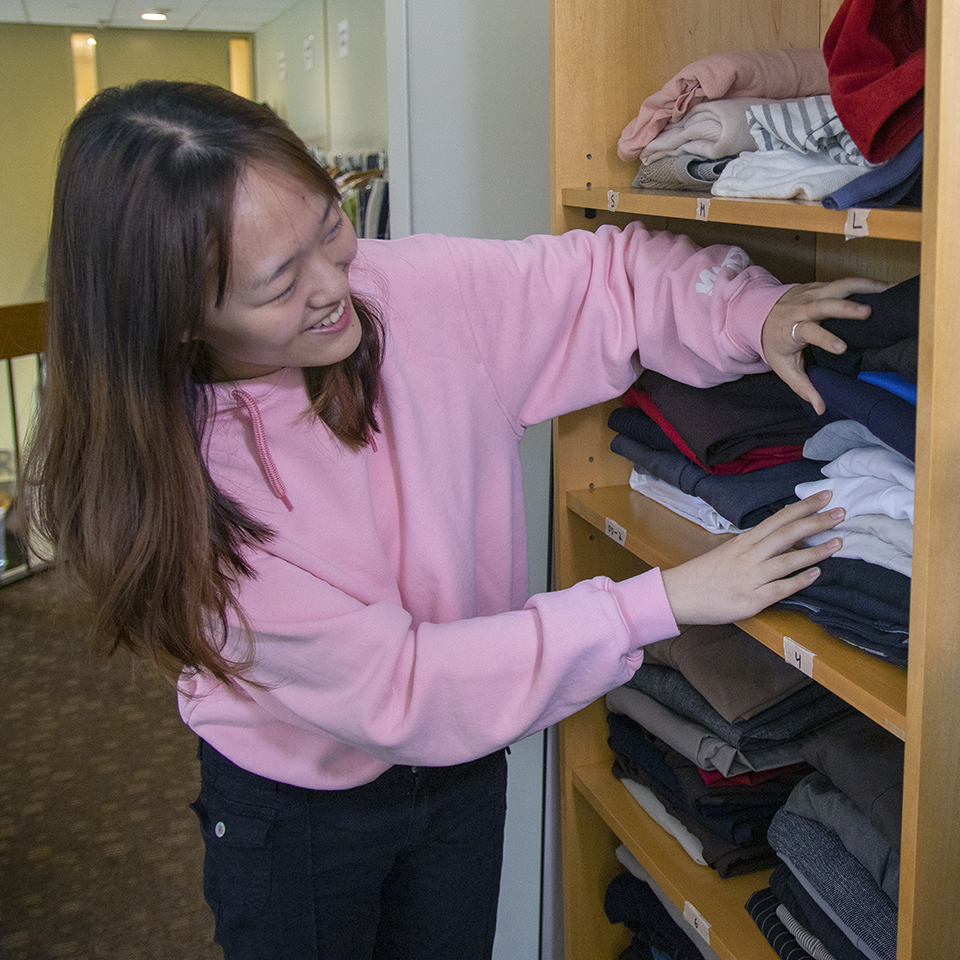 The Hiatt Career Closet at Brandeis University provides undergraduate students FREE access to professional attire for interviews, career fairs, networking events and other career-oriented activities and occasions. Our goal is to help students feel prepared, professional and comfortable when making a first impression without having to leave campus or spend a lot of money.
Why

The right wardrobe to make that great first impression can be costly and oftentimes is the last thing on the list of a busy student preparing for an upcoming interview or career event. Time, lack of finances, and personal changes can impede a student from buying professional clothing. The Hiatt Career Closet provides an immediate and convenient resource for those who are in need. 
How It Works
Undergraduate students are invited to stop by the Hiatt Career Center located in the Usdan Student Center during drop-in hours to try on and take professional attire and accessories. Items that are taken fully belong to the student after they leave our space. Exceptions may be taken under consideration in the event of a returned item. 
How You Can Help with the Career Closet Initiative
The Hiatt Career Closet assists Brandeis students in being well-rounded candidates in the professional world. We rely on the kind and generous donations to our closet to support our students. Our partners, including alumni, parents, employers and community members, are welcome to contribute to the growth of the Hiatt Career Closet. Your contributions will be attributed in building the next generation of leaders and professionals in an ever-changing world of work. 
Donations Standards
Accepted donations must be gently worn, in good condition and dry cleaned prior to donating. Items must be of high-quality: not ripped, stained, broken or missing pieces (buttons, zippers, straps).

Current items needed for the career closet are the following: 
Suits and suit separates

Dress shirts, blouses

Accessories (ties, belts, scarves, pocket squares)

Dress shoes in good condition

New or unused dress socks, pantyhose and tights (neutral colors preferred)
Business appropriate separates (dresses, skirts, pants, vests, dress slacks, blazers, jackets)

Camisole tops

Briefcases/professional bags for interviews (must be in new condition)
Guidelines
Business professional or business casual attire.

Good condition and up-to-date. (Would you be okay wearing the article of clothing yourself?)

Clean. (dry-cleaned or washed)

Items with any damage and items without sizes clearly labeled will not be accepted.

Items not chosen for the Hiatt Career Closet will be donated to a charitable organization.
Donation Drop-Offs and Shipping Information
To make an on-site donation, the Hiatt Career Center has a Career Closet donation box located in our front lobby facing the outdoor courtyard. This box is accessible 24 hours a day/7 days a week. Drop-offs can also be made to the Hiatt Front Desk during our normal business hours (Monday-Friday, 9 a.m.-5 p.m.). 
If you would like to donate items but aren't close to campus, send items to the following address:
Hiatt Career Center at Brandeis University
415 South Street
Waltham, MA 02453
Donation Tax Form
Donations are tax-deductible. To make a donation, complete the donation form. Please bring this donation form (PDF) with you when donating items. If you are unable to make a physical donation, please complete the form and email it to our office at hiattcenter@brandeis.edu to have a staff member sign it. 
Thank You to Our Donors 
In our first year of launch, we outfitted over 150 students for professional presentations, interviews and career fairs. A special thank you to our partners at Eastern Clothing, Co in Watertown, MA for donating multiple professional suits and attire throughout the years.