Career Services For Life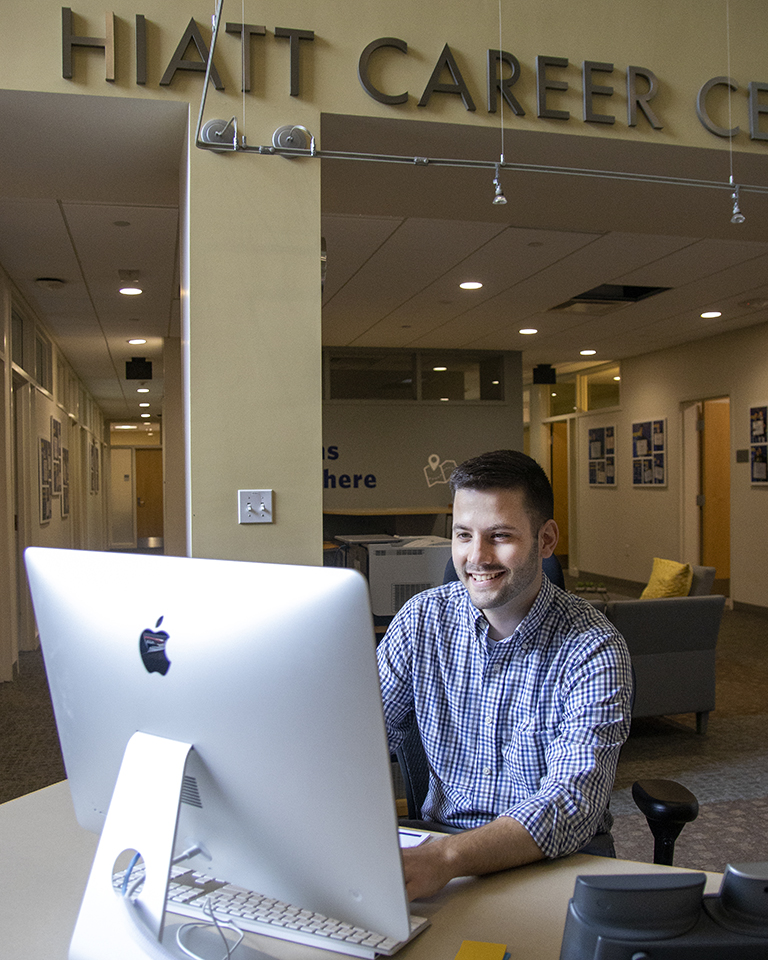 Regardless of when you graduated, where in the world you live, or how many twists and turns your career path has taken (intentional or unexpected!), Hiatt provides free lifelong career services and comprehensive resources to all undergraduate alumni of Brandeis University.
For the career changer, to the nervous networker and the recent graduate ready to blaze a new path, we will help prepare you for your next step.
You can participate in a workshop or webinar, attend an industry networking event, or meet with one of our experienced and dedicated career counselors. Hiatt is here to support your professional aspirations.
Career Appointments
We offer one-on-one appointments in-person, by phone or via video platform. Collaborate with a member of the career development team to develop personalized strategies to stay flexible in an ever-changing professional world. 
SCHEDULE YOUR APPOINTMENT ON HANDSHAKE
If you had a UNet or Handshake account as a student, it has been updated to reflect your alumni status. You will be able to log in using the link above to make an appointment. If you can't recall your account, please contact our front desk 781-736-3618.
Please note to best serve students and alumni, we offer one appointment per week and encourage meeting with the same counselor to develop a relationship and maintain consistency. When required in some cases, alumni may be referred to seek additional career support from local resources who can better meet their immediate or long-term career needs.  
Alumni Career Resources
Your post-college career most likely won't go on one straight path and that's okay. Though each job search, application process, interview and workplace may look a little different, most of the strategies to create a plan, gather information and present your skills and experience to others  remain the same.
While we're not a placement office, we do help in providing you with techniques for a successful job search. Below are resources specifically for alumni to help support your next step whether that's a job, graduate or law school or something entirely new to you.
Events and Networking Opportunities
Brandeis alumni are invited to participate in our major career and recruiting events that we host throughout the academic year. Attend our major career fairs (listed on the left-hand side of this page) to learn more about organizations, build their networks and explore position openings.
Explore additional upcoming Events at hiatt
As a job seeker, these events provide you with the opportunity to grow your network, learn more about roles and organizations and apply to positions.
search for more EVENTS & CAREER FAIRS ON HANDSHAKE
For alumni interested in recruiting on behalf of their organization at an upcoming event, visit the Hire Brandeis Students page.
Beyond Brandeis
On average, 97% of Brandeis graduates are employed, attending graduate school or engaged in other meaningful activities within six months of graduation. Learn more below about the destinations of the most recent class as well as previous graduates beginning in 2008.
Employment by Industry — Offering a wide range of perspectives, academic interests and experience, Brandeis graduates excel in various sectors and industries. See where Brandeisians from 2008 to the present are working six months after graduation.
Advancing Education — Pursuing advanced studies beyond an undergraduate experience is a common consideration among students. See where Brandeisians are currently studying and what degrees they are pursuing. Data is available for class years since 2008.
Major to Industry — The path between college major and career isn't always linear. With a liberal arts degree at hand, Brandeisians have the experiences, skills and education to be multidimensional in the world of work. Explore their paths from undergraduate major to industry. Data is available for class years since 2014.