Volunteer Impact Report
On behalf of the Hiatt Career Center, I would like to extend a heartfelt thank you to our 2022-2023 alumni volunteers. Once again, the Brandeis alumni network has shown up for students, and we are truly blown away by their support, enthusiasm and depth of knowledge.
Alumni are a critical resource in an undergraduate's career development. We often hear from students just how impactful their connections with alumni are, how they're now more confident in navigating the world of work or more prepared to pursue competitive careers.
Whether you've answered a student's inquiry on LinkedIn, mentored someone through the Rise Together Mentor Network, attended a networking event, shared advice in the classroom, connected your employer with Hiatt, or given back in any other way, know that you've made a direct impact on Brandeis students.
Below you will find highlights from the 2022-2023 academic year, alongside additional ways to stay involved moving forward. Thank you again to all of our hard-working volunteers! There is truly nothing like the power of the Brandeis network.
Brenda Shively
Senior Assistant Director, External Engagement
Hiatt Updates
The 2022-2023 academic year was the first time in nearly 3 years that we experienced a fully functioning campus. While we were all thrilled to see students back in person, we focused on balancing their needs with ever-changing employer preferences and recruiting trends. Offering quality career programming while maintaining a safe environment for everyone meant engaging in a hybrid approach across the board.
We diversified our virtual programming and tested the waters with in-person events, all while constantly reevaluating and reassessing the needs of our students, alumni volunteers, and employer partners. It was quite the balancing act!
"For a long time throughout my undergraduate years, I wasn't too sure about how I wanted to go about gaining the experience I needed post-Brandeis in my gap years before attending professional school. Whether it was through their sponsored events on campus or even the one-on-one personalized coaching they had to offer, Hiatt was there for me every step of the way to find fellowship, employment, and volunteer opportunities that were all curated to what I was interested in, which ultimately helped me make the informed decision on what I wanted for myself after graduation."
Alumni as Volunteers
Alumni who generously give their time, guidance and experience are critical in helping students prepare for their next steps beyond Brandeis. We are grateful for every volunteer who answered student emails, shared their career story as a panelist, spoke in a classroom, recruited Brandeis students, or engaged with undergraduates in any other way this year.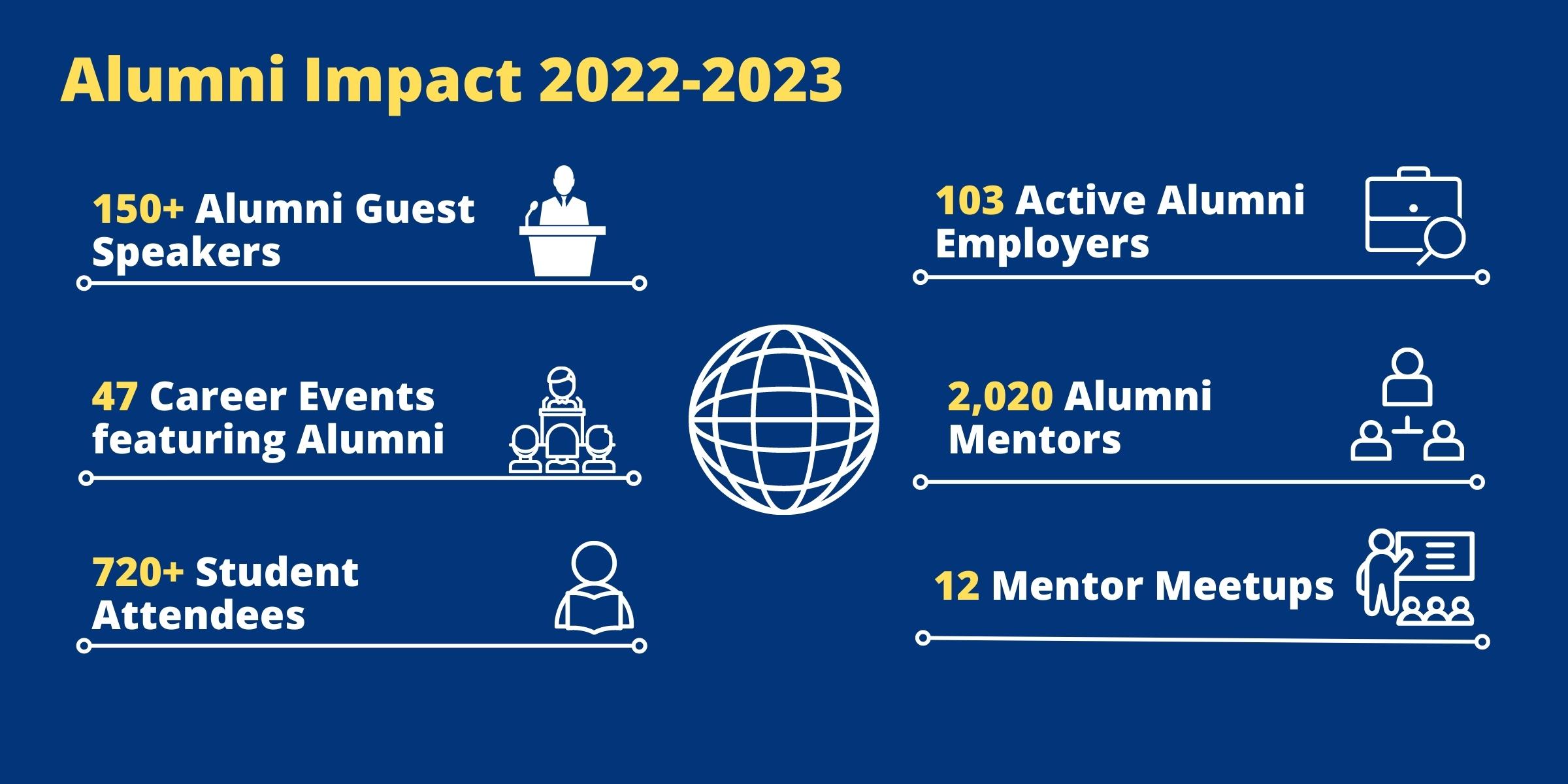 Alumni Mentors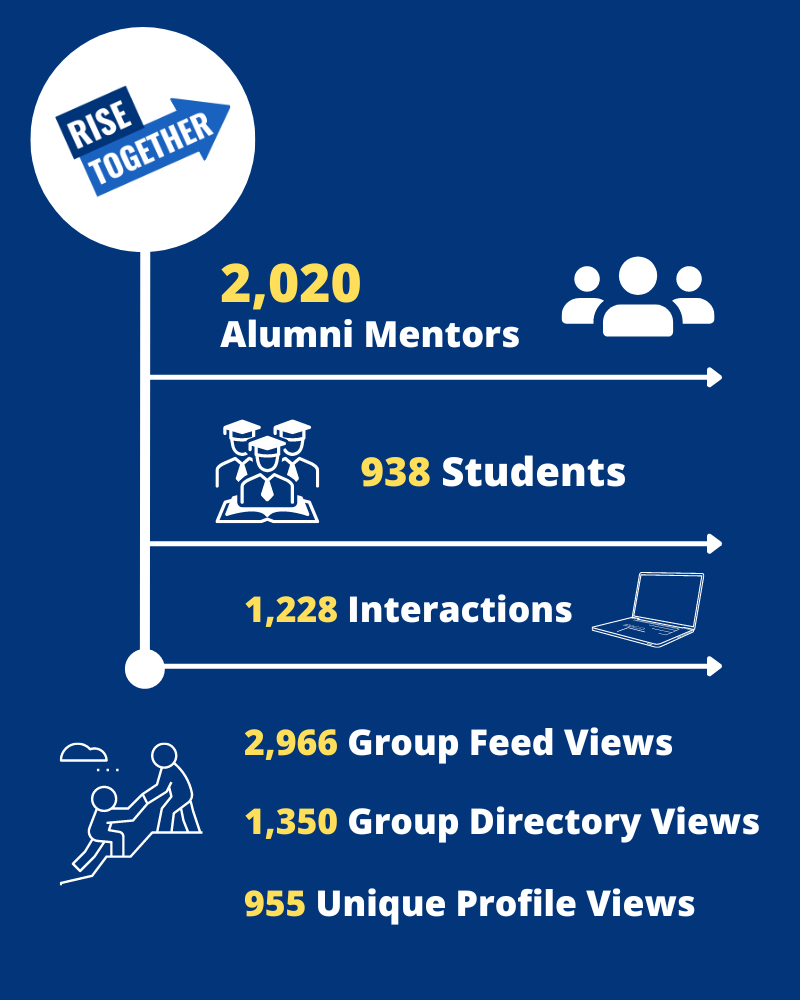 The Rise Together Mentor Network is the virtual space for undergraduate students to connect with alumni mentors across the globe. Since its inception in 2020, the program has grown to include over 2,000 mentors, educational workshops, collaborative cross-campus events, in-person networking opportunities and virtual office hours known as Mentor Meetups. Thank you to every mentor who has played a role in the success of this program! 
We are actively seeking alumni mentors across several industries and areas of expertise. Add your name to Rise Together's list of mentors by joining the Rise Together group on B Connect.
Spotlight: In-Person Networking
Beyond the virtual Rise Together platform, in-person events are an impactful way for students to connect with alumni mentors. In November, Hiatt hosted its second annual Deis Dinner, our premier networking event designed to introduce students to the power of their Brandeis network early in their academic careers. This year's event brought together nearly 100 first-year and sophomore students for a night of networking with 40+ Brandeis alumni volunteers.
2022-2023 also saw the return of smaller in-person networking events, including an alumni panel in partnership with the Gen One Network featuring alumni who were the first in their families to attend college and our first collaborative event with the Brandeis Alumni of Color Network.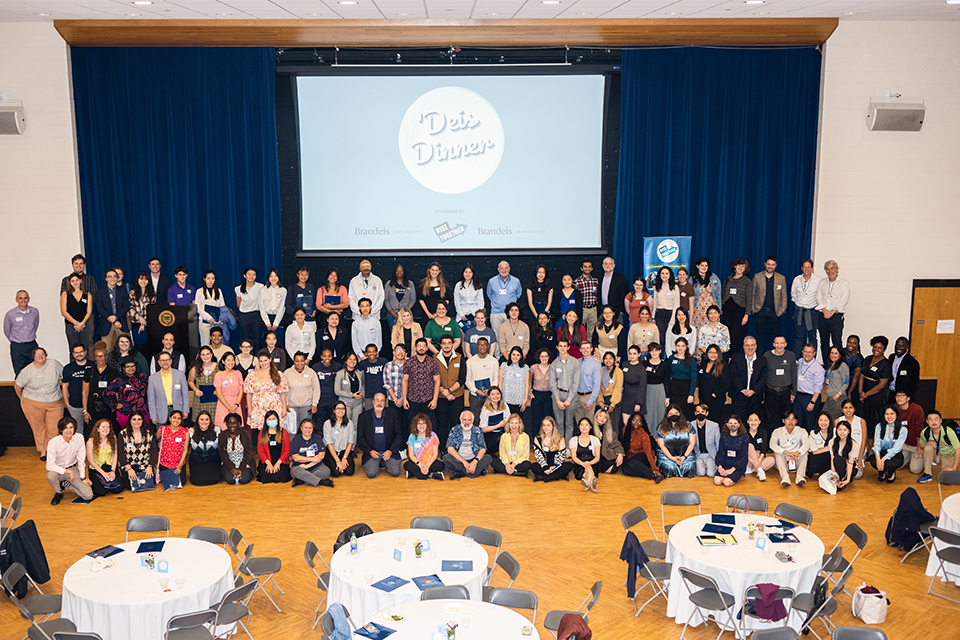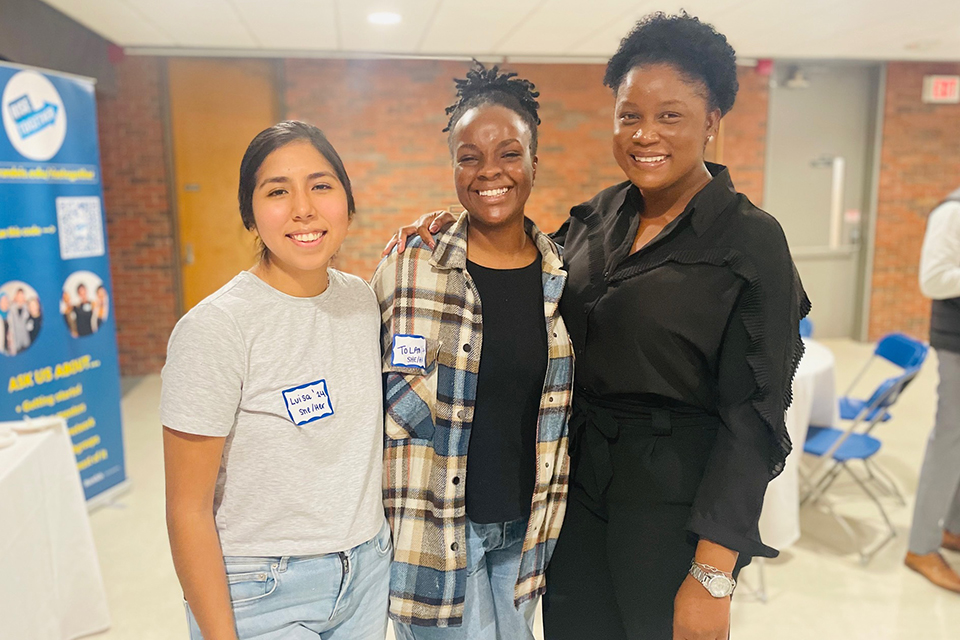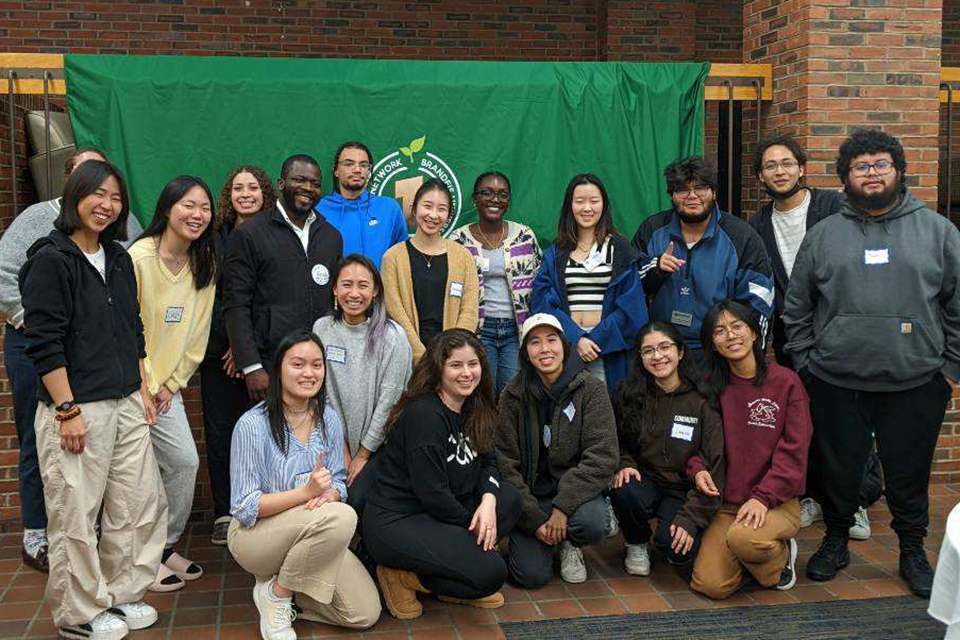 Alumni at Work
Brandeis alumni volunteers are leading the charge to open doors for students at their workplace. We are grateful for all alumni who continue to post opportunities on Handshake, connect us with their recruiting or HR contacts, participate in career fairs and recruitment events, and—most critically—help reduce barriers for Brandeisians by sharing their industry knowledge, teaching role-specific skills and guiding students through competitive recruitment cycles.
"Attending information sessions and tabling events where alumni speak has been one of the most valuable experiences I've had at Brandeis. They're approachable, and they provide me with career advice that I find very helpful. They also encourage me to make a positive impact in the world, which is inspiring. Knowing that Brandeis alumni believe in our potential as students is reassuring as we plan our future academic careers."
"Sitting in classes and hearing from alumni in different industries helped me start to think about what type of job I may want to pursue after graduation. In the last few months, I have been able to return the favor a handful of times, speaking to classes and students individually. Obviously, it is helpful for the student, but it is also helpful for both Brandeis and your employer! Students being as prepared as possible, and equipped with as many tools as possible to network and interview well, leads to students representing Brandeis well to potential employers… By dedicating just a couple of hours a month, I have been able to connect with dozens of students interested in the world of consulting, hopefully helping them in the job search (whether that be into consulting or not) and increasing Brandeis' visibility at my company."
Alumni in the Classroom
Alumni are some of the best teachers to demystify the world of work for Brandeis students. This year, Hiatt partnered with numerous faculty, Undergraduate Department Representatives (UDRs), campus partners and others to bring alumni speakers into the classroom both virtually and in-person. These programs engage students and help them connect their classroom work in new ways.
"Hiatt has been a wonderful partner, helping to facilitate events that bring our alums together with our current students.  These events are critical for exposing our students to the career paths that a Brandeis education opens up for them."
Looking Ahead: Alumni Engagement at Hiatt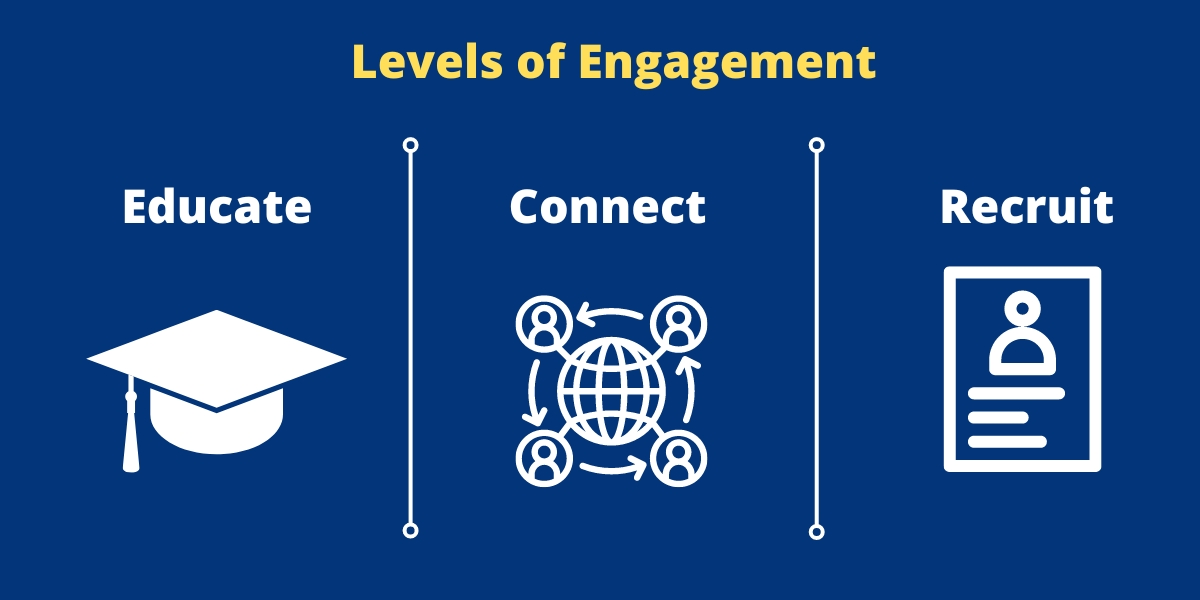 As we look to the 2023-24 academic year, we look forward to partnering with our alumni volunteers to continue to drive efforts to engage more alumni, diversify our volunteer pool, and offer impactful programs and events to build stronger connections between current students and the Brandeis alumni community.
"Words cannot express how grateful we are to have such dedicated, generous, and talented alumni willing to mentor and guide Brandeis students. The Brandeis Alumni Network is powerful and this past year we have seen just how transformative student-alumni connections can be. Thank you for volunteering your time and expertise and thank you for always showing up for Brandeis students."
Karen Rogol '98, Sr. Director, Alumni Relations