2020-2021
On behalf of the entire Brandeis community, I would like to extend our sincerest appreciation to everyone that volunteered and engaged throughout this past year. 2020/2021 presented a unique set of challenges, but it also paved the way for new opportunities.
From our HireBrandeis2020 campaign to the launch of the Rise Together Mentor network, more Brandeis alumni stepped up, volunteering their time, advice and expertise, than ever before. From London to Quebec to Dubai to South Africa, the transition to virtual programming, allowed us to engage alumni all over the world.
In the coming year, we'll continue to build on our success and grow alumni involvement in students' career journeys. Below you'll find more details on the impact of alumni contributions this past year, as well as some general Hiatt updates.
We look forward to another wonderful year harnessing the power of the Brandeis network!
Jon Schlesinger
Director, Hiatt Career Center
Alumni Highlights
Brandeis alumni have forged successful careers across all sectors and students are always eager to learn from someone that has been in their shoes. By hosting workshops, participating in recruiting opportunities, and making one-on-one connections, alumni contributions have a meaningful impact on Brandeis students.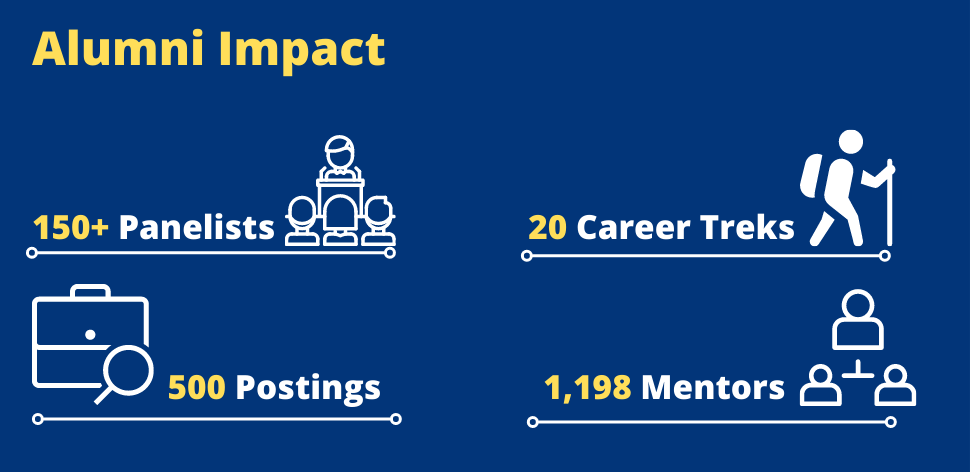 Alumni as Mentors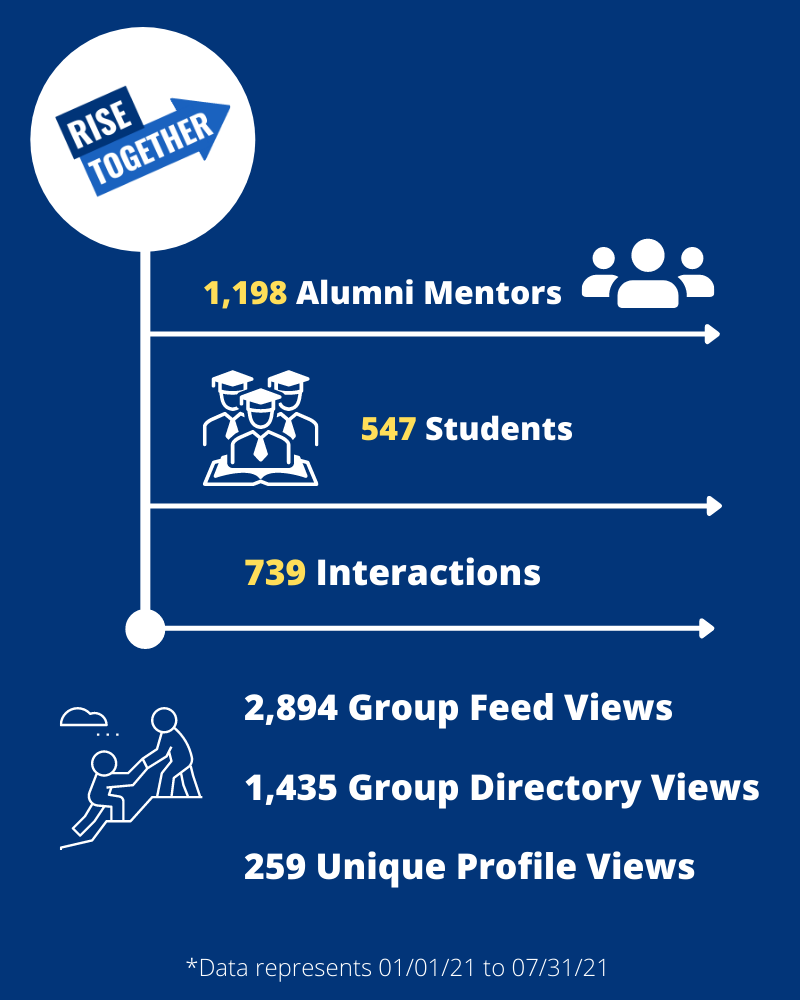 Launched in March 2021, the Rise Together Mentor Network is the virtual space for Brandeis students to connect with alumni mentors. Hosted on the Brandeis community platform, BConnect, Rise Together is similar to LinkedIn, but its users are solely made up of Brandeisians who have opted in to participate. 
What makes Rise Together different from other mentoring initiatives? Students can search for alumni by industry, affinity group, Brandeis involvement, current location and more to make connections specific to their background and current mentoring needs. Rise Together has created a space for students to strengthen their networking and relationship-building skills while unlocking the power of the Brandeis network.
 "As an undergraduate senior looking to secure interviews for different consulting positions, I wanted to learn more about the industry and how to prepare myself for various case studies. I utilized Rise Together in hopes of finding alumni who could help me through the job hunting process! The platform was extremely cohesive; I was able to quickly connect with Orin Davis '04 who walked me through the ins and outs of the consulting industry. After speaking with Orin I secured a position as an Application Program Analyst at Deloitte!"

 - Emily McGovern '21

 

"Being part of Rise Together is a great way to give back to Brandeis. I recently met with a student from the Class of 2021 to discuss the challenges of finding an ideal first job to break into his chosen field. Our conversation was an opportunity to explore the many ways careers unfold and to brainstorm the different types of first jobs that might help him get started. Meeting a current student and hearing him speak about how Brandeis has transformed his life was an energizing experience that made me proud of my university and grateful that I am giving my time to Rise Together."  

 - Phil Goldstein '89, alumni champion for the Business, Consulting and Finance subgroup 
Become a Champion 
The Rise Together Mentor Network Alumni Champions volunteer their time and expertise to lead industry and affinity subgroups, monitor community feed conversations, recruit alumni for the program and connect one-on-one with students on Rise Together. They represent industries including business, consulting, finance, law, science, healthcare, tech and more. 
Alumni at Work
Through the Hire Brandeis 2020 campaign, nearly 500 alumni offered to either post a job with Hiatt or serve as a resource for students looking for jobs and internships. This campaign allowed us to expand and diversify our volunteer base.
The Brandeis Treks program engages and motivates students to explore a wide range of careers and find a path that is right for them. During the 2020-2021 school year, nearly 20 treks were coordinated by or featured Brandeis alumni. Students got to opportunity visit top employers, hear from industry experts, and receive guidance and advice from trusted Brandeisians.
 "The JP Morgan virtual trek was an extremely rewarding event for both students and alumni. Open and honest discussions were held where students could ask any question whether it be specific or general and alumni answered truthfully and with real advice. It was also an opportunity for alumni to give back and be a part of a wonderful cause that is helping guide potential future talent at the firm. Overall it was a successful event where connections were made and knowledge was shared to further advance the entire Brandeis community."     

-Ernie Arnada '18 - Fixed Income Middle Office Analyst, JP Morgan Chase  
Alumni in the Classroom
Hiatt worked with faculty in HSSP, Computer Science, Business, Politics, and Legal Studies to bring alumni into the classroom (in person and virtually) for panel discussions or experiential projects. These programs engaging students and helping them connect their classroom work in new ways. Over 150 alumni served as panelists for virtual career conversations and networking events. These events were held in partnership with faculty, alumni chapters from across the country, and student groups and organizations across campus. 
"I reached out to 130 alumni, all former students of mine over the past 20 years, to see if any would participate on panels during scheduled class time. To my shock and delight, 111 signed on, including a dozen from China and Europe. I placed them on 6 panels on different days for my BUS 10a students, on 4 evening industry panels open to all Business and Economics undergraduates and, with the support of the IBS dean and Business chair, with 17 fellow Business, Economics, and IBS professors to speak in their courses. 

It was incredible to witness so much alumni engagement -- the finest example of "paying it forward," as these alumni are now mentors to many of the students who reached out to them afterwards on LinkedIn. Some told me afterwards that they met fellow alumni for the first time through this project, strengthening their own professional networks."

-Professor Edward Bayone, Brandeis International Business School 

 

"We have been leading a case challenge for HSSP89a each semester since Fall 2018, and each group has been a delight. This past spring, we were so impressed by the hard work the students put in to overcome the challenges of group projects in a remote learning environment. The engagement and excellence we continue to see from students at Brandeis makes it a pleasure to continue giving back to the program that gave so much to us. Staying close with Brandeis has benefited us, too: we're proud to say that Brandeis alums make up a higher proportion of our staff than any other school – and we look forward to building on that!"

-Jordan Hinahara '12 , Director at Boston Healthcare Associates  
Meet the Hiatt Alumni Engagement Team
Brenda Shively
Senior Assistant Director of External Engagement
Pronouns: she, her, hers
Gabriella Lanzi, Rise Together Intern, Heller School '22
Future Initiatives
Coming off of the success of this past year, we will continue to focus our efforts on engaging more alumni, diversifying our volunteer pool, and building stronger connections between current students and the entire Brandeis alumni community.
This means:
Creating more opportunities for alumni to share their experience and expertise with students, both in person and virtually
Utilizing alumni as a resource to help prepare students for career fairs and networking events
Bolstering relationships with campus partners to build reoccurring opportunities for alumni to engage in the classroom
Highlighting all of the wonderful and amazing work Brandeis alumni are doing, across all sectors
Strengthening partnerships with alumni to open doors and build Brandeis talent at their organizations
Additionally we look forward to growing the Rise Together team, adding more alumni ambassadors and creating new opportunities for student champions. We will continue to find creative ways to engage students and welcome the return of in-person events and programming. In many ways the Rise Together Mentor Network is just getting started. By expanding our subgroups, creating a roadmap for outreach and networking, and building meaningful and long-lasting connections, Rise Together will become the go to place for Brandeisians to find one another.
"Thank you, Brandeis alumni, for volunteering in so many ways for the benefit of our students! They are hungry to connect and learn from your expertise, whether on career treks, in the classroom or through mentorship. We appreciate ALL you do for Brandeis, and hope you will spread the word among friends and peers."
Patsy Fisher, Vice President, Alumni Relations