Meet the Interns
Every summer, HBI welcomes interns from across the country and world who complete original research related to the HBI mission of fresh thinking about Jews and gender worldwide and support the work of scholars affiliated with HBI and Brandeis.
During the eight-week program, the interns also attend educational lunch sessions with scholars, visit Jewish sites of interest in the Greater Boston area including Mayyim Hayyim, and a walking tour of Jewish Boston.
---
2023 Interns
Miriam Abrams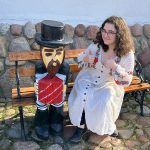 Miriam Abrams (she/hers) is a rising senior at Smith College, originally from Lexington, MA. She is double majoring in Jewish Studies and English Language and Literature, and is co-chair elect of the Smith College Jewish Community. Last semester, she interned with the Jewish Women's Archive, where she helped prepare their upcoming oral history database. This summer, she will assist HBI Research Associate Dr. Rivka Neriya-Ben Shahar on her manuscript about Amish and Ultra-Orthodox Jewish women and their relationships to the media. Her independent project will analyze depictions of prostitution in Yiddish literature.
Hannah Bashi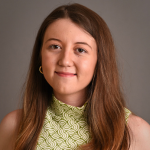 Hannah Bashi (she/her/hers) is a rising second year law student, currently studying at the S.J. Quinney College of Law in Salt Lake City, Utah. She serves on the Executive Board of the Women's Law Caucus and is an officer for the SJQ Student Litigation Society. She is currently interested in International and Immigration Law. She received a B.A. from the University of Denver in English with concentrations in British Literature and Judaic Studies. Bashi will be assisting Dr. Yuval Evri, Assistant Professor of Near Eastern and Judaic Studies and Ocuin Chair in Ottoman, Mizrahi, and Sephardic Jewish Studies at Brandeis University, to continue his research on the work of Arab-Jewish women writers whose voices have been silenced and marginalized in historical and literary scholarly work. Passionate about her Persian heritage, and interested in the social impacts of migration, Bashi will be studying the effects of immigration on the identity and culture of Jewish Iranian women who migrated to the United States after the Iranian Revolution in 1979. With this project, she hopes to gain a better understanding of Jewish feminist research methods, and to illuminate the life, records, and contributions of Sephardic and Mizrahi Jewish women throughout history.
Lila Goldstein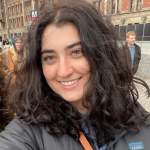 Lila Goldstein (she/her) is a rising senior at Brandeis University studying Near Eastern and Judaic Studies and Women's, Gender, and Sexuality Studies. Goldstein is the president emerita of the Brandeis Reform Chavurah, the oldest Jewish student group at Brandeis University. A former Rising Voices Fellow and intern for the Jewish Women's Archive, Goldstein is passionate about Jewish feminist learning and activism. In 2020, Goldstein co-founded Jewish Teens for Empowered Consent, an organization that worked to prevent gendered violence in Jewish youth spaces. A journalist and writer, Goldstein has also published articles in "Lilith Magazine," "eJewish Philanthropy," "New Voices Magazine," and more that explore contemporary debates in Jewish Studies. Her independent research this summer will result in a long-form creative writing project that explores gender and sexuality at Jewish summer camps. Outside of work, you can always find Goldstein at the movies, browsing at a bookstore, or exploring Boston. Goldstein is thrilled to be an intern for the Hadassah-Brandeis Institute, and can't wait to see what summer brings!
Sadie Hyman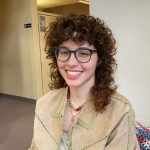 Sadie Hyman (she/her) is a rising junior at Haverford College majoring in History with a minor in German, where she also serves on the board of Haverford Students for Reproductive Health. This summer, Hyman will be conducting research on the women around Louis Brandeis and their impact on his judicial philosophy for Joyce Antler, the Samuel J. Lane Professor Emerita of American Jewish History and Culture and Professor Emerita of Women's, Gender, and Sexuality Studies at Brandeis University. For her personal project, she will create an index of Jewish ghost stories, with a particular focus on accounts of dybbuk possession, to enhance her pre-existing research on the gender dynamics of ghost belief. 
Sivan Piatigorsky-Roth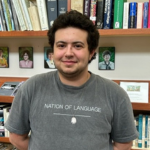 Sivan Piatigorsky-Roth (they/them) is a cartoonist and student entering their third year of rabbinical school at Hebrew College. They graduated from Wesleyan University in 2020 with a degree in English and Studio Art. Their comics have been published in "The New Yorker", " Catapult", and "Awry Comics", and their graphic novel "Diana: My Graphic Obsession" was published by Street Noise Books in 2023. Piatigorsky-Roth is working with Laura Jockusch, Albert Abramson Associate Professor of Holocaust Studies,  on gendered bodily rituals in practice - particularly circumcision. Their independent project is about "Poor Tony Krause" and the representation of transness and Jewishness in David Foster Wallace's "Infinite Jest." 
Arielle Sabot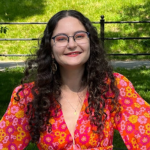 Arielle Sabot (she/they) is a recent graduate of The Jewish Theological Seminary Kekst Graduate School with a Master's in Jewish Gender and Women's Studies. Their thesis, "The Divine (M)Other: Forging a Jewish Ecofeminist Ethic from Mara Benjamin's Scholarship," used modern Jewish philosophy, feminist philosophy, and Kabbalah to argue for a reimagined response to the climate crisis. Sabot received her Bachelor's degree from NYU Gallatin School of Individualized Studies where she focused on how art and religion can educate communities on climate change. As a participant in the JTS Artist in Residence Program with Tobi Kahn, Sabot's photography from their recent project "Growing Jewish Genders and Sexualities from the Diasporic Ground" will be displayed in this year's exhibition. This summer, Sabot is working with Associate Professor Jon Levisohn, the Jack, Joseph and Morton Mandel Chair in Jewish Educational Thought at Brandeis University, on his new book-length project, "The Gender of Jewish Knowledge."
Shira Sadeh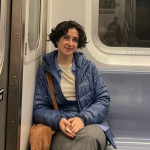 Shira Sadeh (she/her/hers) is a rising junior at Mount Holyoke College where she is majoring in Politics and Religion. Sadeh is working with Lisa Fishbayn Joffe, the Shulamit Reinharz Director of the Hadassah-Brandeis Institute and a faculty affiliate in Near Eastern and Judaic Studies, on her project exploring "substantial equivalency" standards in regards to Yeshiva schools in New York State, and the gendered impacts of these regulations. Sadeh will spend the next several weeks independently researching reproductive practices and ritual in the Jewish community in hopes of compiling a resource for Jewish communities to use when navigating the current political landscape in relation to reproductive health. She is excited to explore the Brandeis campus and connect with a community of Jewish studies scholars. 
Talia Weisberg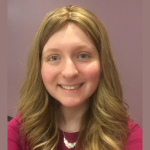 Talia Weisberg, (she/her) is a student at Yeshivat Maharat and earned her Bachelor of Arts from Harvard University in the Comparative Study of Religion with a secondary field in Women, Gender, and Sexuality. Her senior honors thesis explored the Bais Yaakov girls' school movement, of which she is an alumna, and its role in the evolution of Orthodox women's formal religious education. She is excited to be at HBI working on an essay about the religious, sociological, and historical dimensions of the practice of Orthodox married women covering their hair with wigs. Her written work has most recently appeared in the anthology "Artifacts of Orthodox Jewish Childhoods" as well as in "The Forward," "Hey Alma," and as a letter to the editor in the "New York Times." In 2013, she was named as one of the "Jewish Week's" "36 Under 36" young visionaries reshaping and broadening the Jewish community. Weisberg is also working with Judaica Librarian Rachel Greenblatt, who is also a Senior Lecturer in Jewish Studies at Dartmouth College, on the phenomenon of Orthodox married women wearing wigs to satisfy the halakhic requirement to cover their hair.