Master of Arts in History
There are many reasons to pursue an MA degree in history, including satisfying your intellectual appetite and deepening your understanding of the human story. Further study in history at the master's level will hone your research, writing and critical-thinking skills—all invaluable in any profession. Of course, a master's degree also makes you a stronger candidate for admission to a doctoral-degree program. If you want to further your mastery of historical research and writing, Brandeis offers a highly selective one-year MA program that is both rigorous and flexible. It is especially well suited to you if your interest lies in comparative and transnational history.
Why Brandeis?
Working closely with an adviser, you will select courses and research areas that match your interests and professional goals. The master's degree culminates in a capstone project—entailing intensive research, experiential learning or integrated study—that will prepare you for a career in academia or another profession.
In our program, you will benefit from the hallmarks of a Brandeis education: small classes, dedicated mentoring by internationally recognized faculty, intellectual diversity, career support and the wealth of academic and cultural resources Boston offers.
Careers and Alumni
Many of our alumni go on to positions in higher education, as well as to careers in law, writing, finance, entertainment, public administration and diplomacy.
Curriculum
In consultation with your adviser, you will select six courses at the 100- or 200-level. You will also complete two capstone credits. If you are considering a doctorate in history you will complete the capstone with a double-credit primary-source-based master's thesis (which you will defend at the end of the year) or with two single-credit, one-semester essays. In addition, you must enroll in at least two graduate seminars over the course of the year.
Financial Aid and Scholarship
All applicants are eligible to apply for need-based aid; merit scholarships are available for those with exceptional promise. Please refer to the Graduate School of Arts and Sciences website for more information about available scholarships.
Alumni Spotlight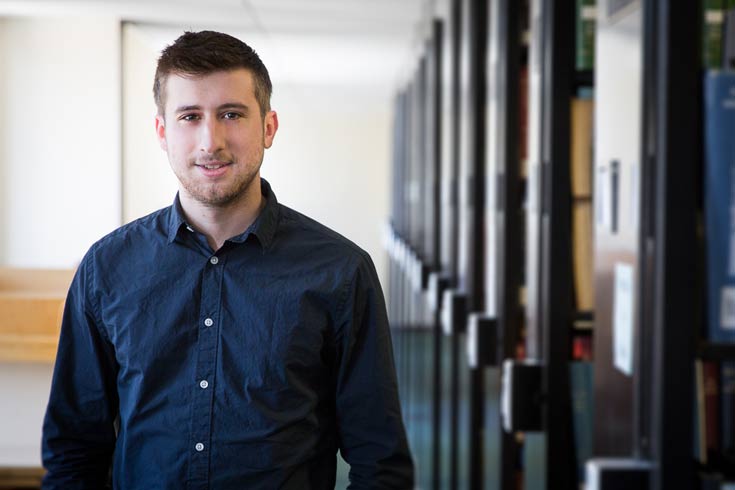 Steven Rodriguez, a member of the first Diversity, Excellence and Inclusion Scholarship (DEIS) cohort, has spent his time at Brandeis researching the imperial activity of the United States during the twentieth century. He has found strong mentors in the History department. "Part of what drew me to Brandeis was the opportunity to work closely with outstanding faculty," he says. "I have already benefited tremendously from the tutelage of Dr. Engerman and Dr. Willrich."