DEIS Scholar Prepares for a Career in Academia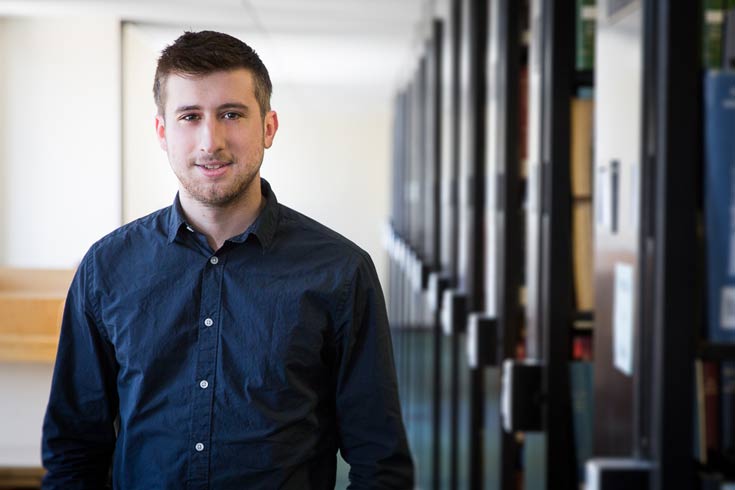 February 10, 2017
This story is part of a series about recipients of the DEIS Scholarship at GSAS.

Steven Rodriguez, a member of the first DEIS cohort, has spent his time at Brandeis researching the imperial activity of the United States during the twentieth century. His thesis investigates the Rockefeller Foundation's public health work in Cuba during the interwar years as a means of understanding the changing diplomatic relations between the U.S. and Cuba. Rodriguez has found strong mentors in the History department. "Part of what drew me to Brandeis was the opportunity to work closely with outstanding faculty," he says. "I have already benefited tremendously from the tutelage of Dr. Engerman and Dr. Willrich."
As a first-generation college student and undergraduate at The College of New Jersey (TCNJ), Steven Rodriguez wrote an award-winning paper on the history of low-cost housing and exclusionary zoning in New Jersey. He also worked for the Bonner Program, a national community engagement organization that offers scholarship opportunities to students in exchange for 300 hours a year of community service. Rodriguez's experience at TCNJ—where he was able to combine his interests in history and community engagement—profoundly shaped decision to pursue a career in academia.
At Brandeis, Rodriguez has found the opportunity to engage closely with his peers in the DEIS program. "Being part of the DEIS cohort has broadened my perspective as a scholar and has allowed me to make friends with an exceptionally talented group of people," he says. "Our meetings have allowed for a mix of spirited discussions about politics, academia, and about our individual career aspirations." He notes that Madeleine E. López, who coordinates the program, "has been particularly helpful in providing guidance and reassurance as each of us try to navigate the first year of graduate school."
The DEIS award is offered to applicants pursuing full-time master's degrees in the Humanities, Social Sciences, and Music. In 2017, the scholarship will be extended to the Biotech program for the first time. It provides a full-tuition scholarship, a $10,000 stipend, full credit toward an individual health insurance plan, and strong faculty and community support for the students as they pursue their degree.
"Without the DEIS program I would not have been able to attend Brandeis or likely pursue a career in academia," said Rodriguez. "I have been tremendously fortunate to have both my undergraduate and now graduate education supported by generous scholarships that aim to diversify higher education."
Next year, Rodriguez will be abroad in Spain, attending the University of Alcalá's Instituto Franklin as a student in the Teach and Learn program. The program, which provides him with tuition remission and a living stipend, will enable him to teach English in Madrid schools while studying for an MA in Teaching Spanish as a Foreign Language. While enrolled in the program, Rodriguez intends to apply to PhD programs in History.