Class of 2018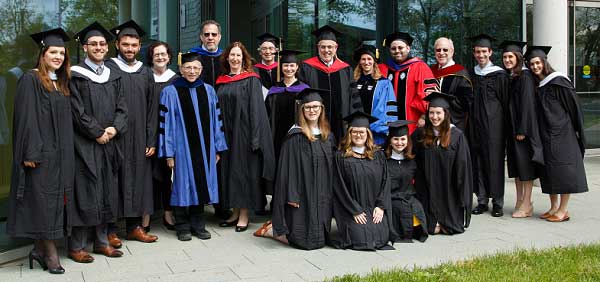 Congratulations to the Hornstein Class of 2018!
On Sunday, May 13, 2018, 21 months of intensive educational programming culminated in a commencement ceremony where nine students received dual master's degrees in Jewish professional leadership and nonprofit business management, public policy or Near Eastern and Judaic studies; and one received her master's degree after completing her Brandeis undergraduate studies in 2017.
The ceremony was preceded by a luncheon and followed by a dessert reception.
The afternoon was highlighted by keynote speaker, Winnie Sandler Grinspoon, president of the Harold Grinspoon Foundation and this year's recipient of the Bernard Reisman Award for Professional Excellence. (Read our press release announcing this award.)
Graduating students Gabrielle Hersch and Deryn Harbin chaired the student planning committee under the guidance of Prof. Mark Rosen.
Class of 2018
Deryn Rae Harbin
Class of 2018
Deryn Rae Harbin (MA/MBA) is a violinist and Jewish community organizer. A New York native turned Florida transplant, Deryn graduated with a dual Bachelor of Arts in Music and Business from Florida State University in 2010. Having learned to read music before she could read words, a passion for creative expression developed early on. As a lifelong musician, Deryn's practice has led her to a variety of careers, from founding a student nonprofit music organization, to volunteering in Dresden, Germany as a teaching-artist, and later to Tel Aviv, Israel where she became active in nurturing Jewish identity and leadership. Prior to beginning at Hornstein, she served two and a half years as the director of registration for a Birthright Israel trip organizer in Haifa, where she facilitated the first journey to Israel of many American Jewish youths. During her first year of graduate studies, Deryn served as the part-time engagement and programming assistant and IACT coordinator at Wellesley College Hillel. Today, Deryn is the assistant director of community engagement at Epstein Hillel School, the Jewish day school in Marblehead where she completed her summer fieldwork. Deryn is excited to announce that she has accepted a full-time development position at the school following graduation in May 2018. Learn more about Deryn's musical career at her website.
Gabrielle Hersch
Class of 2018
Gabrielle Hersch (BA/MA) is originally from Fort Myers, Florida where she developed a passion for cultures and traditions that led her to her undergraduate studies at Brandeis University. A graduate of the Brandeis Undergraduate Class of 2017 with majors in Near Eastern and Judaic studies and anthropology, and minors in Islamic and Middle Eastern studies and religious studies, Gabi was awarded magna cum laude with honors in Near Eastern and Judaic studies, as well as the Rose and Joseph Weissman Prize in Near Eastern and Judaic Studies. Through her time at Brandeis, Gabi worked at URJ Camp Coleman as ropes course director, served as a Brandeis Bridges Fellow and club president, became a Social Justice World of Work Fellow during her summer internship at the American Jewish World Service where she worked in the Office of the President, served as a coordinator for the Brandeis Waltham Group, "Service Without Borders," and studied abroad in Morocco in a program about "Migration and Transnational Identity." Gabi was also an undergraduate departmental representative for Brandeis' religious studies department, where she was awarded the UDR Recognition Prize. Gabi is a proud Collegiate Leadership Internship Program (CLIP) alumna, and is thrilled to be a part of the 2018 Hornstein cohort to continue learning and exploring the Jewish nonprofit landscape.
Dalia Krusner
Class of 2018
Dalia Krusner (MA/MBA) is from Toronto, Ontario where she grew up in the youth movement Hashomer Hatzair and attended their camp, Camp Shomria, for 15 years. She graduated from the Trudeau Centre for Peace, Conflict and Justice Studies at the University of Toronto, and combined her background in conflict studies with her love of camp as the director of Heart to Heart, a program that brings Jewish and Palestinian Israeli teens to Camp Shomria each summer for shared society education and dialogue programming. Dalia is proud to be an award recipient of the Wexner Graduate Fellowship / Davidson Scholars Program, and will be joining the New Israel Fund upon graduation as the associate regional director for New England.
Rose Levenson
Class of 2018
Rose Levenson (MA/MBA) is a south central Pennsylvania native, hailing from the sweet town of Hershey, Pennsylvania. She graduated from Mount Holyoke College in South Hadley, Massachusetts with a degree in psychology and education. Through a process of self-directed learning and progressive education, Rose found the bridge between her academic work and her passion: overnight Jewish summer camp. Rose is proud to be a Wexner Graduate Fellow/Davidson Scholar. Rose is fulfilling her dream upon graduation as she begins her career in the residential camping world as the assistant director of Camp Bob Waldorf in Los Angeles, California.
Jacob Markey
Class of 2018
Jacob Markey (MA/MPP) is originally from Milwaukee, Wisconsin. He received his undergraduate degree in political science from the University of Wisconsin-Madison. Over the last few years, his journey has taken him to a wide array of places. He spent ten months in Israel as a volunteer in the Otzma program and was previously the coordinator for Israel engagement at the Hillel at Brandeis. Most recently, he worked for the Union for Reform Judaism as the marketing and communications coordinator for the NFTY-EIE High School in Israel.
Kayla Reisman
Class of 2018
Kayla Reisman (MA/MBA) is the product of several Jewish day schools in Baltimore, Maryland, where she grew up. After high school, Kayla spent a year on the Nativ College Leadership Program in Israel, and graduated from Dickinson College magna cum laude with a degree in Judaic studies, sociology and a certificate in Jewish education. From there, she worked for Hillel at Ithaca College from 2014-2016 as the senior engagement associate and director of Jewish student life. Kayla brings to Hornstein many years of experience in Jewish experiential education and Jewish communal service, and looks forward to continuing at Hornstein in the footsteps of her grandfather, Bernard Reisman, pioneering director of the Hornstein Program.
Mikhael Reuven
Class of 2018
Mikhael Reuven (MA/MA) was born and raised in London, England, and studied for his Master of Arts in Philosophy and Mathematics at the University of Cambridge. Mikhael is a graduate of the liberal Zionist youth movement LJY-Netzer, for whom he worked after graduating, and an active volunteer for Limmud, for whom he currently co-chairs the publications team. Since making aliyah to Israel, he has spent time learning Hebrew at ulpan, studying Jewish text at the Conservative Yeshiva, tour guiding for NFTY, and volunteering as a goat farmer on Kibbutz Neot Semadar. During his time at Hornstein, Mikhael has enjoyed working at Brandeis Precollege Programs and Koren Publishers. He looks forward to a successful career in Jewish education.
Jenni Richton
Class of 2018
Jenni Richton (MA/MBA) comes to Brandeis after eight years as a Jewish communal professional in Boston and New York. Most recently, she was the director of the Eser program at Hebrew College where she led the growth and expansion of Eser, a young adult Jewish learning program. Prior to Hebrew College, Jenni was the director of professional development and evaluation at NCSY, where she founded a leadership development program and created operational guidelines for organizational standards. Jenni earned her Bachelor of Arts with honors from Stern College. She is most passionate about bringing different communities of people together to participate in meaningful Jewish experiences.
Herschel Singer
Class of 2018
Herschel Singer (MA/MBA), originally from Albany, NY, is a magna cum laude graduate from the Yeshiva University Honors Program, where he majored in psychology and minored in business management. For his senior honors thesis, he developed and ran a survey to quantitatively assess the efficiency of Jewish camp at fostering lasting Jewish values. Herschel's excitement and dedication to the Jewish non-profit world stem from his experiences at Camp Yavneh, a pluralistic camp in New Hampshire at which he spent 14 summers as a camper, counselor, unit head, assistant head of boys and in a custom-built position, head of experience. While at Yeshiva, he was a statistics peer tutor, as well as a tutor for Washington Heights public school students both in and out of their classrooms. He has also worked with the Foundation for Jewish Camp, as well as the Mannis Foundation, where he had the chance to be part of a collaborative partnership with the Society for American Baseball Research. This past summer, Herschel worked at Gateways: Access to Jewish Education, where he helped to develop and build a system of program evaluation. When he can find time, Herschel loves to go snowboarding and long-distance running, but usually not on the same day.
Joanna Spyra
Class of 2018
Joanna Spyra (MA/MA) was born and raised in Poland. She graduated from Jagiellonian University and Cracow University of Economics where she completed two master's theses entitled "The Image of the JCC as a Jewish Organisation in the US and in Poland — A Comparative Study of JCC Manhattan and JCC Kraków" and "The Israel Lobby and U.S. Foreign Policy." While at college, Joanna earned academic scholarships to study abroad in Seville (Universidad Pablo de Olavide), Chicago (Roosevelt University) and New York City (Columbia University). Before coming to Brandeis, Joanna worked at the JCC Kraków where she helped enrich cultural and educational programing, and coordinated a JCC global international environmental project, Adam Adamah, between three Jewish communities: Milwaukee, Kraków and Jerusalem. She also has work experiences as an intern in the Polish Embassy in Tel Aviv and the Polish Tourism Organization in Berlin. Joanna is interested in studying the contrasts between American and European Jewry. She speaks fluent Polish, Spanish and English, and has growing language skills in Hebrew, Yiddish and German. In her free time Joanna enjoys dancing flamenco and traveling abroad.