Events: Featured
Abortion: Past, Present & Future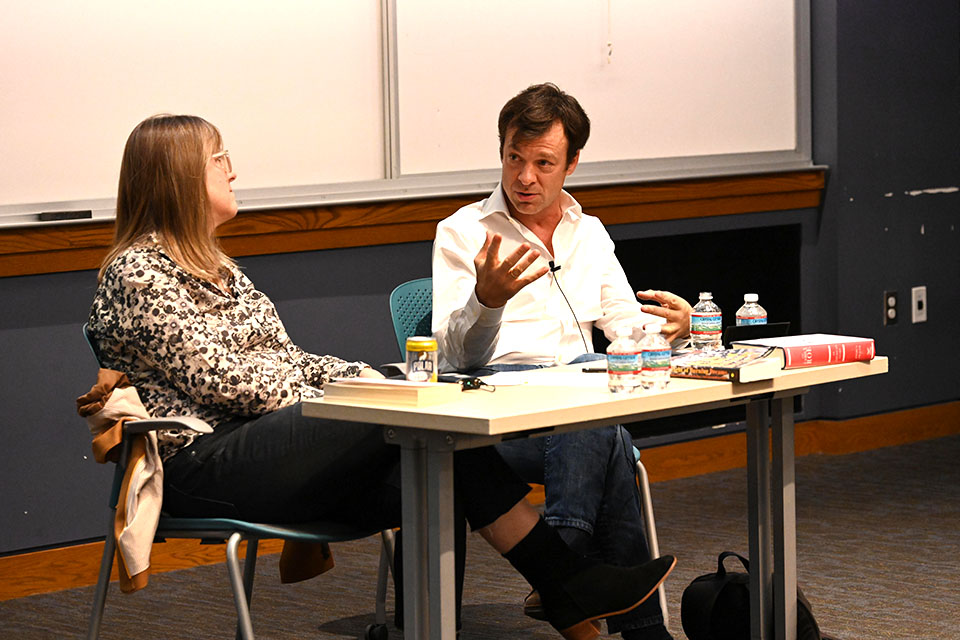 How have shame and secrecy affected conversations about abortion? Why is humanizing an issue so important when it comes to sensitive topics? Prominent journalists Margaret Talbot and Joshua Prager tackled these and other pressing questions during a "Brandeis Journalism Presents" forum on Nov. 16 in Schwartz Hall. Engaging with an auditorium full of wide-eyed Brandeis students, the two speakers spent the evening scrutinizing – through a journalistic lens – the country's most polarizing issue of abortion.

Talbot, an award-winning staff writer for The New Yorker who has written extensively on reproductive rights, began the forum by weighing in on the role that abortion played in the midterm elections. "Abortion did turn out to be an issue that was voted on," she said, "and journalism had a large effect on that."

In his Pulitzer Prize-finalist book, The Family Roe, Prager detailed the complex stories of the people at the center of the U.S. Supreme Court's 1973 landmark Roe v. Wade decision legalizing abortion. For a long time, Prager said, pro-life politicians have been able to appeal to their base knowing that Roe was unlikely to be overturned. The midterm elections, he said, showed how much the political landscape has shifted since the high court overturned Roe in June. Many politicians, he said, "take the positions popular with voters, and then realize that they actually have to follow through."

Fielding thoughtful questions from Brandeis students as well as moderators Ann Silvio and Neil Swidey – both Brandeis journalism professors - Talbot and Prager stressed the importance of telling the human stories at the center of the abortion issue. "One in four women will have an abortion," Talbot said. "It is so common and so safe yet is still so stigmatized. It is treated, not as private, but as a secret." She explained that privacy is more of a personal choice, while secrecy tends to hold more of a negative connotation. Because abortion stories tend to be "shrouded in secrecy," she said, the public often doesn't get the full picture.

Prager built off her idea, saying, "If you know someone who has had an abortion, you are more likely to be sympathetic towards someone else in their situation." In the decade he spent researching his book, Prager said, he uncovered questionable behavior in both the prolife and prochoice movements. Although he acknowledged that he is personally prochoice, he said it was important for him to share those unflattering aspects to both sides of the debate.

The overturning of Roe, Prager said, "has made people engaged, and that is a good thing. We should all be engaged and pay attention." He once again addressed the future journalists in the room. "It is amazing to say, but it's true, you can help influence the national conversation, and together, we can make it a more honest one."

Story by Brooke Reed, Photos by Jack Yuanwei Cheng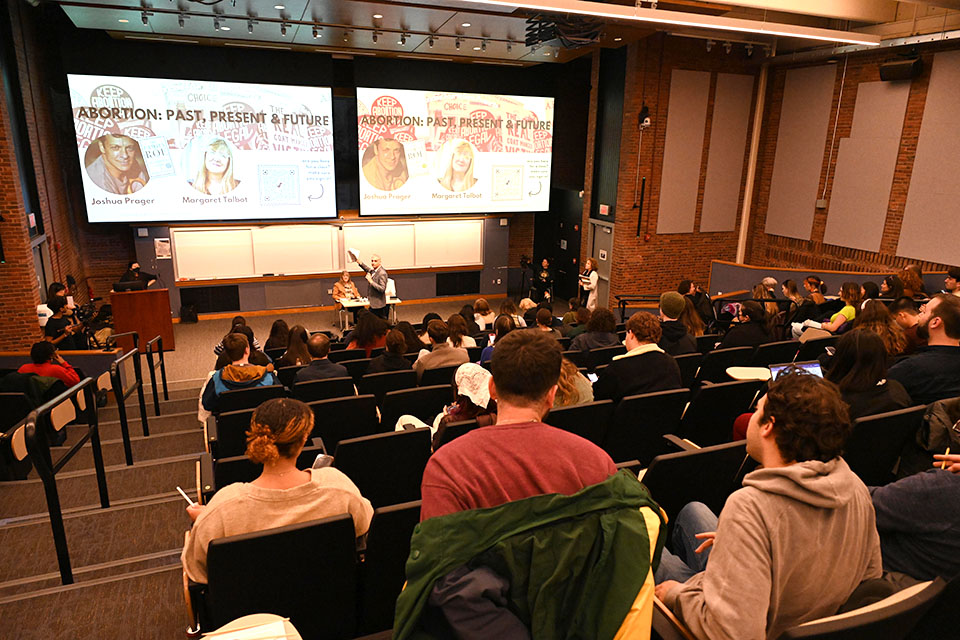 Conversation with Gina McCarthy, Climate Czar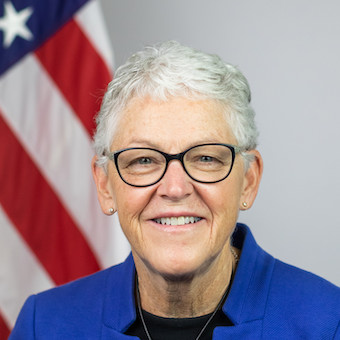 Gina McCarthy, the top national climate official in the federal government, headlined a Brandeis Journalism webinar in March focused on how to improve communications and coverage of climate change. As the government's first National Climate Advisor, McCarthy serves as President Biden's chief advisor on domestic climate policy and heads the White House office focused on mobilizing a whole-of-government approach to tackling the climate crisis and securing environmental justice.
She was in conversation with Neil Swidey, a professor of the practice and the director of the Brandeis Journalism Program. Swidey, who is also editor-at-large of The Boston Globe Magazine, wrote an in-depth magazine cover story in 2018 about McCarthy.
McCarthy, a Boston native who served five governors in both Democratic and Republican administrations, served as the administrator of the Environmental Protection Agency under President Obama. A former professor at the Harvard T.H. Chan School of Public Health, she serves as chair of the board of directors of the Harvard Center for Climate, Health, and the Global Environment.
This Brandeis forum took place from 3:30-4:30 p.m. on Tuesday, March 8. 
Investigating Innovation: Boston Globe's "Blind Spot" Team
Pulitzer-winning Globe team Team on the Brandeis Campus
On the Monday, Nov. 15 at 7 p.m., the Journalism program hosted the team behind the Boston Globe's series "Blind Spot," which took home this year's Pulitzer Prize for Investigative Reporting. Reporters Evan Allen, Laura Crimaldi and project editor Brendan McCarthy presented in person on the Brandeis campus (with the team's two other reporters, Vernal Coleman and Matt Rocheleau, joining via Zoom). They discussed how they uncovered systemic government failures that led to dangerous -- and sometimes deadly -- consequences for drivers. And in turn, how their investigation led to reform. 
This project is an example of investigative multimedia journalism at its best. Heather Ciras, the Director of Audience Experience, also joined the panel. Brandeis students had the valuable opportunity to ask questions of the journalists behind this Pulitzer win and hear about how dogged reporting and creative presentations can influence both public thought and government action.
Photo features the Boston Globe's newest Pulitzer Prize winners, after the Nov. 15 Brandeis Journalism forum. From left: video producer Caitlin Healy; editors Brendan McCarthy and Scott Allen; director of audience engagement Heather Ciras; Brandeis Journalism director Neil Swidey and assistant director Rachel Raczka; reporters Laura Crimaldi and Evan Allen. (Photo by Noah Zeitlin)
Science Journalism & the Pandemic
A Brandeis Journalism Program Forum on the News Media's Role in the Public Health Fight Against COVID – and Disinformation Around It
Featuring: Dr. Anthony Fauci, Dr. Atul Gawande, and Dr. Elisabeth Rosenthal
This webinar is in conjunction with Professor Swidey's Spring 2021 Journalism course 130b: Science Journalism, the Pandemic, and Disinformation.
Dr. Anthony Fauci is the Director of the National Institute of Allergy and Infectious Diseases and Chief Medical Advisor on COVID-19 to President Biden.
Dr. Atul Gawande is both a staff writer for The New Yorker, and a surgeon at Brigham and Women's, as well as the author of several books on health care in the United States, including Being Mortal.
Dr. Elisabeth Rosenthal is is the Editor-in-Chief of Kaiser Health News and an Opinion writer for the New York Times. Her latest book is: An American Sickness: How Healthcare Became Big Business and How You Can Take It Back.