Newsletters
Three-year Grant from the Cummings Foundation 
Big thanks to CummingsFoundation.org for awarding the Brandeis Journalism Program a grant to reimagine operations. The funds will support our efforts to expand experiential learning and help level the playing field for underrepresented students. More info on the Cummings Foundation's $25 Million Grant Program here: https://www.cummingsfoundation.org/grants/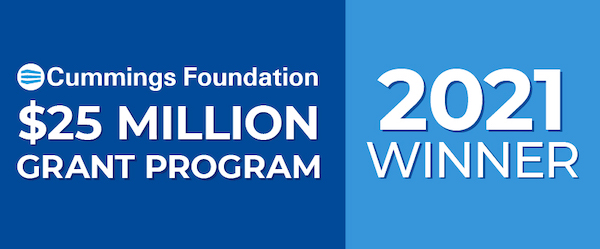 ____________
October 2021 Journalism News 
A roundup of news from the Journalism Program, compiled by Jen Crystal and Anna Nappi, Journalism UDRs.  Media Producer:  Noah Zeitlin.
Pulitzer-winning Globe team Coming to Campus
Mark your calendars: On the evening of Monday, Nov. 15, we'll be hosting the team behind the Boston Globe's series "Blind Spot," which took home this year's Pulitzer Prize for Investigative Reporting. Reporters Evan Allen, Laura Crimaldi and project editor Brendan McCarthy will join us in person on the Brandeis campus (with the team's two other reporters, Vernal Coleman and Matt Rocheleau, joining via Zoom). They'll discuss how they uncovered systemic government failures that led to dangerous -- and sometimes deadly -- consequences for drivers. And in turn, how their investigation led to reform.
This project is an example of investigative multimedia journalism at its best. Also joining the panel will be Director of Audience Experience Heather Ciras. Brandeis students will have the valuable opportunity to ask questions of the journalists behind this Pulitzer win and hear about how dogged reporting and creative presentations can influence both public thought and government action. For more info and to reserve a seat for this free event, RSVP here.
- - -
Want to help make your college journalism courses more diverse and inclusive?
The Brandeis Journalism Program is launching an innovative pilot program that offers undergraduate or graduate students a chance to research and propose the addition of new voices and perspectives to our course syllabi. As a first step, we're forming a student committee, made up of 3-4 students, that will provide input for one of our upcoming courses, JOUR 15A Documentary Journalism: Reporting and Storytelling in a Visual Medium. We'll be meeting through the month of November to research new documentaries, evaluate discussion topics, and workshop ideas for an inclusive, diverse curriculum that is wide-reaching and forward-thinking. Apply now
- - -
Our Great Spring 2022 Course Lineup
We've got a strong lineup of Journalism courses for the Spring semester. These include new or reimagined courses on Sports Journalism and Innovation (Block P, T/Th 3:30-4:50); Documentary Journalism (Block S1, M 2-4:50); Advanced Multimedia Storytelling Workshop (Block X, T/Th 6:30-7:20); and International Journalism and Global Media (Block S8, 9-11:50 a.m. Wed). We'll also once again be offering Science Journalism, the Pandemic and Disinformation (Block N, T/Th 2-3:20, cross-listed with HSSP and Biology) and Reinventing Journalism for the 21st Century (Block V, Tu/Th 5-6:20). More details to come in next month's newsletter, but start your planning now.
 - - - 
Meet the Minor Recap
Jay Feinstein:  The fine line between activism and journalism
Alumnus and associate producer of PRI's Living on Earth Jay Feinstein '17 spoke with journalism students at the Meet the Minor event on Sept. 30. Feinstein discussed his roots in environmental advocacy during his years at Brandeis — he was the founder of the campus rooftop garden — and how that translated to his career as a journalist. While activism and journalism have a storied history of contention, Feinstein stressed that students could ethically forge this path. "It's a tricky line between activism and journalism," he said. "But at Living On Earth, we don't do activism. We tell the truth about climate change."
Feinstein said audio journalism is enjoying "a renaissance" in part because "it's personal. You're talking right into somebody's ear." He urged students to engage with the medium, producing their own audio work. As a Brandeis undergrad, Feinstein was a Living on Earth intern. After graduating, he went to graduate school in business and started a corporate career but shifted gears to try to find more meaning in his life. He was able to become a producer for Living on Earth because of the professional connections he had developed and nurtured. He encouraged students to prioritize relationship-building as they move through their careers.
- - -
Many talented journalists have joined our classes this fall to offer their advice.  Here's a roundup.
Gillian Flynn:  Everyone's a Critic
Gillian Flynn, a former journalist and the 
New York Times
 bestselling author of 
Gone Girl
, 
Sharp Objects
, and 
Dark Places
, spoke to Josh Wolk's Arts Journalism, Pop Culture, and Digital Innovation course on Oct. 12. While Flynn gained international fame for her award-winning novels (and their subsequent screen adaptations), she started as a writer and critic for 
Entertainment Weekly
 (where she worked with Wolk). Flynn advised students not to try to become "friends" with a source or subject during an interview — adding the pursuit could result in their failing to ask hard-hitting or daring questions.
Flynn also noted her time as a journalist helped prepare her for criticism once she transitioned to life as a novelist. She told students to remember: A bad review is just a single person's opinion and not representative of your readers as a whole. Still, Flynn added, reading critiques can be a valuable tool for reflection as a writer. "Often, I am able to find the balance at certain points," she said. "Maybe they don't agree with it, but I totally get that. But sometimes, I'm like, 'They're right!'" — Noah Zeitlin
Veronica Chao:  Why Now?
Veronica Chao, the Boston Globe's deputy managing editor, offered this advice to students hoping to pitch a story idea and get the green light to write it as a freelancer. "Ask yourself: Will readers care about this?" said Chao, who oversees Living Arts coverage as well as the Sunday Magazine. During her visit to Neil Swidey's Long-form Journalism class on Sept. 30, Chao said she did not always know she would work in media. After editorial roles with D.C. and Boston-based publications, the Globe recruited Chao, where she edited City Weekly before joining the Boston Globe Magazine.
She emphasized the importance of good timing and skill — two factors young reporters should leverage as they break into the industry. Pitching, Chao said, relies on timing. "It can be an exciting idea, but not timely," she said, describing why an editor might say no to an otherwise good pitch. "Being a journalist at this time, there is an unprecedented amount of news." Pitching is the chance to show you have the voice to tell a story distinctively, Chao said. "We get a sense of your style." — Autumn Bellan
Matthew Shaer:  Hook the Reader and Read Relentlessly
"Every section needs to end with a disclosure or a new piece of information," Matthew Shaer told students during Neil Swidey's Long-form Journalism class on Oct. 7. Shaer, a writer-at-large for the New York Times Magazine, explained that, for a long-form magazine story to engage the reader, each part "needs something that leaves people wanting to know what happens next." Or as he puts it: "It's all about buying yourself space to jam broccoli down someone's throat."
In contrast, Shaer, who is also the co-founder of podcast studio Campside Media, said that, with audio journalism, it's the delivery that makes the difference. "It does not matter what someone says, it matters how they say it," he explained. "That's the opposite of the truth for magazine writing." Currently, Shaer — who was an English Literature major at the University of Maine, discovering journalism as "a way into fiction writing" — is exploring a different form of storytelling. He's writing a book based on his 2019 New York Times Magazine story about the criminalization of poverty. — Elliot Bachrach
Daniel Estrin:  Champion Responsibility and Transparency
Daniel Estrin, NPR's international correspondent based in Jerusalem, urged Brandeis journalism students to bring curiosity and an open mind in their stories and search for answers. "You want to be welcome into every home whose door you knock on," Estrin told the students during his Sept. 14 visit to Neil Swidey's Long-form Journalism course. The students had studied several pieces in Estrin's award-winning body of work, including the "Hotel Corona" episode of the NPR podcast 
Rough Translation
.
Asked how he handles reporting on the sensitive and contested subject matter of the Middle East, Estrin said he feels a heightened sense of responsibility. "It's a feeling of trembling all the time. You want to honor the people," he said, adding, "you want to capture them." He admitted that sometimes when you immerse yourself deeply in the lives of the people you're covering, "you discover things about them that aren't so comfortable." Still, even when including those less flattering details, he prioritizes transparency, having any difficult conversations with his subjects before his pieces air, rather than after.
A 2006 graduate of Brandeis who studied both Hebrew and Arabic, Estrin urged students interested in international reporting to learn other languages. After graduation, he followed the advice of a journalist he had gotten to know during his senior-year internship on the Boston-produced National Public Radio show Here & Now. He hopped on a plane to the Middle East and began working to become a foreign correspondent. — Jared Panson
Dave Jorgenson:  Becoming the Next Big Thing
Dave Jorgenson, better known by millions as The Washington Post's "TikTok guy," gave Brandeis journalism students a glimpse of his approach to the wildly popular platform that makes news accessible to a younger audience -- and how he does that while working for one of the nation's most established news organizations. Speaking via Zoom to Fred Barbash's Contemporary Media course on Oct. 6, Jorgenson said he was producing "goofy" videos for the Post's official YouTube channel in the spring of 2019 when he convinced his managers to let him launch a stand-alone TikTok account. He focuses on a single, discrete element of a Post news story and brings it alive through the use of fast-paced comic skits, like dressing up as a cicada, to explain otherwise complicated concepts, like the cicada's life cycle. He attributes the popularity of his TikTok (which has more than 1 million followers) in part to his team's ability to keep up with TikTok trends such as viral sounds and hashtags. It also helps, he joked, that he was "so cool." After answering student questions, Jorgenson offered the advice to be a team player in any journalism newsroom setting because when people understand your capabilities, they trust you with creating the "next big thing." — Noah Zeitlin
Taffy & Claude Brodesser-Akner:  Silence Can Bring About Your Best Quotes
Journalists and married couple Taffy and Claude Brodesser-Akner visited via Zoom on Sept. 27 to share their wisdom with the students in Josh Wolk's Arts Journalism course. Taffy is an award-winning journalist and author, who has worked for GQ and The New York Times and is known for her celebrity profiles. Her husband, Claude, is a multimedia journalist, who has experience as a podcaster and politics writer.
They advised journalism students to prioritize listening during interviews, especially when asking tough questions. Sitting in silence and waiting for your interviewee to respond might feel awkward, they said, but it's worth it in the end. Taffy is known for maintaining a strong voice in her writing, but she noted the importance of restraint and not being gratuitous when showing personality in your prose. They both agreed that journalism is not a place for ego. — Anna Nappi
- - -
Student Spotlight 
In a combined written and audio news project, Emerson White fully utilized multimedia journalism to showcase the frustrations essential workers faced during the pandemic. Her project explores the emotional effects of working on the frontline during COVID-19 and uses three women's lives to tell this story. Emerson put together her project for Neil Swidey's course JOUR 130B: Science Journalism, the Pandemic and Disinformation (which will be offered again this spring). Read and listen here
- - -
Follow Us! 
Follow the Brandeis Journalism Program online with our new accounts: Instagram (@BrandeisJournalism), Twitter (@BrandeisJOUR) and Facebook (@BrandeisUniversityJournalism). We'll be posting updates on new courses, upcoming events, and exciting student and alumni news. 
- - -
Internships, Scholarships & Opportunities:
For more information on internship opportunities, please contact our new Assistant Director of Internships & Outreach, Rachel Raczka.
- - -
Resources:
- - -​
Contact Information: 
We in the journalism program would like to hear from you. Reach out to us at:
Neil Swidey, program director: neilswidey@brandeis.edu
Sybil Schlesinger, administrator: sybilsch@brandeis.edu
Rachel Raczka, assistant director for internships & outreach: rachelraczka@brandeis.edu
Aimee Slater, journalism librarian: aslater@brandeis.edu
Jen Crystal, journalism UDR: jennifercrystal@brandeis.edu
Anna Nappi, journalism UDR: annanappi@brandeis.edu
Noah Zeitlin, journalism media producer: nzeitlin@brandeis.edu 
- - -
If you have a journalism event or opportunity that you'd like us to promote through this newsletter or our other channels, please email us at jennifercrystal@brandeis.edu or annanapppi@brandeis.edu. 
Best, 
Jen Crystal and Anna Nappi
--
She/her/hers
Journalism UDRs