Brandeis' Jewish Feminism Collections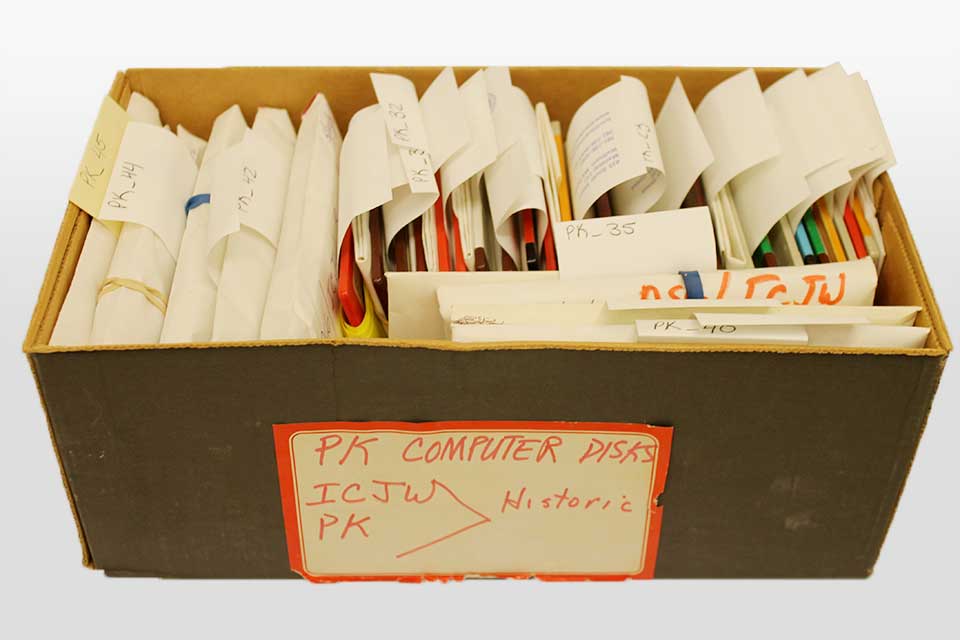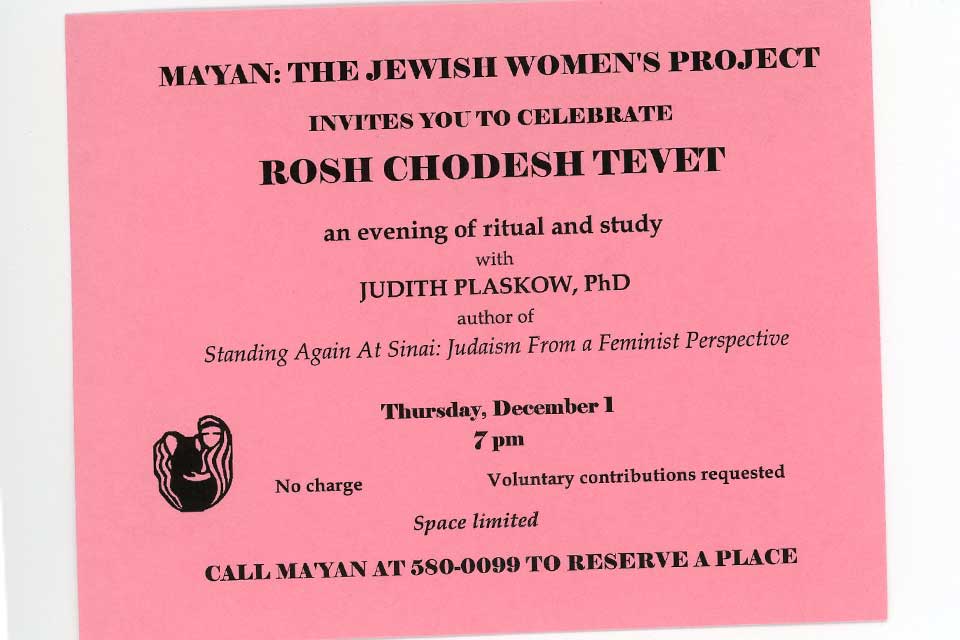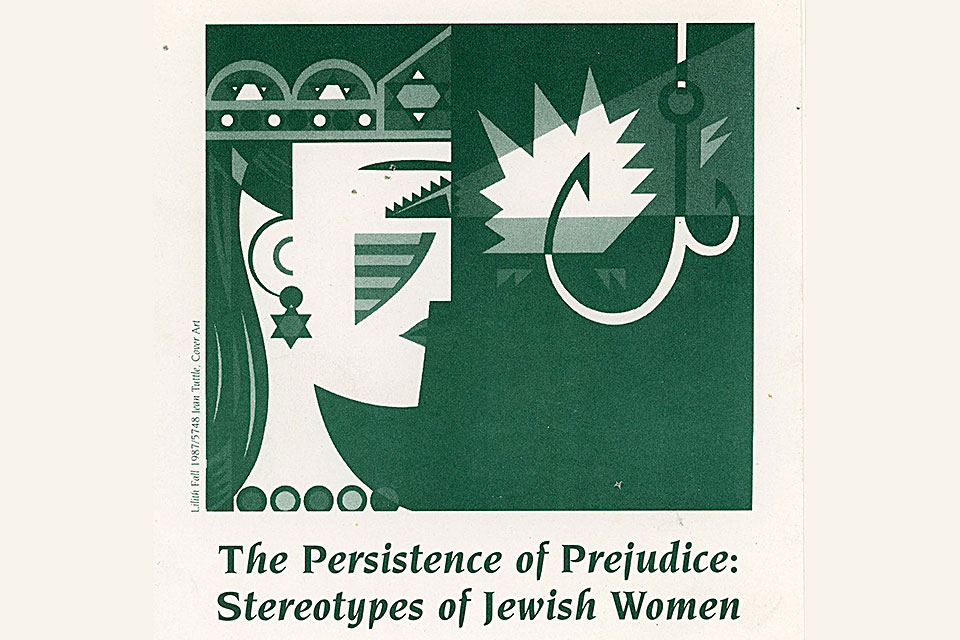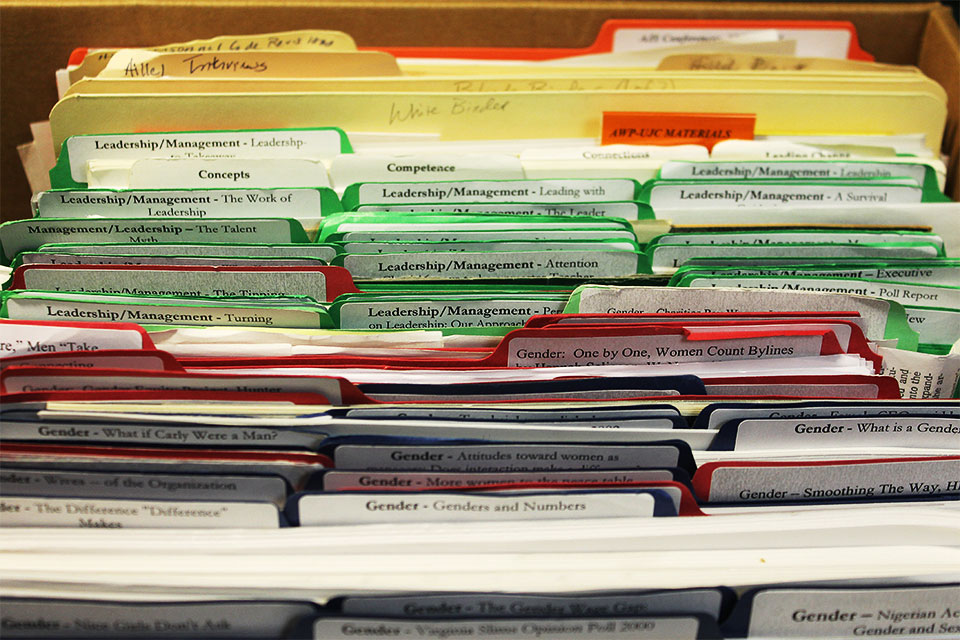 Advancing Women Professionals Records, Circa 1990 - 2015
Advancing Women Professionals and the Jewish Community (AWP) was a national organization created to help women move forward professionally and to advocate for family friendly and gender equitable policies at Jewish organizations. Based in New York, the organization was founded by Shifra Broznick in 2001 and led various conferences and campaigns to promote change in the workplace, including the Conference for Change and the Better Work, Better Life and Men as Allies campaigns. AWP also created the Action Learning Teams, a networking program to help women prepare for challenges in the workplace. AWP closed in 2015. The AWP records include reports, publications, conference files, subject files, audiovisual materials and books created and collected by AWP between 2001-2015. The collection also contains a small amount of correspondence and meeting minutes.
(approximately 23 linear feet)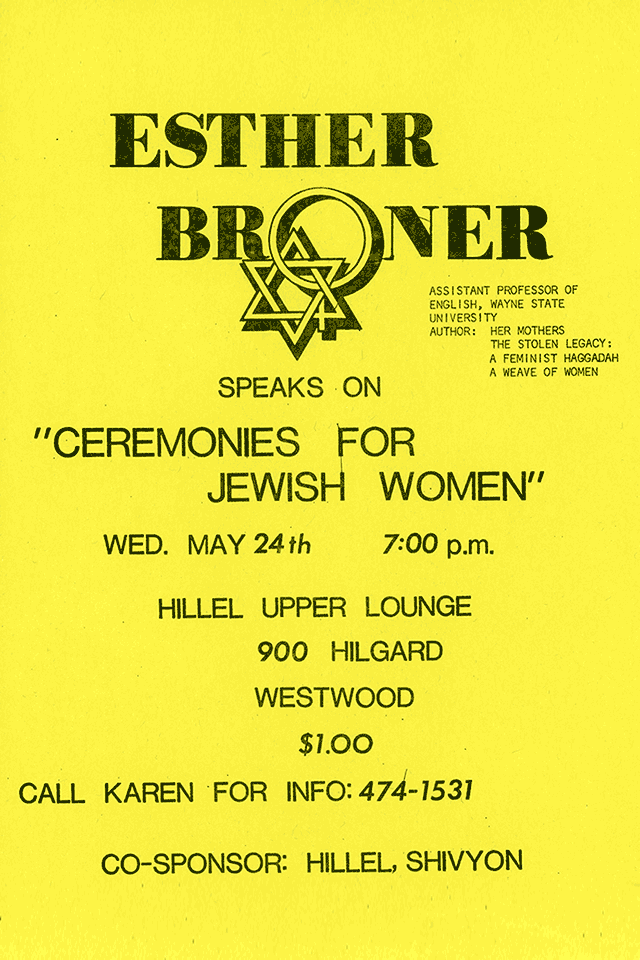 The collection concerns the writings, rituals, and correspondence of E.M. Broner. The component relating to the writings of E.M. Broner includes manuscripts and published books, articles, stories, and poetry. It also includes criticism, reviews, and publicity of E.M. Broner's work as well as her reviews of the work of other authors. A second component relates to E.M. Broner's rituals and includes sources of information used in the construction of her rituals and texts, photographs, recordings, and artifacts related to the rituals, particularly the Women's Seder and Women's Haggadah. A third important component includes the correspondence of E.M Broner with her associates and family.
(approximately 52 linear feet)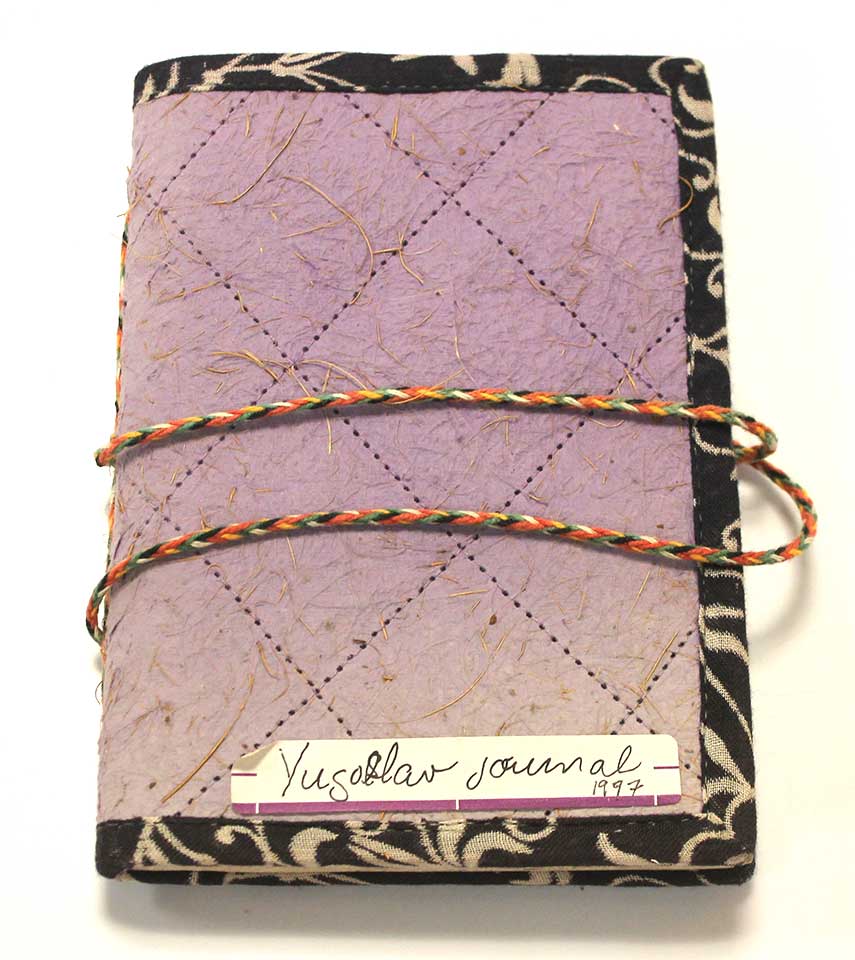 This collection documents the activities of Sandra Butler, Jewish feminist author and activist from the San Francisco Bay Area. It is comprised of photographs, correspondence, journals, workshop materials, posters and audiovisual materials illustrating Butler's work on issues relating to violence against women, breast cancer, and the Israeli–Palestinian peace movement. Of note are the items documenting the Bay Area Women in Black (BAWIB), a chapter of the international peace organization, Women in Black. Butler was a co-founder of the Bay Area chapter and these materials include clippings, newsletters, pamphlets, photographs and buttons. There are also journals from her trips to Yugoslavia (1998) and Israel (2004) and correspondence, itineraries, and subject files from various speaking engagements in the 1980s and 1990s. In addition, the collection contains a significant amount of audio and video recordings of Butler's talks, interviews, and workshops, mainly about cancer and sexual abuse, from around 1985 to 1995. These recordings are a mix of cassette tapes (approximately 45) and VHS tapes (approximately 20).
(approximately 3.5 linear feet)
The Aviva Cantor papers consists of research materials, records relating to organizations and conferences, publication drafts and correspondence, and recordings, all broadly related to Aviva Cantor's work as a feminist activist, particularly dealing with women's roles and feminist issues within Judaism. The bulk of the collection pertains to Aviva Cantor's research, including notes, clippings, and collected scholarly articles; and to Aviva Cantor's own writing, including drafts of published materials, collected sources and notes, and publication correspondence and publicity. The materials range in date from the 1970s to the 1990s.
(13 linear feet)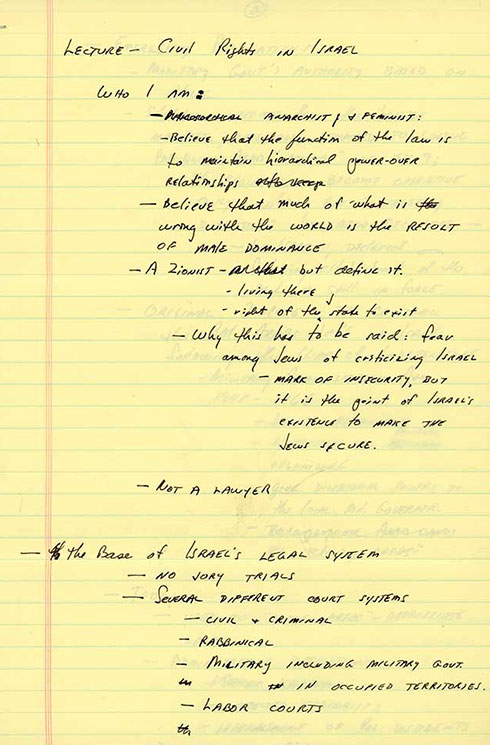 Papers of Marcia Freedman, an American-Israeli activist and feminist, who was a member of Israel's Knesset from 1973 to 1977. Material dates from the 1970s to the 2000s and includes journals, book manuscripts and typescripts, research files, speeches and lecture notes, articles by and about Freedman, newspaper clippings and correspondence. There is also some audiovisual material and born digital mixed media files, such as diskettes, CDs and thumbdrives. Of particular note are files relating to her election to the Knesset and the Women's party, which she founded, and autobiographical writings throughout the collection.
(approximately 1.5 linear feet)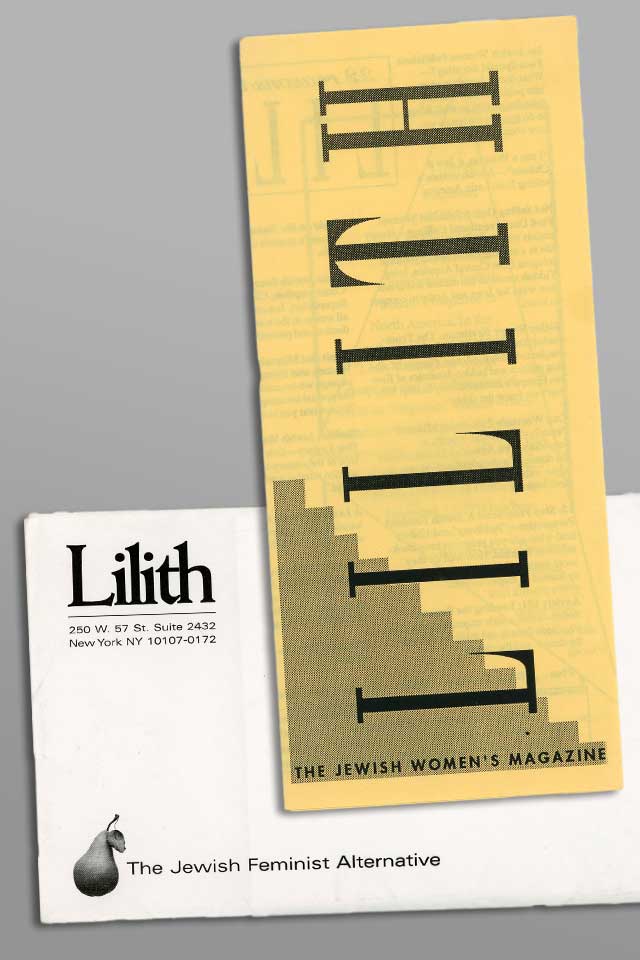 Material documenting the operations of Lilith, a Jewish feminist periodical that began publication in 1976. Documents include original notebooks, correspondence, interviews, manuscripts, ephemera and a book collection, that shed light on the research and resources behind numerous Lilith articles on topics ranging from Passover Haggadahs and conversion to Judaism to the Israeli feminist movement and women's health. The collection also contains manuscripts, typescripts, and correspondence with Lilith writers and readers, including material from Jewish women worldwide who were interested in reporting on local news and culture for the magazine. Administrative files show the operations of Lilith and contain meeting minutes, mission statements, press releases, and fan mail, among other material.
(approximately 65 linear feet)
Lilith Magazine Records Finding Aid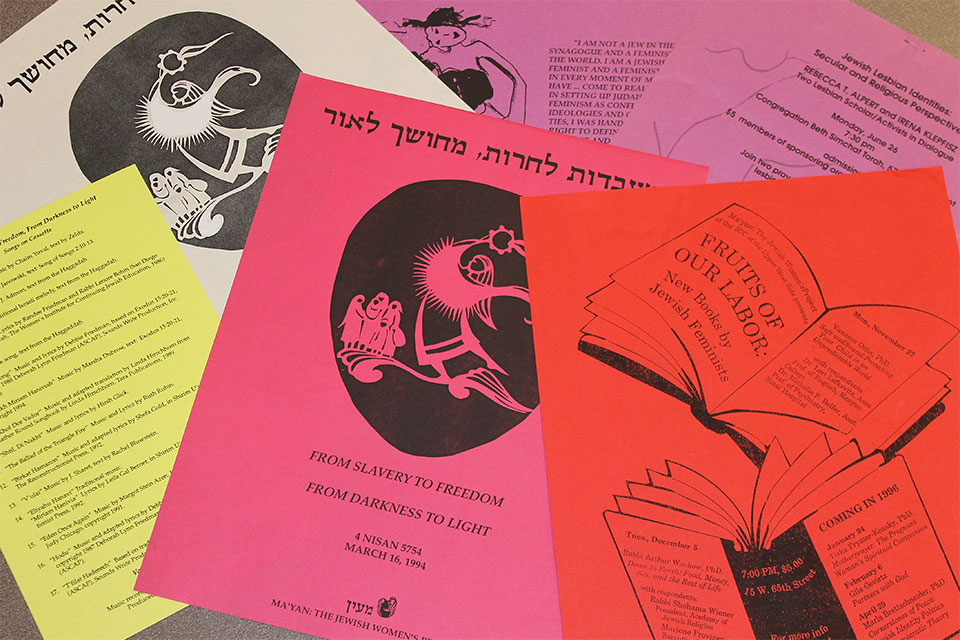 The collection is comprised of eleven linear feet of material documenting Ma'yan, a Jewish feminist organization based in New York. The records include reports, strategic plans, meeting agendas, class and workshop material, program and exhibit files, photographs and more dating from 1993 to 2012. Of particular note are files and photographs of Ma'yan's seders; Ma'yan seder press files; papers from its Jewish Feminist Research Group; and Bat Mitzvah workshop files. The collection is unprocessed. A preliminary inventory is available in the department.
(approximately 11.5 linear feet)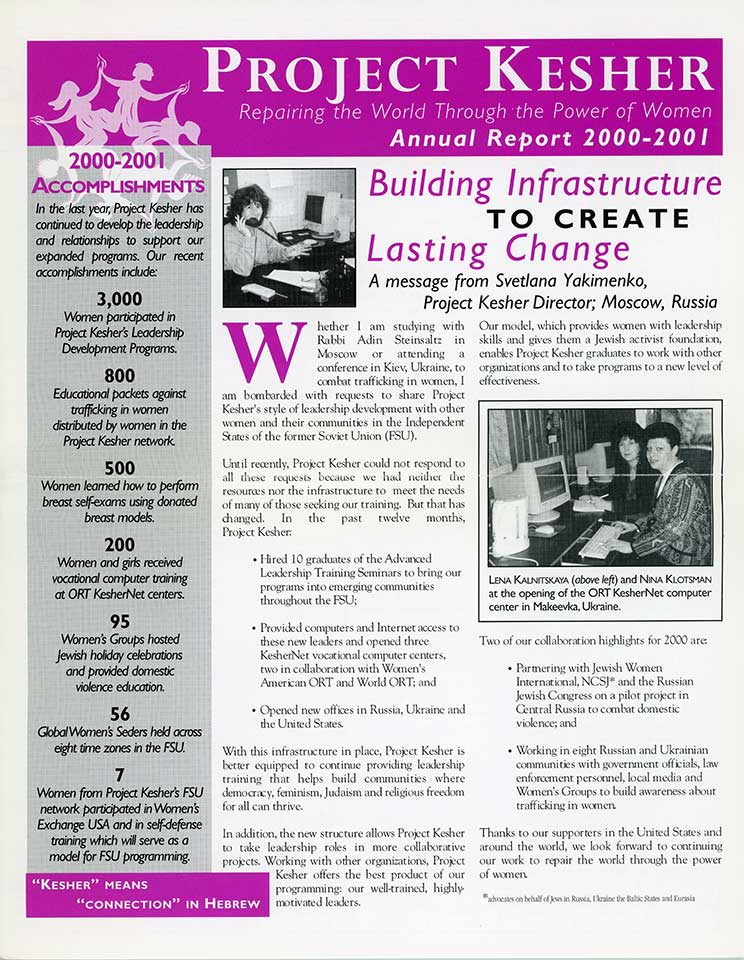 Project Kesher Records, Circa 1988 - 2015
This collection documents the work of Project Kesher, a  Jewish feminist organization that formed in 1989 to support women of the Former Soviet Union (FSU) in their exploration of Jewish identity and eventually transformed into a women's organization focusing on promoting women in leadership within their own communities. Materials include correspondence, board of director meeting files, reports, surveys, subject files, fundraising and marketing materials, press releases and more, dating from 1988 to 2015 and illustrating Project Kesher's grassroots organizing and training efforts. Of note are the files pertaining to the International Conference of Jewish Women, a conference held in Kiev, Ukraine in 1994, which brought together hundreds of women from the West and FSU. In addition, there are files from Voyage on the Volga (2004), an event marking the ten year anniversary of the first international conference, and from other programs planned and executed by Project Kesher, including Global Women's Seders (1995-), mother/daughter retreats, women's exchanges and leadership trainings. The collection also contains files from Project Kesher's co-founders, Sallie Gratch and Svetlana Yakimenko that were created during the organization's earliest years.
(approximately 35 linear feet)