Class of 1987
Class Correspondent
Vanessa B. Newman
33 Powder Horn Drive

Suffern

, 

NY

 

10901
Incredibly, it has been 25 years since we graduated. It is hard to imagine that we were freshmen so many years ago. Reunion 2012 is almost upon us, and it is a wonderful opportunity to come back to campus and check out how Brandeis and our classmates have changed since we were students. I hope that you will be making plans to attend and get in touch with others from the great Class of 1987 to encourage them to do the same. In the meantime, please send me any updates on your lives, a sort of warm-up for our big Reunion in June. I extend warmest wishes to everyone.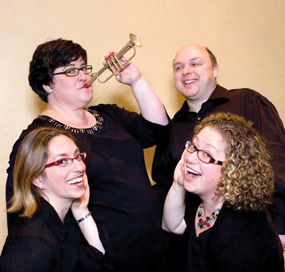 The Seattle Jewish Chorale features a quartet of
Brandeis alumni. Clockwise from bottom left:
Rachel Rosenman '00, Rachel Garshick Kleit '87,
Carl Sayres '94 and Becca Rausch '01.
Sarah Goldenkranz, daughter of Michael Goldenkranz
'74, is also a member of the chorale.
Robert Friedlander is chair of the Department of Neurological Surgery at the University of Pittsburgh. Prior to joining the department in 2010, he was professor of neurosurgery at Harvard Medical School and vice chair of neurosurgery and associate director of cerebrovascular surgery at Brigham and Women's Hospital in Boston. He is one of a very select group of authors to have been invited by the New England Journal of Medicine to write both a basic science review and a clinical review. Bruce Wartel's consulting business continues to help federal, state and university clients improve services, strategies, human resources and performance. He writes, "I'm also hip deep in youth sports and loving it."
Submit a Class Note