Class of 2004
Class Correspondent
Rebecca Incledon
5530 South Shore Drive #8-C

Chicago

, 

IL

 

60637
Anna Natsume
and Brandon Gribben were married on Oct. 3, 2011, in an intimate family ceremony in the Loire region of France. The couple, who live in Brooklyn, N.Y., met seven years ago through mutual Brandeis friends,
Michael Gotlib
and
Anna Statnikova
. Anna and Brandon went to Greece on their honeymoon, visiting Athens, Santorini and Naxos. Anna is marketing communications manager for Robert Marc. Brandon specializes in real-estate law as an associate at Kucker & Bruh. They also had a wedding celebration in New York, where Brandeis attendees included
Joseph  Hartstone '05, Benjamin Yudkoff, Michael Gotlib, Alex Thompson, Brett Lowitz Gotlib '05, Valerie Rosenberg '05, Anna Statnikova, Carolyn Barnett '06, Sylvie Shames, Rachel Hartstein Ezra, Michelle Gaba, Sharon Goldsmith Weber
and
Jaret Weber '00
.
Edmund "Teddy" Tarallo
was elected to the Waltham School Committee and sworn in on Jan. 1 for a four-year term.
Michelle Poliak-Tunis
gave birth to a baby girl, Jaime Parker Tunis, on Nov. 22, 2011. In her first few days, Jaime met two Brandeis alumni,
Janna Meyrowitz Turner
and
Anna Statnikova
, who were both visiting family in Baltimore over Thanksgiving.
Emily Meltzer Kahan
and
Ari Kahan
had a second baby boy on Nov. 13, 2011. His name is Dov Yitzchak, and everyone is doing well. Emily and Ari live in Ann Arbor, Mich., where Emily does autism research at the University of Michigan and Ari works for the Environmental Protection Agency.
Richard Lo
and
Sophy Yem
were married on Oct. 1, 2011, at the Liberty Hotel in Boston. They write, "We had about 20 Brandeis classmates there, so it felt like a mini-Reunion."
Gabriel Reif
and his wife, Jennifer Matoney, had a daughter, Cascade Lynn Reif Matoney, on Aug. 28, 2011, in Leominster, Mass. The couple is lobbying Sherman dining hall to add an all-you-can-nurse buffet.
Ilana Herring
spent four months living in Jerusalem. It was her dream to study full time in an Orthodox women's seminary, and she finally decided to make the leap. She will continue managing Internet marketing for
calmu.edu
in her capacity as marketing director.
Nina Auster Cusner
and Yitzi Cusner welcomed their third daughter, Julie Allison, on Sept. 9, 2011.
Maya Goldin- Perschbacher
checked in to let us know that she is happily practicing as a primary-care pediatrician in Pittsburgh and celebrated her marriage to Mark Manetti on Sept. 4, 2011, at the National Aviary. Brandeisians in attendance included
Lauren Kanter, Michelle LaFrance, Katharine Braun-Levine, Laura Goldin '05
and
Ellen Goldin '69, P'05
.
Geryl Rich Baer
moved to Washington, D.C., accepting a new position as director of community engagement at Congregation Beth El in Bethesda, Md.
Grace Allendorf
started a new job at Longy School of Music as the community programs registrar. She is also a new member of the Arabella Ensemble, a chamber group that performs throughout the Boston area.
Matthew Konjoian
has lived in northern Virginia for more than five years. Since 2007, he has worked at the American Public Power Association, a trade association of municipally owned utilities, in membership and marketing. He has also been active in the Arlington (Va.) Young Democrats.
Josh Bob '01
and Rabbi
Rachel Silverman
are engaged and planning an October wedding.
Emily Dahl
and her husband, Mike Kuczewski, spent the first six months of 2011 volunteering and traveling in Central and South America. In the Peruvian Amazon and an indigenous reserve in Costa Rica, they assisted with migratory and resident bird research. They traveled throughout Costa Rica, took a side trip to see wild jaguars in Brazil, then completed their time in Costa Rica with a visit from
Jesse Gordon
and
Eyal Wallenberg
. Stories and photos from their trip are posted on their
blog
. Now they're back to work in Massachusettts — Emily in clean-energy communications, and Mike as a chemical engineer.
Daniela Jacobson-Fried
married
Benjamin Egan
on Oct. 8, 2011, in Northampton, Mass. Daniela and Benn became friends freshman year at Brandeis.
David Shutoff
, a close friend of the couple, served as the officiant. Brandeis alumni in attendance included
Lauren Amster '06, Anna Tarantul Arena, Jeremy Berk '07, Natasha Dumra, Santosh Ganesan, Conor Kilroy, Jeff Rosenspan, Kelly Reed Shutoff, Yari Sigal, Kevin Skobac, Louisa Twaddell, Mark Ulberg
and
Jon Weinstein '07
. Daniela and Benn honeymooned in Turkey. They reside in Boston, and both work at MIT's Sloan School of Management.
Sara Espowood Frischer
and
Matthew Frischer
were married on July 24, 2011, in Branford, Conn. A large group of alumni attended:
Beverly Levine Tsacoyianis, Daniel Greisokh '03, Amy Non, Geoff Director, Joshua Nahum, Heather Ames, Arti Dua, Hrishi Poola, Ityng Hsieh, Sol Schulman, Diana Kuan, Sushrut Jangi
and
Santosh Ganesan
.
Naomi Orensten
recently accepted a position as a senior consultant at BTW in Berkeley, Calif. She writes, "At BTW we are driven by our purpose of 'informing change in the nonprofit and philanthropic sectors.'" Moses Montefiore Anshe Emunah Congregation, a modern Orthodox shul in Pikesville, Md., installed Rabbi
Yerachmiel Ross Shapiro
as its spiritual leader on Nov. 20, 2011. He began serving the congregation in June 2010 after a stint as rabbi at Congregation Beth Shalom in Red Bank, N.J. A Chicago native, he studied Torah at Skokie University and Yeshivat Hakotel. He received his ordination from Yeshivat Chovevei Torah Rabbinical School, where he studied under noted Rabbi Avi Weiss and was one of two Jewish students featured in the 2010 PBS Independent Lens documentary "
The Calling
." He is married to
Helene Oppenheimer
, and they have two children.
Maya Marx
, who qualified for the NCAA Division III swimming and diving championships three times in her career, will be inducted into the
Joseph Linsey Brandeis Athletic Hall of Fame
during ceremonies on March 31 in the Gosman Sports and Convocation Center. She was a three-time All-American in the breaststroke, finishing sixth in the nation as a junior. She won two University Athletic Association championships and was Brandeis' nominee for NCAA Woman of the Year as a senior.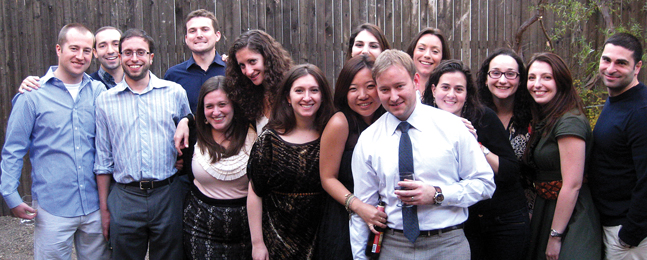 Anna Natsume '04 and Brandon Gribben were married on Oct. 3, 2011, in France. They also had a wedding celebration in New York for their friends, including many Brandeis alumni. From left: Joseph Hartstone '05, Benjamin Yudkoff '04, Michael Gotlib '04, Alex Thompson '04, Brett Lowitz Gotlib '05, Valerie Rosenberg '05, Anna Statnikova '04, Anna, Carolyn Barnett '06, Brandon, Sylvie Shames '04, Rachel Hartstein Ezra '04, Michelle Gaba '04, Sharon Goldsmith Weber '04 and Jaret Weber '00.
| | |
| --- | --- |
| | |
| Daniela Jacobson-Fried '04 married Benjamin "Benn" Egan '04 on Oct. 8, 2011, in Northampton, Mass. Alumni in attendance included (from left) Lauren Amster '06, Anna Tarantul Arena '04, Louisa Twaddell '04, Jeff Rosenspan '04, David Shutoff '04, Conor Kilroy '04, Benn, Kelly Reed Shutoff '04, Daniela, Santosh Ganesan '04, Mark Ulberg '04, Kevin Skobac '04, Yari Sigal '04, Natasha Dumra '04, Jeremy Berk '07 and Jon Weinstein '07. | A large group of alumni attended the wedding of Sara Espowood Frischer '04 and Matthew Frischer '04 on July 24, 2011. From left: Beverly Levine Tsacoyianis '04, Daniel Greisokh '03, Amy Non '04, Geoff Director '04, Joshua Nahum '04, Heather Ames '04, Sara, Arti Dua '04, Hrishi Poola '04, Matthew, Ityng Hsieh '04, Sol Schulman '04, Diana Kuan '04, Sushrut Jangi '04 and Santosh Ganesan '04. |
Submit a Class Note