Class of 2008
Class Correspondent
Elyssa L. Cohen
545 West 111th Street #000

New York

, 

NY

 

10025
Congratulations to
Sara Aharon
on the publication of "
From Kabul to Queens: The Jews of Afghanistan and Their Move to the United States
." The American Sephardi Federation held a book launch party in November 2011 at the Center for Jewish History.
Jeff Stein
writes, "I've just started my own business, Stein Golf Construction. Since graduation I have been traveling and working in the golf design business and am now working in New City, N.Y., on the restoration of the Paramount Golf Club. Anyone who wants to read more about my work and travel can follow my blog
Around the World of Golf
."
Zachary Seeskin
began a Ph.D. program in statistics at Northwestern University in September.
Melissa Gluck
and
Steven
Seperson
were married on Nov. 12, 2011, in Washington, D.C. Melissa is a 2011 graduate of Washington College of Law and works as an assistant director for the Anti-Defamation League's D.C. regional office. Steven is a graduate student at Georgetown University's McDonough School of Business and a financial consultant for Primatics Financial in McLean, Va.
Stephen DeLuca
plays for the Saint John (New Brunswick) Mill Rats, a franchise in the National Basketball League of Canada. Through the first eight games of the 36-game season, the 6'7", 220-pound small forward was averaging 13 points a game.
Sam Vaghar
was profiled in The Boston Globe. In the article, headlined "
Portrait of the activist as a young man
," reporter Joseph Kahn tells t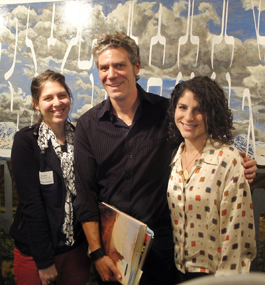 Naomi Safran-Hon '08, Professor Joe Wardwell
and Danielle Friedman '09 joined several dozen
alumni at the Heskin Contemporary Art Gallery in
New York City to celebrate Wardwell's new exhibition,
"Untied We Stand."
he story of how the founder of the Boston-based MillenniumCampus Network has turned student networking into a potent weapon in the war on global poverty.
Michael Boehn
joined Welsh Consulting, a Boston-based IT strategy and support firm, as a network consultant. He previously served as a technical support specialist at Commonwealth Financial Network.
Lilly Bellman
is a fourth-year medical student at Indiana University and is in the process of applying/interviewing for pediatric residency programs. She writes, "My hope is to end up on the West Coast. I'm still in touch with many friends from Brandeis, and it's always a joy to see them. I remember my time at 'Deis very fondly." In the summer after graduation,
Pat Garofalo
was hired as a full-time blogger at the progressive political blog
thinkprogress.org
. He was later promoted to economic policy editor for the site. His writing on economic policy has also appeared in The Nation, U.S. News & World Report, The American Prospect and The Guardian, among other publications. He has been a guest on MSNBC, ABC and Al-Jazeera television, as well as many radio shows. Since graduating from Brandeis,
Dina Fine Maron
has worked in Washington, D.C., as a reporter covering health, politics and the environment. Her writing has appeared in many publications, including Newsweek, The New York Times, ClimateWire/Greenwire and Scientific American. Her health reporting for Newsweek has won national media awards. She is doing research work this year on the Burmese border in Thailand and is a candidate for a master's degree in public health from Johns Hopkins University.
Submit a Class Note